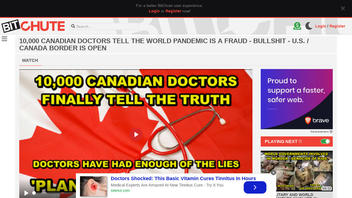 Did 10,000 Canadian doctors say the COVID-19 pandemic was a "fraud"? No, that's not true: The petition listed as proof does not declare the pandemic a fraud. It is a protest against the College of Physicians and Surgeons of Ontario (CPSO), which cautioned doctors against spreading misinformation.
In addition, more than 600 of the names on the petition do not include credentials. Spot checks of the names that do have credentials show that some names appear to be made up and many are the names of people who are not medical doctors.
The story appeared in a BitChute video published on May 23, 2021 titled "10,000 CANADIAN DOCTORS TELL THE WORLD PANDEMIC IS A FRAUD - BULLS**T - U.S. / CANADA BORDER IS OPEN" (archived here). The description underneath the video read:
10,000 PLUS Canadian Doctors form strong opposition against the lying mainstream narrative and are finally standing up and calling out the FRAUD. The Canada / U.S. Border is open and has been open for a long time. What you are hearing on the news is a Total LIE.
Users on social media only saw this title, description and thumbnail:
The BitChute video links to a web petition (Canadian Physicians for Science and Truth) that protests the CPSO's warning that it would investigate physicians who "communicate anti-vaccine, anti-masking, anti-distancing and anti-lockdown statements and/or [promote] unsupported, unproven treatments for COVID-19. Physicians must not make comments or provide advice that encourages the public to act contrary to public health orders and recommendations." The web petition decries CPSO's statement as a muzzling of scientific debate but does not declare the pandemic a fake.
The names on the petition can be sorted by credentials, which Lead Stories did on May 26, 2021. We found only 35 full 10-name screens plus one, totaling 351, with any credential whatsoever, including nonphysicians. The majority of the names are of people with no background or training in epidemiology or virology.
Lead Stories spot-checked names on the list and found many without recognized medical doctor credentials or even verifiable human existence.
1) A Dr. Andem Edichs in the city of "Spiritinthesky." A quick Google search of the name and city shows that this is not a real doctor. They may have taken inspiration from the Norman Greenbaum song, "Spirit In The Sky." The name unscrambles to "merchandised."
2) Cristian Havriliuc from Toronto is a dentist, which is not a medical credential for treatment of COVID-19.
3) Sharon Behrendt is a naturopath. WedMD.com defines naturopathic medicine as a "system that uses natural remedies to help the body heal itself." Naturopathy should not be used to substitute for conventional medical care, WebMD says.
4) Byron Nifakis from Montreal listed himself as a "health coach" under qualifications, but an online document says, "Byron has 20 years experience in Information Technology, as a trainer, project manager, pre-sales support, solution architect and operations manager."
5) Michael Wolters Parry Sound listed himself as a Dr.med.vet (veterinarian) in the qualifications section, which is not a credential for treatment of COVID-19 in humans.
6) Mary Friesen is "a candidate in a Doctor of Clinical Psychology program."