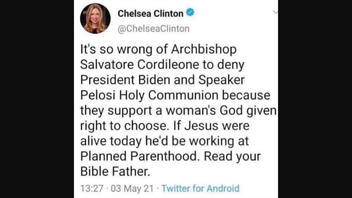 Did Chelsea Clinton say "if Jesus were alive today he'd be working at Planned Parenthood"? No, that's not true: There's no evidence she ever said that. The source for the claim is a fake tweet, which cannot be found on Clinton's verified Twitter account. A spokesperson for Clinton confirmed that she did not post the purported tweet.
The alleged quote about Jesus and Planned Parenthood appeared in an Instagram post (archived here) published on May 7, 2021. The post included what looked to be a screenshot of a Clinton tweet. The fake tweet read:
It's so wrong of Archbishop Salvatore Cordileone to deny President Biden and Speaker Pelosi Holy Communion because they support a woman's God given right to choose. If Jesus were alive today he'd be working at Planned Parenthood. Read your Bible Father.
This is what users saw on social media at the time of writing:
Lead Stories conducted a search of Clinton's verified Twitter account and found no tweet like the one referenced in the post. You can see her page here.
We also reached out to Clinton, via the Clinton Foundation, to ask about the claim. Spokesperson Sara Horowitz confirmed in an email, dated May 10, 2021, that Clinton did not post the tweet.
Archbishop Cordileone did discuss abortion and Holy Communion in a pastoral letter, dated May 1, 2021. It read, in part:
If you find that you are unwilling or unable to abandon your advocacy for abortion, you should not come forward to receive Holy Communion.
The letter did not mention Biden or Pelosi by name, but news reports made the leap, saying the San Francisco archbishop had suggested the two should not receive Communion. Both Biden and Pelosi are Catholic.