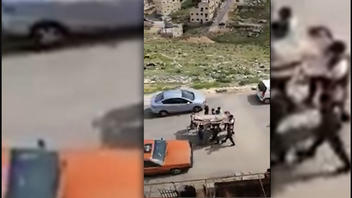 Did Palestinian militants or Hamas recently stage a fake funeral for propaganda purposes using a living person wrapped in a shroud? No, that's not true: The fake funeral depicted in this staged video was intended to be a humorous skit to demonstrate an inventive way to get around strict coronavirus curfews. Although the precise location of this video is not known, it was labeled as being in Lebanon when it was first circulated in March 2020.
The video originally appeared on social media early in the coronavirus pandemic. It resurfaced with new captioning in early May 2021 when conflict between Israel and Gaza was intensifying. One example of the republished video (archived here) was posted on May 11, 2021. It was captioned:
Pallywood at its best.
If you ever need actors, Palestinian radicals are the best. #Hamas
This is how the post appeared on Facebook on May 13, 2021: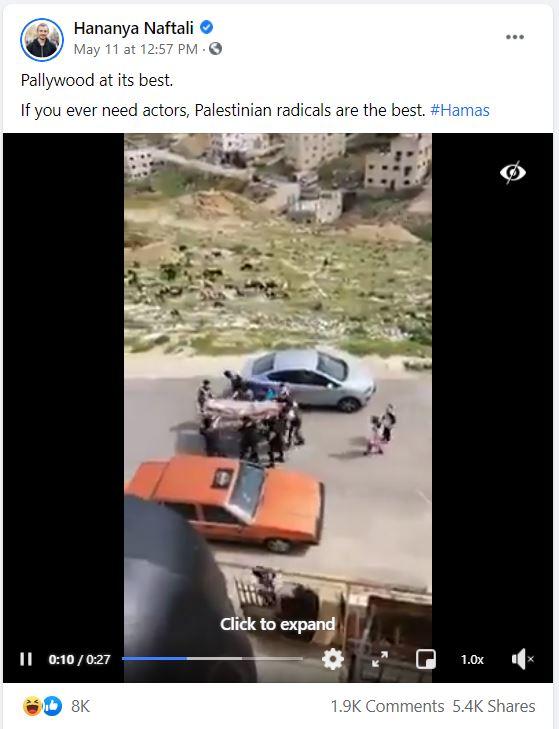 (Source: Facebook screenshot Thu May 13 15:57:41 2021 UTC)
A curfew was put into effect in all of Jordan on March 21, 2020, as a preemptive pandemic measure. Two days later, on March 23, 2020, Roya News English, a publication from Amman, Jordan, posted the video of the fake mourners to its Facebook page and also included a link to a news article on the en.royanews.tv website. The article titled, "PSD: 186 people arrested for breaching curfew order" warned that the curfew was being strictly enforced:
At least 186 people have been arrested since this morning for breaching curfew order, the media spokesman for the Public Security Directorate (PSD) said.

The spokesman confirmed that the violators will be detained inside King Talal School in Zarqa governorate and Hassa Secondary School for Military Culture, in coordination with the Jordan Armed Forces-Arab Army (JAF), confirming that the 693 violators, who were arrested yesterday, were taken to these centers.

More police patrols will be deployed in the residential neighborhoods and the sub-roads to seize everyone who violates the curfew orders, the spokesman said, calling on citizens to abide by the law and not to leave their homes under any circumstances.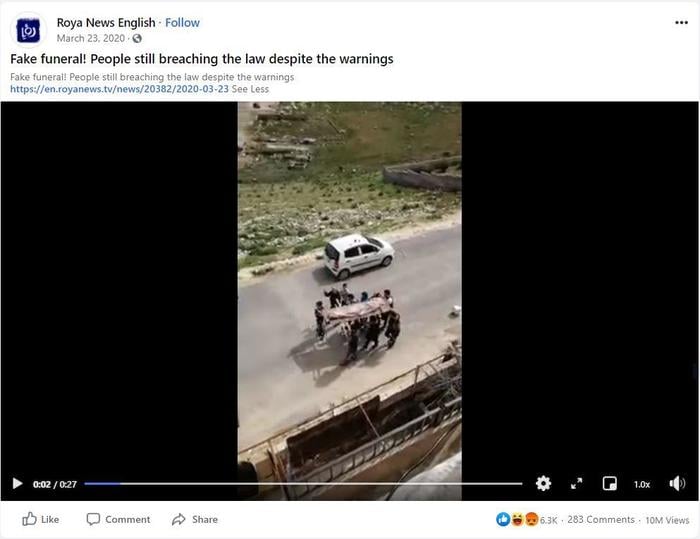 (Source: Facebook screenshot Thu May 13 16:01:41 2021 UTC)