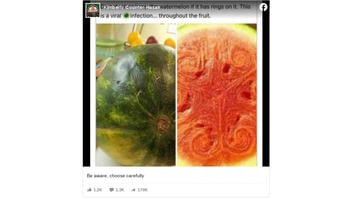 Do these photos show watermelons with a viral infection that make them dangerous to eat? No, that's not true: These ailments -- ring spot virus and hollow heart disorder -- do not make a watermelon dangerous for people to eat, though a watermelon producer might be upset as it could affect their crop's marketability or quality of the fruit.
The meme appeared in a Facebook post (archived here) on May 23, 2021, with the caption, "Be aware, choose carefully." The text on the meme reads:
Do not eat or keep the watermelon if it has rings on it. This is a viral infection... throughout the fruit.
This is what the post looked like on Facebook at the time of writing:
(Source: Facebook screenshot taken on Fri May 28 19:11:50 2021 UTC)
Lead Stories emailed Steve Reiners, professor and chair of the horticulture department at Cornell University, to find out why these watermelons looked so unusual. He responded:
Plant diseases can often result in some odd growth patterns. This is especially true for diseases caused by plant viruses. In the picture on the left, I would suspect it might be watermelon/papaya ring spot virus. This virus is typically carried by aphids that feed on the plants. Although the circular patterns can be quite spectacular, they typically are found only on the outside of the rind. The fruit are perfectly safe to eat but unfortunately, many consumers would not purchase a fruit that looks like this. If the plant is severely infected, it could also reduce the photosynthesis occurring in the leaves, which would mean less sugars and a less sweet fruit. As with just about all plant diseases, they are harmless to people.

The picture on the right is likely not related to a disease but a cultural condition called Hollow Heart. It can happen in any watermelon but may be more likely in seedless watermelon. It comes about when the flower from which the melon develops is not adequately pollinated. This could be for a number of reasons - too cold, too hot, too dry, lack of bees, but the result is the same. Internally the fruit can have odd patterns and hollow areas. Researchers at the University of Delaware have been researching this for a number of years and have found some amazing swirls and patterns. Also fine to eat but the flavor and texture may be a bit off.
Although the watermelon in the photo does not have a hollow space in the middle, the spiral patterns are indicative of this pollination problem. Some watermelons do have a hollow space in the middle, as can be seen in this June 18, 2015, article from the University of Delaware.
An August 12, 2011, International Produce Training article shows additional pictures of watermelons affected with ring spot virus.