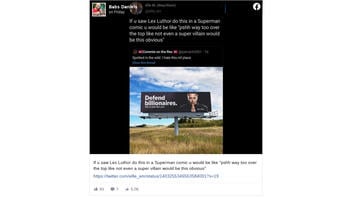 Did someone install a billboard along a highway featuring an image of Elon Musk and "Defend billionaires. We're just like you" emblazoned on it? No, that's not true: This image of the co-founder and CEO of Tesla on a billboard was originally posted by the artist Martin Sprouse to his Facebook and Instagram accounts. Sprouse frequently posts photoshopped images of billboards and urban ad spaces with slogans added to them. In the context alongside earlier and subsequent memes, it is clear that this is not a real billboard defending billionaires.
The meme was originally posted on Martin Sprouse's @3chordpolitics Instagram and Facebook accounts on May 18, 2021. The meme was copied and reposted on Twitter by @patriach2051. That post has been retweeted, screenshot and reshared again. One example is this post published on Facebook on June 11, 2021. It was captioned:
If u saw Lex Luthor do this in a Superman comic u would be like "pshh way too over the top like not even a super villain would be this obvious"

The earlier tweet was captioned:
Spotted in the wild. I hate this mf place
This is what the post looked like on Facebook at the time of writing:
(Source: Facebook screenshot taken on Mon Jun 14 15:33:46 2021 UTC)
The twitter account, @patriach2051 named, "Commie on the Rez" posted this billboard meme on June 9, 2021, over three weeks after Sprouse had first published the meme on Instagram. The tweet was pinned to the top of the feed. The caption, "Spotted in the wild," makes it sound as if they took a photo of a real billboard on the side of the highway. They have not clarified the story behind the image for people who have asked.
On Instagram, a 3chordpolitics follower relayed the Twitter situation, that many thought the billboard was real. Sprouse replied, "That's hilarious."
Someone posted this on Twitter and everyone thinks it's an earnest defense of billionaires hehe.
A collection of spinoff memes featuring alternative slogans are featured in a June 11, 2021 Snopes article.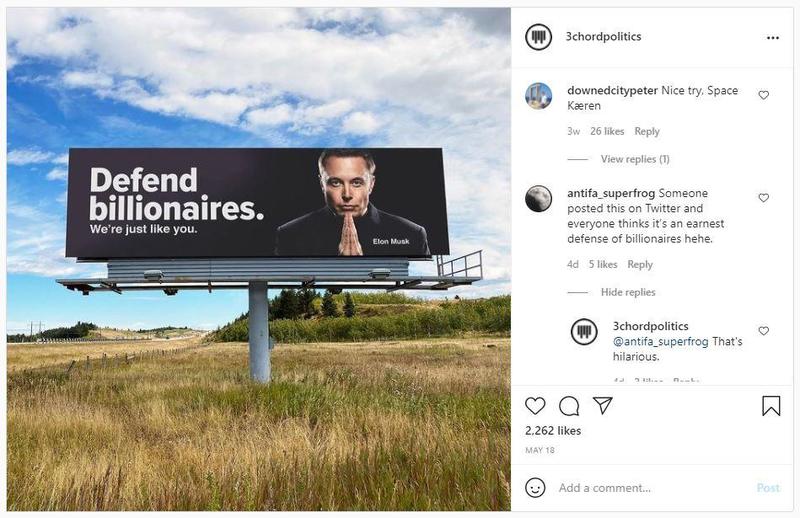 (Source: Instagram screenshot Mon Jun 14 16:30:01 2021 UTC)

On June 11, 2021 another "Defend Billionaires" billboard meme was published on the 3chordpolitics Instagram account. This one features Jeff Bezos, founder of Amazon.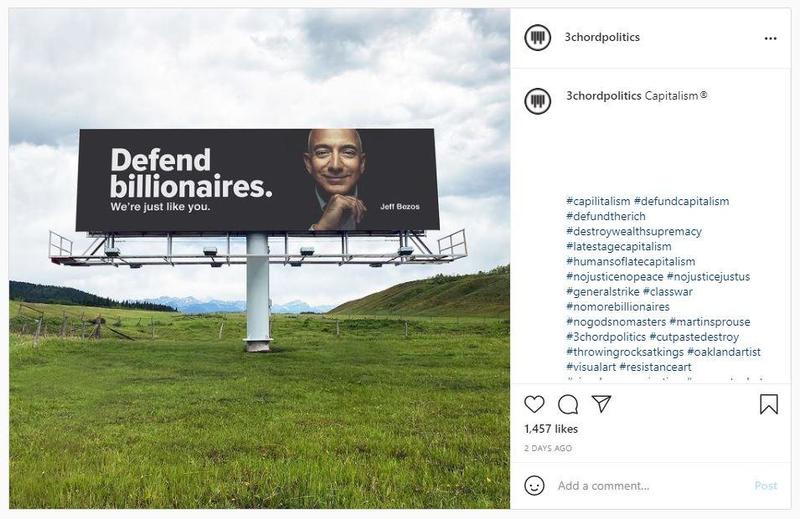 (Source: Instagram screenshot Mon Jun 14 16:30:01 2021 UTC)
Lead Stories reached out by email to Martin Sprouse for comment and will update as necessary if we receive a reply.