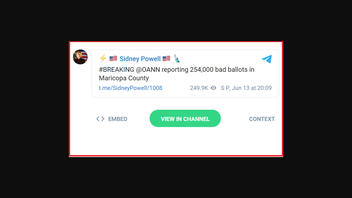 Did One America News Network (OANN) report 254,000 "bad ballots" in Maricopa County, Arizona? No, that's not true: The claim, made by Sidney Powell, did not include any sourcing. Shortly after she made the claim, she walked it back. An election audit, commissioned by Republicans in the state Senate, was ongoing at the time this was written.
The claim appeared in a Telegram post (archived here) published by Powell on June 13, 2021. It read:
#BREAKING @OANN reporting 254,000 bad ballots in Maricopa County
Users on social media saw this title, description and thumbnail:
Shortly after publishing the above post, Powell, a former attorney for Donald Trump, walked it back. She wrote:
#BREAKING AZ has NOT reported ## yet.
Powell's posts can be seen in context here.
Lead Stories searched OANN's website, Facebook page and YouTube channel for the claim about the 254,000 "bad ballots" and found nothing to support it. The results of those searches can be seen here, here and here.
Powell's claim may have been loosely based on this OANN story, in which One America's Christina Bobb reported on supposed discrepancies found in the course of the audit, although the 254,000 ballots allegation is not found in Bobb's story.
At the time of writing, June 14, 2021, the audit in Maricopa County, Arizona's most populous county, was ongoing. No results have been released and an exact release date is not known.
Lead Stories has written about the audit before. In fact, we've debunked a very similar allegation that claimed a quarter of a million illegal votes were found in the Arizona audit. That's not true.
We've also debunked the claims that the ballots have watermarks, as can be seen here and here, and that Dominion Voting Systems had 70 attorneys in Arizona trying to stop the audit. It didn't.