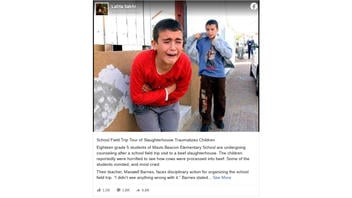 Did a Nebraska schoolteacher take a fifth-grade class to a slaughterhouse to show them where meat comes from? No, that's not true: This story originated in 2010 on a satire website called Newsweak with the subheading, "Where facts come to die." The website is offline now, but the satirical story lives on.
Although the context of the original website once gave readers a good idea that the story of the field trip disaster was satire, the story has been reposted on vegan blogs and in stand-alone posts where the satire is not so evident. The name "Mavis Beacon Elementary School" contains a clue to this story not being real but perhaps only for an audience of a certain age. Mavis Beacon was the fictional identity of a teacher associated with the software program "Mavis Beacon Teaches Typing," launched in 1987.
The story was first published by Newsweak.com on November 21, 2010 (archived here). It has been reposted in many places, for example this Facebook post (archived here) on April 17, 2019. It opened:
School Field Trip Tour of Slaughterhouse Traumatizes Children

Eighteen grade 5 students of Mavis Beacon Elementary School are undergoing counseling after a school field trip visit to a beef slaughterhouse. The children reportedly were horrified to see how cows were processed into beef. Some of the students vomited, and most cried.
This is what the post looked like on Facebook at the time of writing:
(Source: Facebook screenshot taken on Tue Jun 1 14:18:47 2021 UTC)
The fictional story continues:
Their teacher, Maxwell Barnes, faces disciplinary action for organizing the school field trip. 'I didn't see anything wrong with it.' Barnes stated. 'Earlier this year we had a field trip to a chocolate factory. Kids have a curiosity about where their food comes from. I don't think there should be anything wrong with showing them where meat comes from.'

The children were escorted through the facility from the loading bay, where cattle enter the building, through to the stunning process where the animals receive a pneumatic bolt to the brain, rendering them brain dead. 'Some of the kids started crying then.' said slaughterhouse foreman Dan Smith. 'We told them it was all a natural part of how beef is made and ends up in yummy hamburgers, but that didn't seem to help much.'

The field trip then went awry after the brain dead animals were chained up by their back legs and then cut into to be bled to death. 'I saw one little boy throw up.' Smith said. 'And then after that there was screaming and running and all these other kids throwing up all over the place. We tried to calm them down but it was out of control by then. These kids were just freaked out, they didn't even finish the tour.'
Further complicating the misunderstanding that the story is satire, Newsweak.com's story has also been translated into other languages. A Spanish-language blog, Luchaporlaverdad.wordpress.com (Fight for The Truth), published "Escuela en Nebraska visitó un Matadero traumatizando a los niños" on April 1, 2015. The text, linking back to Newsweak.com, also appears on Facebook translated into Italian and Greek.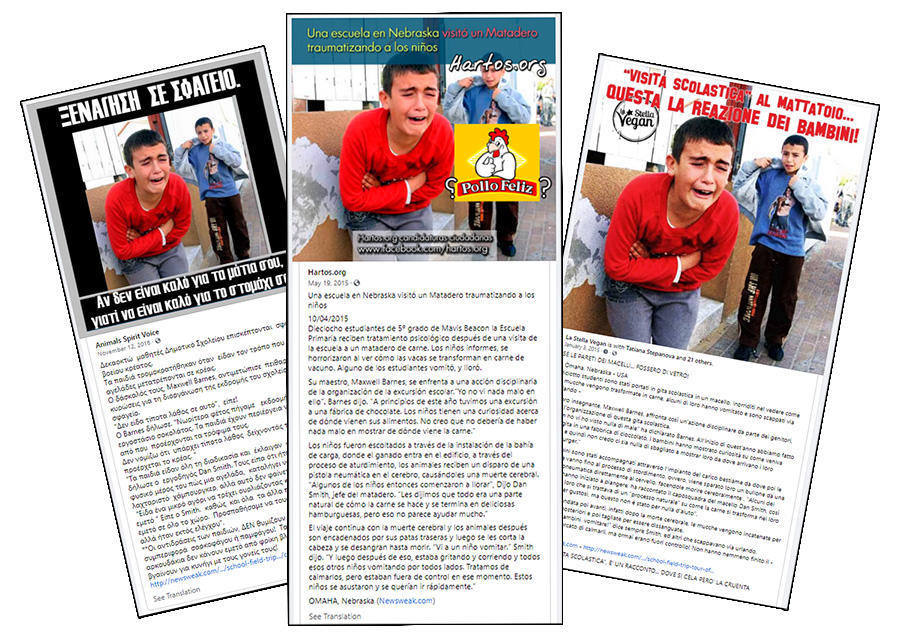 (Source: Facebook screenshots taken on Tue Jun 01 15:54:20 2021 UTC)
Lead Stories was unable to locate the original source of the photo used to illustrate the fictional story although it has since been used in a meme with the watermark "Animal Rights Graphics":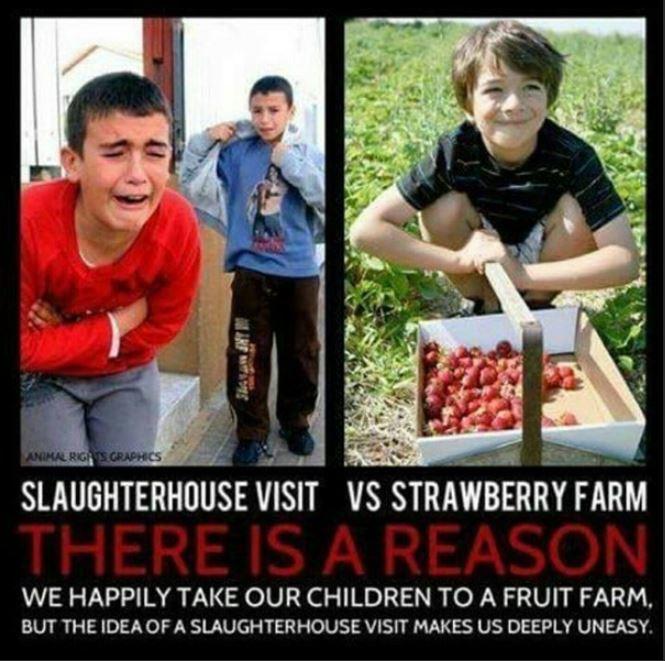 (Source: Yandex image search screenshot Tue Jun 01 15:23:20 2021 UTC)
Searching on Google, DuckDuckGo and Bing, Lead Stories found no links to an elementary school named for Mavis Beacon in Nebraska or any other state.