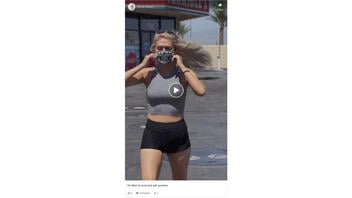 Did a man fill his tarp-lined truck bed with gasoline and then drive away, allowing the open liquid cargo to slosh over the sides? No, that's not true: This video is a skit that was originally posted on the Facebook page of magician Julius Dein with a disclaimer that the page features scripted dramas and parodies. The video has been copied and re-uploaded on other channels without the disclaimer.
The video skit appeared first in a post on the Facebook page Julius Dein on May 29, 2021. Other copies of the skit followed, for example, this post (archived here) was published on May 30, 2021, with the caption:
He filled his truck bed with gasoline
This is what the post looked like on Facebook at the time of writing:
(Source: Facebook screenshot taken on Mon May 31 13:22:18 2021 UTC)
The Facebook page of magician Julius Dein frequently features scripted "caught on camera" skits and other awkward-appearing social dilemmas. This gas station dilemma skit features a couple trying to decide what to do when they witness a man doing something they think is dangerous, filling his truck bed with what they think is gasoline. The video is captioned with a disclaimer:
Thank you for watching! Please be aware that this page features Magic Effects/Illusions as well as scripted dramas and parodies. These short films are for entertainment purposes only!
In mid-May 2021, after the temporary shutdown of the Colonial Pipeline due to a ransomware attack, some parts of the country experienced gasoline distribution shortages and panic buying. There were many photos and videos, both real and fake, posted on social media at the time featuring people hoarding gas and using unapproved containers. Lead Stories published several articles about unapproved gasoline containers such as plastic bags (here and here) and Styrofoam picnic coolers (here).