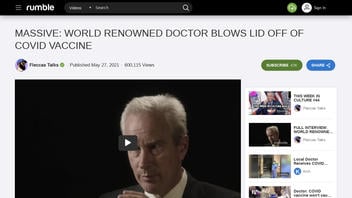 Does a video promising to blow the lid off COVID-19 vaccines present only true and verified statements? No, that's not true: It makes claims about vaccine-related deaths that are not proven. The video also questions why pregnant women and people who have recovered from COVID-19 would get the vaccine, ignoring what most medical experts say about those groups. Finally, it presents the vaccine as the key component of a grand plan to control the populace -- a conspiracy theory for which there is no publicly available evidence. The doctor making the claim was listed on the staff of Baylor Scott & White Medical Center in Dallas on June 1, 2021, but on June 2, 2021, a Baylor spokesperson said he was no longer employed there.
The video (archived here) was published on Rumble on May 27, 2021. Titled "MASSIVE: WORLD RENOWNED DOCTOR BLOWS LID OFF OF COVID VACCINE," it features clips from an interview with Dr. Peter McCullough, identified as a doctor of internal medicine and board-certified cardiologist. He says, at one minute, 41 seconds:
There are over 4,000 dead Americans. There's over 10,000 dead people in Europe that die on days one, two and three after the vaccine.
His comments can be heard below:
Asked if Baylor stands by McCullough and his statements, the university distanced itself in a June 2, 2021 email from media relations officer Jennifer McDowell to Lead Stories, writing:
Dr. McCullough is no longer employed with our medical group. His views are his own, and he is not speaking on behalf of Baylor Scott & White Health.
At the time of writing, on June 1, 2021, there have been no documented deaths due to the Pfizer, Moderna or J&J/Janssen vaccines. The Centers for Disease Control and Prevention (CDC) says on its website:
A review of available clinical information, including death certificates, autopsy, and medical records has not established a causal link to COVID-19 vaccines. However, recent reports indicate a plausible causal relationship between the J&J/Janssen COVID-19 Vaccine and a rare and serious adverse event--blood clots with low platelets--which has caused deaths.
The CDC uses the Vaccine Adverse Event Reporting System, also known as VAERS, to follow up on any report of death after vaccination. McCullough, does not specifically mention VAERS in the video, but that's likely what he is referring to when he talks about the "database."
At four minutes, 10 seconds, he says:
All those thousands of Americans that have died with the vaccine, and hospitalizations in the database, I think are real, and they are far beyond anything we've ever seen.
What McCullough doesn't explain is that VAERS is an un-checked list of vaccine reaction reports to which anyone can add an item. To view the VAERS site, users must click on a box agreeing that they have read the caveats about VAERS reports.
The reports are not verified and are not sufficient evidence to establish whether a death was caused by a vaccine. The website for VAERS makes clear the system's uses and limitations. The site reads:
A report to VAERS generally does not prove that the identified vaccine(s) caused the adverse event described. It only confirms that the reported event occurred sometime after vaccine was given. No proof that the event was caused by the vaccine is required in order for VAERS to accept the report. VAERS accepts all reports without judging whether the event was caused by the vaccine.
More than 285 million doses of COVID-19 vaccines were administered in the United States between December 14, 2020, and May 24, 2021. As Lead Stories has reported previously, it's statistically inevitable that some people will get sick and die of unrelated causes after getting the COVID-19 vaccine.
At 11 minutes, 41 seconds, McCullough questions why certain groups of people would ever get the vaccine. He says:
Before we know it, we're vaccinating pregnant women. Why are we doing that? That can't be safe. Now we're going to vaccinate COVID-recovered patients. Wait a minute. They have complete and robust permanent immunity.
That's not what doctors with the relevant expertise say.
The CDC recommends that people get vaccinated, regardless of whether they had COVID-19, because it's unclear how long such people are protected. The agency says on its site:
Even if you have already recovered from COVID-19, it is possible--although rare--that you could be infected with the virus that causes COVID-19 again.
The CDC also says that pregnant people can get vaccinated, although it acknowledges that there is limited safety data at this point. It notes that pregnant people are at increased risk for severe illness from COVID-19 and that pregnant women with the disease are also at increased risk of preterm birth, compared with pregnant women without COVID-19.
McCullough does not mention any of that nuance in the clips. Rather, he presents the vaccine as a grand plan to create compliance and control behavior. At five minutes, 52 seconds, he says:
This is actually about marking. The vaccine is a way of marking people; it's a way of starting to assert efforts to create compliance, behavior control.
There's no publicly available evidence to support the idea that the vaccines have a purpose beyond stopping or slowing the pandemic.
Lead Stories has written about conspiracy theories tied to the vaccine before. See here, here and here for those stories, in which we found that a video does not prove that the Pfizer COVID-19 vaccine contains a magnetic microchip, that the shots aren't set to contribute to the "decimation of the world's population" and that there's no documentation that COVID-19 was launched by elites as a diversionary tactic or as a way to increase their control over the population.