STORY UPDATED: check for updates below.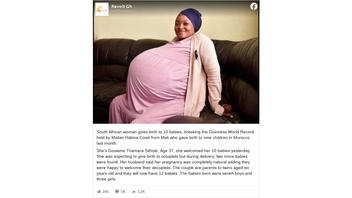 Did a woman from Pretoria, South Africa, give birth to 10 babies -- seven boys and three girls -- on June 7, 2021? If this is true, this would be a world record, but as of June 14, 2021, there has been no confirmation that 10 babies were born to one woman. They have not been seen in public and there are no photos of them. The absence of photos may be explained by the baby's preterm birth as well as cultural beliefs which would preclude showing pictures of babies before they have reached a certain age. This does not explain why no hospital or doctor has confirmed the births. As of this time on June 14, 2021, the South African Government has not been able to confirm the claim.
The story of the birth of 10 babies to a South African woman was widely reported by news outlets around the world and repeated in posts on social media. This post was published by Revolt GH on June 8, 2021. It opened:
South African woman gives birth to 10 babies, breaking the Guinness World Record held by Malian Halima Cissé from Mali who gave birth to nine children in Morocco last month.

She's Gosiame Thamara Sithole, Age 37, she welcomed her 10 babies yesterday. She was expecting to give birth to octuplets but during delivery, two more babies were found. Her husband said her pregnancy was completely natural adding they were happy to welcome their decuplets. The couple are parents to twins aged six years old and they will now have 12 babies. The babies born were seven boys and three girls.
This is what the post looked like on Facebook at the time of writing:
(Source: Facebook screenshot taken on Mon Jun 14 17:49:07 2021 UTC)
On June 8, 2021, the South African Government Communications and Information System spokesperson Phumla Williams issued a media release and called for more information:
Government has noted media reports and social media posts alleging that a South African woman has given birth to 10 babies and reportedly broken the world record. The posts attribute the birth of the babies to Gosiame Thamara Sithole from Gauteng.
Government has been unable to verify the authenticity of this birth at our facilities "We need to verify this story and provide assistance where needed," said Williams.
Lead Stories reached out to the South African Government Communications and Information System by email on June 14, 2021, to see if there had been any updates since the media release of June 8, and were informed that there is no update on the previous statement.
BBC.com published an article on June 9, 2021 titled, "South African woman gives birth to 10 babies in Pretoria - reports" There were conflicting reports if the record breaking birth had been verified, and it was noted that Guinness World Records was also still investigating:
One South African official confirmed the births to the BBC, however another said they were yet to see the babies.
IOL News posted a video of Tebogo Tsotetsi, the father of the children, providing an update on the condition of the mother, Gosiame Thamara Sithole and remarking on his feelings about the birth of ten babies on June 9, 2021.
Father of decuplets Tebogo Tsotetsi shares how he felt when he heard the news that his wife had given birth to 10 babies.
Video: Henk Kruger/ African News Agencyhttps://t.co/h7wcV4J4rd#NationalBabyShower #10Babies pic.twitter.com/X922rFvLL0

-- IOL News (@IOL) June 9, 2021
In the absence of photos of Sithole's and Tsotetsi's babies, some clickbait outlets have substituted old photos of 11 babies all dressed in pink. This photo was newsworthy at the time, but did not show 11 babies who were all born to the same mother as some fake news sites have reported over the years. The photo shows 11 babies who were born to 11 different sets of parents on the same day -- 11/11/11 in Surat, India. The planned birth of the babies conceived through IVF was reported in the timesofindia.indiatimes.com on November 10, 2011, the day before the babies were actually born. Additional photos of these babies can be found on the blog of fertility specialist, Dr. Purnima Nadkarni.
Below is a screenshot of a YouTube video which has mixed a photo of the 11/11/11 newborns from India with press photos of Sithole and Tsotetsi taken over a month ago.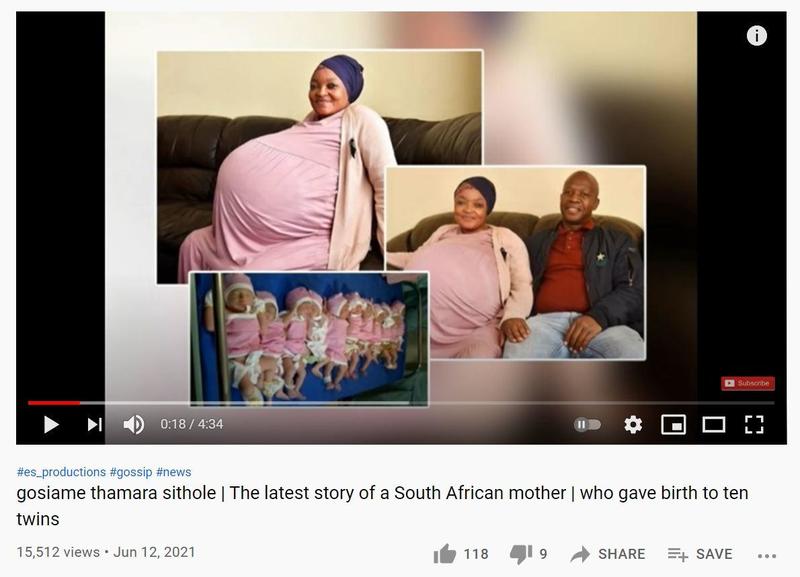 (Source: YouTube screenshot taken on Mon Jun 14 20:03:57 2021 UTC)
On June 15, 2021 the Tsotetsi family issued a public statement which said the family has concluded that there are no decuplets born between Tebogo Tsotetsi and Gosiame Sithole. The complete statement is reproduced in a tweet by Piet Rampedi, the journalist who originally broke the 'exclusive' story about the record breaking birth of ten babies on June 8, 2021.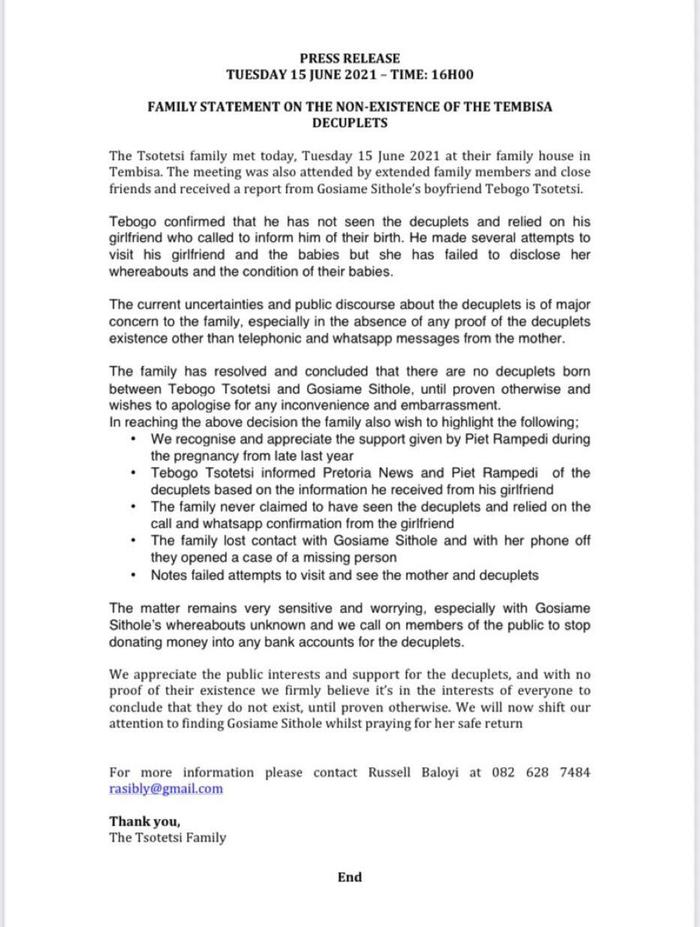 Rampedi also posted video interviews with Sithole from an undisclosed location. Rampedi's captions translate her words and convey that she responded to the Tsotetsi family statement by denying that she is missing and insisting she delivered ten babies at Steve Biko Academic Hospital. Still there are no publicly released photos of the babies or any hospital confirmation that this took place at their facility.
2021-06-16T00:30:13Z

2021-06-16T00:30:13Z

Article updated with the Family Statement on the Non-Existence of the Tembisa Decuplets.