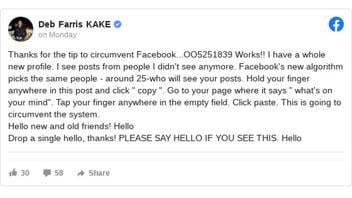 Does Facebook allow users to change the number of other users' posts they can see on their news feed by copying and pasting a message? No, that's not true: While users can utilize Facebook's options for news feed personalization such as favoriting other users, snoozing other users and unfollowing users and pages, the social media platform does not include a feature that would allow users to paste a specific message on their status that would alter the news feed algorithm.
More specifically, the social media platform does not limit the number of other users' posts that users can see on their news feed.
Lead Stories has previously identified and debunked similar claims - which have appeared on Facebook since at least 2014 - about users' ability to bypass Facebook's news feed algorithm. However, the claim examined in this fact check was featured in a Facebook post (archived here) on May 31, 2021. It reads:
Thanks for the tip to circumvent Facebook...OO5251839 Works!! I have a whole new profile. I see posts from people I didn't see anymore. Facebook's new algorithm picks the same people - around 25-who will see your posts. Hold your finger anywhere in this post and click " copy ". Go to your page where it says " what's on your mind". Tap your finger anywhere in the empty field. Click paste. This is going to circumvent the system.
Hello new and old friends! Hello
Drop a single hello, thanks! PLEASE SAY HELLO IF YOU SEE THIS. Hello
This is what the post looked like on Facebook on June 1, 2021:
(Source: Facebook screenshot taken on Tue Jun 1 19:49:47 2021 UTC)
Facebook's algorithm does not limit the number of users whose posts can show up on others' news feeds. In 2019, the social media platform debunked a similar iteration of the claim that stated that only 25 or 26 users could show up on any user's news feed. Facebook said:
... the posts in your News Feed are ranked in the order we believe you'll be most interested in seeing them. (You can learn more about ranking in this short video.) The News Feed algorithms prioritize posts that are predicted to spark conversations among people, whether because of format -- for example, live videos tend to lead to more discussions than regular videos -- or because the posts were shared by people, groups or Pages you interact with frequently.

Because of this, it's possible that you'll see content from a similar list of posters at the top of your News Feed, which can make the "26 friends" idea seem plausible. If you scroll down, though, you're likely to see posts from an even wider group of people.

Similarly, while leaving a single comment on a post won't suddenly 'unblock' you from showing up in your friends' Feed (because there's no arbitrary limit in the first place), there's a grain of truth here, too. If you frequently trade comments with a friend, their posts are likely to be shown higher in your News Feed than posts from someone you never interact with.
Ariana Raquel Anthony, a communications manager at Facebook, confirmed in an email to Lead Stories on June 1, 2021, that Facebook's 2019 debunk was still up-to-date.
Facebook users can locate options for expanding the variety of the content they see on their news feeds by going to the drop-down arrow at the top right of their screens, clicking on "Settings and Privacy" and adjusting their "News Feed Preferences." In March 2021, Facebook announced its Feed Filter bar, which allows users to choose an algorithmically designed news feed, a news feed that features users' favorites or a chronological news feed. The platform also announced that users can edit their commenting audience under their news feed posts.
(Editors' Note: Facebook is a client of Lead Stories, which is a third-party fact checker for the social media platform. On our About page, you will find the following information:
Since February 2019 we are an active part of Facebook's partnership with third-party fact checkers. Under the terms of this partnership we get access to listings of content that has been flagged as potentially false by Facebook's systems or its users and we can decide independently if we want to fact check it or not. In addition to this we can enter our fact checks into a tool provided by Facebook and Facebook then uses our data to help slow down the spread of false information on its platform. Facebook pays us to perform this service for them but they have no say or influence over what we fact check or what our conclusions are, nor do they want to.)