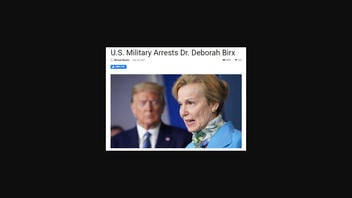 Did the U.S. military arrest former White House coronavirus response coordinator Dr. Deborah Birx for her role in deceiving the public about the effectiveness of masks in preventing the spread of COVID-19? No, that's not true: The claim is a complete fabrication by a website that has published a series of similar false claims about the military arrests of political leaders. The website originating the claim admits in a not-very-obvious disclaimer that its content is for entertainment in the form of satire.
The claim appeared in an article published by Real Raw News on May 29, 2021, titled "U.S. Military Arrests Dr. Deborah Birx" (archived here), which opened:
The United States military has arrested Dr. Deborah Birx, also known as 'the scarf lady,' after authenticating reports that she and her partner in crime, the still at-large Dr. Anthony Fauci, had conspired with the CDC to deceive the American public into believing that face masks were an effective method to mitigate the spread of Covid-19.
Users on social media saw this title, description and thumbnail: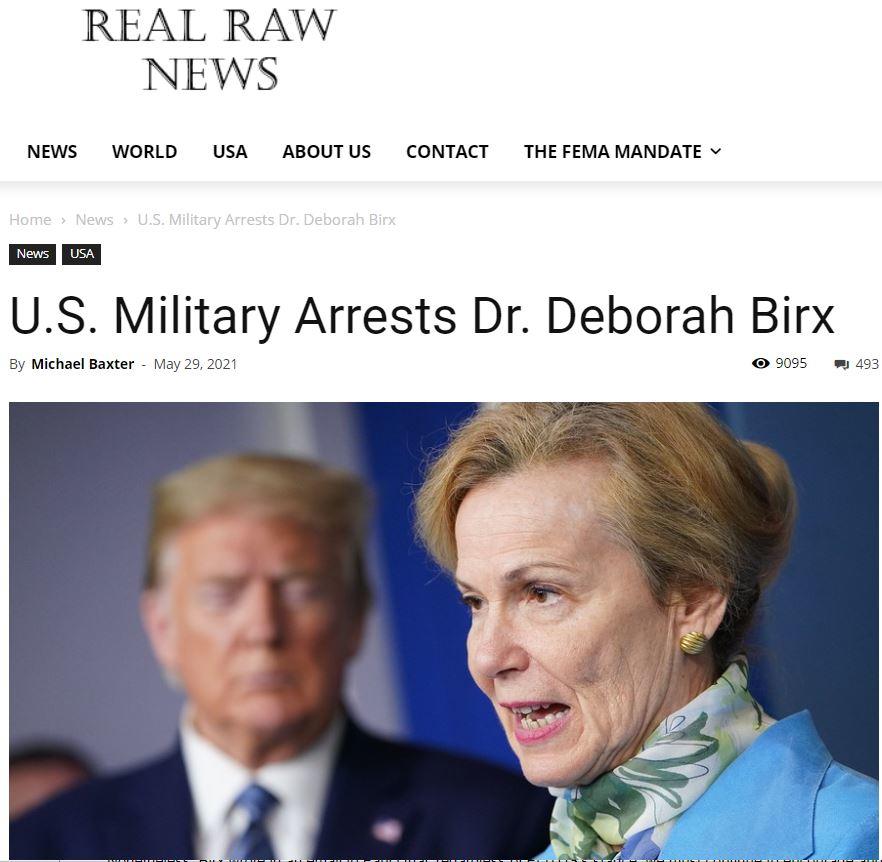 (Source: RealRawNews screenshot taken Wed June 2 18:01 UTC 2021)
The live link to the article is:
The article continued:
As reported in February, Birx's name was placed on a sealed indictment after President Donald J. Trump obtained a lengthy email chain between her and Deep State Dr. Anthony Fauci. In it, Birx and Fauci discussed whether face masks mitigated the spread of Covid-19, and they admitted to one another that masks were completely ineffective at preventing Covid-19 from entering the human respiratory system. To the contrary, they acknowledged that protracted 'masking' had serious side effects on human physiology, especially among the children, the elderly, and immunocompromised people.

Nonetheless, Birx wrote in an email to Fauci that 'regardless of POTUS's stance, we must continue to encourage and enforce masking because it will give people a sense of calm and make them feel safe.'
Lead Stories searched thousands of emails to and from Dr. Anthony Fauci, director of the U.S. National Institute of Allergy and Infectious Diseases, obtained and published by BuzzFeed through a Freedom of Information Act lawsuit. That search did not reveal any email exchanges with Birx.
You can search the email database here.
Lead Stories reached out to the George W. Bush Institute, where Birx is now a senior fellow, for comment. We will update the story if it is received.
Real Raw News has a disclaimer on their website that states they are not a legitimate news source.
Disclaimer:
Information on this website is for informational and educational and entertainment purposes. This website contains humor, parody, and satire. We have included this disclaimer for our protection, on the advice on legal counsel.
Lead Stories has debunked numerous claims by Real Raw News about fictionalized military arrests, trials and executions of prominent politicians like Hillary Clinton, James Comey and others here, here and here.