STORY UPDATED: check for updates below.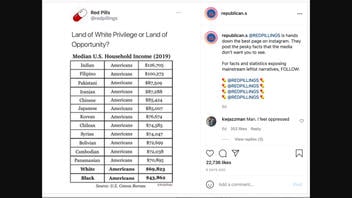 Did this "Median U.S. Household Income" chart for 2019 show the estimated amounts earned by race and ethnic group, and was the data in this chart recorded by the U.S. Census Bureau? Yes, but it's lacking context. The chart is from the government, which separately tracks individual ethnic groups by household income, but the numbers are based on unofficial estimates in a database instead of the formal projections released by the U.S. Census Bureau for 2019.
The claim appeared in an Instagram post (archived here) published on June 30, 2021. The post, the screenshot of a tweet with the chart below it, reads:
Land of White Privilege or Land of Opportunity?
This is how it appeared on July 6, 2021: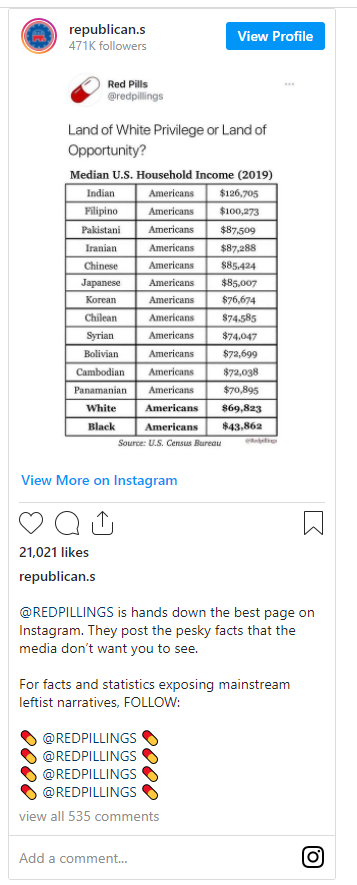 The Annual Social and Economic Supplement to the Current Population Survey (CPS ASEC) line graph chart from the Census Bureau, "Real Median Household Income by Race and Hispanic Origin: 1967 to 2019" is different from the estimates in the meme and shows how the bureau officially displays income by race data based on its Population Estimates Program.
This is differentiated from the American Community Survey (ACS) database, which releases running estimates while also categorically listing, in a margin/error table, individual ethnicities on the U.S Census Bureau website. However, the ACS also notes of the numbers listed in the table chart:
Although the American Community Survey (ACS) produces population, demographic and housing unit estimates, it is the Census Bureau's Population Estimates Program that produces and disseminates the official estimates of the population for the nation, states, counties, cities, and towns and estimates of housing units for states and counties.
Asians, the highest-grossing group in the United States according to the CPS ASEC chart, are not separated by the nation of origin, like in the meme, as these official estimates are released in general populations for simplified viewings alongside adjustments. Thus, the CPS ASEC chart also reveals that white people who do not identify as Hispanic were the second highest-grossing group in 2019, not the next to last as in the meme, ultimately earning about $6,000 more than the database estimates in the meme claims.
The meme was posted by Instagram user "republican.s." At the top of the republican.s Instagram page, it says in part:
-NOT RELATED TO THE REPUBLICAN PARTY 🇺🇸

-Business InquiresDM

-For legal purposes:all content is satire
2021-07-08T21:59:31Z

2021-07-08T21:59:31Z

This story has been updated to include information about the Census Bureau's American Community Survey database.