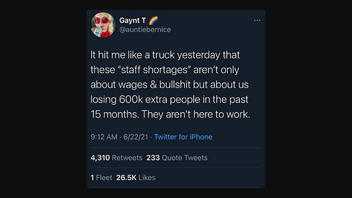 Are COVID-19 deaths a major cause of staff shortages in the United States? No, that's not true: Although economists can debate the relative importance of different factors contributing to the staff shortage -- and even whether there is a widespread shortage -- it's generally agreed that the deaths caused by COVID-19 are not playing a major role. Nearly 80% of those who have died in the United States were ages 65 and up, meaning that many were no longer in the labor market.
The claim appeared in an Instagram post (archived here) published by Seeding Sovereignty on June 28, 2021. The post included a screenshot of a tweet and a caption that opens: "We are barely beginning to process this last year and a half. After so much loss all capitalism has to offer is work and consumerism as coping." The tweet reads:
It hit me like a truck yesterday that these 'staff shortages' aren't only about wages & bullshit but about us losing 600k extra people in the past 15 months. They aren't here to work.
Users on social media saw this at the time of writing:
At the time of writing -- July 2, 2021 -- 595,086 people in the United States have died as a result of COVID-19, according to the Centers for Disease Control and Prevention (CDC). Of that number, 472,793 deaths, or nearly 80%, were among people ages 65 and up, meaning that the majority of deaths happened to those who were no longer working.
That's what Jason Furman, senior fellow at the Peterson Institute for International Economics, told Lead Stories when we reached out to ask about the post's claim. In an email, dated July 2, 2021, he wrote:
The 600,000 deaths due to the pandemic are tragic but are not a major part of the macroeconomic story of the labor market. The large majority of the 600,000 people who died were older and not working, so the number who were working is a very small fraction of the roughly 9 million jobs shortfall.
In other words, COVID-19 deaths may account for some of the staff shortage but only an extremely small percentage.
A complete discussion of the factors contributing to the staff shortage is outside the scope of this fact check. That said, economists have raised a number of possibilities, including the lack of child care options during the pandemic, fears about returning to an unsafe workspace, expanded unemployment benefits and low wages. Some economists have even argued that there is no widespread labor shortage, as can be seen here. Whatever the reasons behind the apparent shortage, however, it's clear that the deaths caused by COVID-19 are not a major cause.