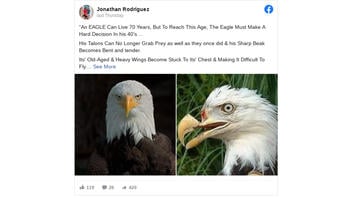 Do middle-aged Bald Eagles go into isolation for 150 days, break their own beaks and pluck out all their feathers to regenerate themselves to live to the age of 70? No, that's not true: The oldest documented Bald Eagle was 38. Raptor experts at the World Center for Birds of Prey and the Fish & Wildlife Service say the allegorical story makes claims that are biologically impossible.
The claims appear in a motivational Facebook post (archived here) published July 8, 2021, under the title "An EAGLE Can Live 70 Years, But To Reach This Age, The Eagle Must Make A Hard Decision In his 40's." It explains:
At this point, in his 40's, he is left with Only 2 Options: Either give up and Die, Or Go Through A PAINFUL PROCESS OF CHANGE Which Lasts 150 Days.
This is what the post looked like on Facebook at the time of writing:
(Source: Facebook screenshot taken on Tue Jul 13 23:45:53 2021 UTC)
A wildlife expert at the World Center for Birds of Prey called the tale "wildly inaccurate."
Even before the advent of social media, the motivational yarn was circulated in chain emails, said Global Engagement Director Erin Katzner, who has worked with birds of prey for 30 years in wildlife management and education programs. She said she and every raptor biologist she knows have been batting down this parable for decades.
Claim: Middle-aged males break off their own beaks
For starters, the national bird of the United States, a carnivore, cannot eat meat without its sharp beak.
In a July 12, 2021, email to Lead Stories, Katzner wrote:
It is not true at all... A quick literature review will show that there is no record of bald eagles losing their beaks and growing them back - it's biologically impossible.
In a July 14, 2021, phone interview, Katzner said beak tips can regrow, but not the entire beak. "That's pretty much a death sentence for an eagle," she said, noting that an eagle in the wild that lost its whole beak would most likely die, since that is what the carnivore uses as a knife to rip its prey into swallowable chunks, pinning the prey down by using its talons like a fork.
Claim: Middle-aged males pluck themselves naked
As for old age causing an eagle's wings to become "stuck to its chest"? "That never happens," Katzner said.
Plucking itself naked? Another death sentence, she said. Eagles' feathers protect them from weather, keeping them both from hypothermia and from overheating. Eagle feathers are also water resistant, protecting the eagle's body from the hypothermic effects of rain and wind on skin.
The only self-plucking by eagles, Katzner said, is when female eagles tending a clutch of eggs pull out a few belly feathers to increase skin contact with the eggs, which transfers more body heat to them.
Claim: Mature males self-exile to 'reinvent' themselves
As for the self-imposed exile for 150 days without feathers or beak, Katzner said a naked and beakless eagle of any gender could not hunt and they do not carry the fat reserves that would be necessary to fuel their bodies for five months.
Claim: By taking these steps, a male eagle can live 70 years
The Fish & Wildlife Service says 38 years is the longest documented life span of a bald eagle.
Katzner said most eagles in the wild live 20 to 30 years and that the oldest eagle of any kind that she has heard of is an African Bateleur Eagle, which lived to age 57.