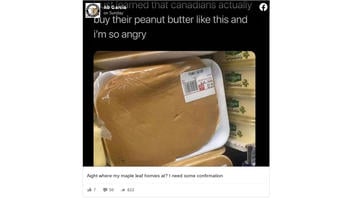 Does this photo of bulk peanut butter packaged on plastic foam trays and covered with plastic wrap show how peanut butter is packaged and sold in Canada? No, that's not true: This photo shows bulk peanut butter for sale in an unnamed shop in Trinidad and Tobago. This is not the standard way for peanut butter to be packaged in Trinidad and Tobago today, and it may be a food safety violation, but in the past it was not uncommon for peanut butter to be sold by weight and packaged in a grease-proof paper wrapper, especially in small neighborhood groceries.
The photo originated as a Facebook post by a man from the dual-island Caribbean nation of Trinidad and Tobago. Within a day, copies of the photo were circulating with different captions. One example is this Facebook post (archived here) from July 11, 2021, with the caption, "Aight where my maple leaf homies at? I need some confirmation." The text in the image reads:
i just learned that canadians actually buy their peanut butter like this and i'm so angry
This is what the post looked like on Facebook at the time of writing:
(Source: Facebook screenshot taken on Wed Jul 14 15:24:59 2021 UTC)
This photo does not show a package of loose peanut butter in Canada. Another post on Twitter from May 29, 2021, claims that this is "Ohio style peanut butter," but that's not true, either. The photo shows a nonstandard, but not unheard of, way of selling peanut butter in Trinidad and Tobago. Lead Stories identified an additional Facebook post from November 2015, also from Trinidad and Tobago, showing loose peanut butter packaged as in the original photo.
The original photo was posted to Facebook on May 28, 2021 by a man whose profile says he is from Trinidad and Tobago. The caption says:
A few weeks ago, a bredren of mine made a wild claim. Real 'out there' claim.

But... it's the internet. People say all kinds of crazy shit here.

But this was a good fella. Somebody I know since primary school. Short khaki pants and snatty nose days. And he was always a decent fella. Not really somebody to say outlandish things.

But this bredren come on Patrick Manning internet and say that a grocery in Arima was selling LOOSE PEANUTBUTTER.

I didn't believe him inno.

Weeks went by and I thought he was on shit and just being a clown.

Today he brought receipts and I hadda formally apologize

Dwight Austin
In a statement on Saturday, the Consumer Affairs Department said: 'Our Complaints and Investigation Officers have conducted several site inspections in relation to the attached photo and wishes to alert the public that this item is not being offered for sale at any of the establishments mentioned in several Facebook posts.

'The St. Kitts Consumer Affairs Department commends the general public for their vigilance and encourages persons to continue reporting such food safety violations to the Ministry of Health and the Consumer Affairs Department.'