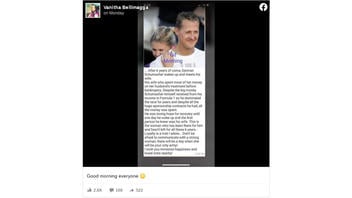 Was German former Formula One race car driver Michael Schumacher in a coma for six years after a skiing accident? And did his wife Corinna go into bankruptcy to fund her husband's medical treatment? No, that's not true: Michael Schumacher suffered traumatic brain injury when he fell and hit his head on a rock while skiing in Meribel in the French Alps in December 2013.
He was put into a medically induced coma for six months, not six years. Beyond that, little is known about his health or financial situation since his family does not release updates to the public. There is, however, no evidence that the family of one of the highest-paid athletes of all time is in dire financial straits.
The claim appeared in a July 26, 2021, Facebook post (archived here). The caption for a photo of Corinna Schumacher hugging her husband says:
... After 6 years of coma, German Schumacher wakes up and meets his wife. His wife who spent most of her money on her husband's treatment before bankruptcy. Despite the big money Schumacher himself received from his income in Formula 1 as he dominated the race for years and despite all the huge sponsorship contracts he had, all the money was spent. He was losing hope for recovery until one day he woke up and the first person he knew was his wife. This is the woman who has been there for him and hasn't left for all these six years.. Loyalty is a trait I adore... Don't be afraid to communicate with a strong woman, there will be a day when she will be your only army! I wish you immense happiness and loved ones nearby!
This is what the post looked like on Facebook at the time of writing:
(Source: Facebook screenshot taken on Fri Jul 30 11:14:57 2021 UTC)
The photograph in the post was taken on October 2, 2011, at a go-cart track owned by Schumacher in Kerpen, Germany, two years before the accident. A reverse image search on Google for the same picture shows the post has circulated in French and Spanish too.
While the post correctly states that Schumacher was in a coma following a severe accident, it gets several details wrong. After being treated for injuries from a fall while skiing on December 29, 2013, Schumacher was put in a medically induced coma to reduce swelling in his brain. Six months later, on June 16, 2014, the BBC reported that he was transferred from a Grenoble hospital to Lausanne University Hospital in Switzerland, no longer in a coma. Family spokesperson Sabine Kehm told the media Schumacher would be recovering at his family home near Lake Geneva.
Since then, Schumacher's circle has released very few updates on his condition. While this also means there is no reliable information on the family's financial situation, no evidence could be found to suggest that the cost of his treatment has consumed his considerable fortune. Forbes lists Schumacher as the fifth-highest-paid athlete of all time with career earnings of approximately $1 billion. In 2018, the Daily Mail reported that Schumacher's home health care cost amounted to £50,000 per week (about $70,000), or about $3.6 million a year. At that rate, it would take 277 years to consume a billion dollars, assuming no growth in the principal.
Swiss finance magazine Bilanz listed Schumacher as among the richest Germans in 2018 with an estimated net worth of €650 million (about $770 million) so there is no indication that the family is running out of money. What the post gets right, however, is that Schumacher's family is taking care of him at home and that his wife has remained by his side. Most recently, Corinna accepted an award for her husband's charity work at a gala hosted by the auto racing association FIA in Geneva in December 2020.
A documentary of Schumacher's life, made with his family's cooperation, is set to be released on Netflix on September 15, 2021.