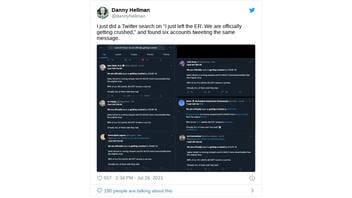 Are all the "I just left the ER...We are officially getting crushed" memes about the COVID-19 Delta variant outbreak part of a fear campaign aimed at the unvaccinated? Not all of them. Some have been altered to refer to a "Ligma" variant, which does not exist. "Ligma" is the set-up for a "knock-knock"-type prank, in which the person who hears Ligma asks "Ligma what?" and the prankster responds with "butt" or other nether region of the body.
The meme spoofing the memes circulating about hospital overloads was one of the examples proffered in a July 27, 2021, tweet by artist Danny Hellman which opened:
"I just did a Twitter search on "I just left the ER. We are officially getting crushed," and found six accounts tweeting the same message."
This is what Hellman's post looked like on Twitter at the time of writing:
(Source: Twitter screenshot taken on Wed Jul 28 16:39:06 2021 UTC)
In Hellman's gallery of memes (which he used to demonstrate there is inauthentic activity about the Delta variant on Twitter) the "Ligma" version of the meme is in the lower right corner, marked here with a red arrow: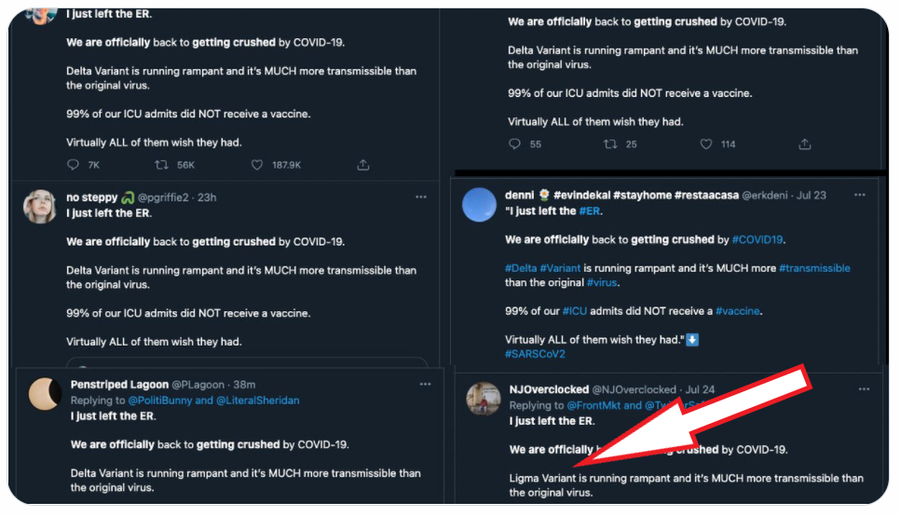 (Source: CDC.gov screenshot taken on Wed Jul 28 17:07:05 2021 UTC)
Here's how the website KnowYourMeme.com explains the Ligma joke:
Ligma is a fictional disease associated with a death hoax orchestrated by Instagram user ninja_hater that claimed Fortnite streamer Ninja had passed away after contracting the disease. The intention of this joke was to prompt concerned fans to ask what Ligma is, to which participants in the hoax would respond with "ligma balls" ("lick my balls"), a joke setup similar to Deez Nuts and Updog. The hoax also spawned in-jokes about the fictional nationality Sugondese ("suck on these"), the Indonesian city Grabahan ("grab a hand") and the fictional diseases Sugma ("suck my") and Bofa ("both of").
At this link, the CDC has collected a full list of variants known to be circulating in the United States. There is no Ligma variant, nor a Sugma ("suck my") variant, which is another version of the same joke. What follows is a screenshot of the chart.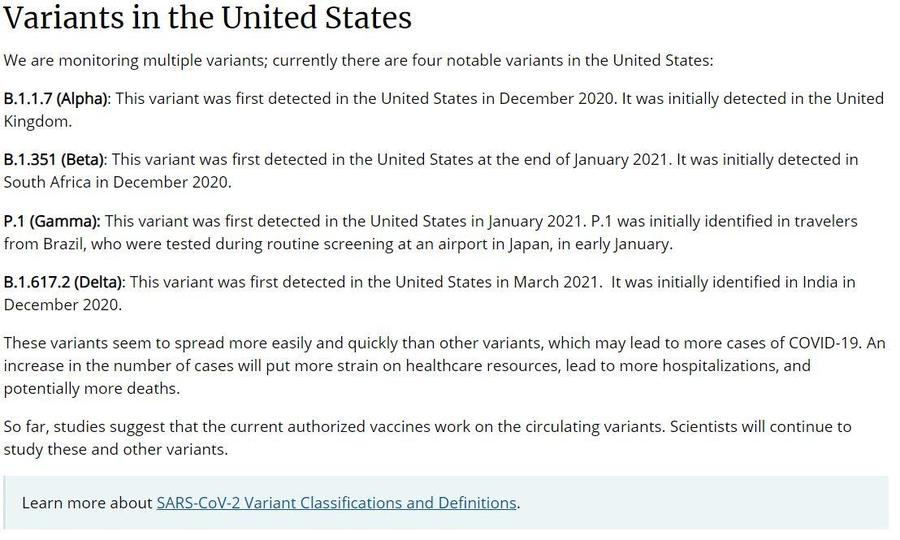 ‎(Source: CDC.gov screenshot taken on Wed Jul 28 17:00:42 2021 UTC)