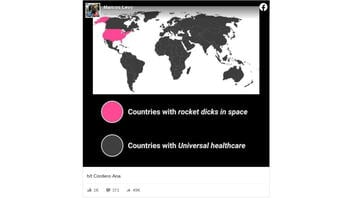 Is the United States the only country in the world without universal health care? No, that's not true: At least nine other countries did not have viable universal health care as of 2020.
The claim appeared as a meme published in a Facebook post (archived here) on July 21, 2021. A makeshift infographic features an image of a primarily gray world map with the U.S. alone, highlighted in pink. The text, with italicized words as they appear in the post, below the image reads:
Countries with rocket dicks in space

Countries with Universal healthcare
This is what the Facebook post looked like on July 26, 2021:
(Source: Facebook screenshot taken on Mon Jul 26 23:44:09 2021 UTC)
The "rocket dicks in space" appears to be a reference to the recent flight of billionaire Jeff Bezos in a rocket that has been described as having a phallic shape. The rocket's shape and Bezos' costly endeavor have made the billionaire and his rocket fodder for memes across social media, and has triggered some public backlash against Bezos.
This meme incorrectly singles out the U.S. as the only country without universal health care. According to a 2020 report in WorldAtlas, at least nine other countries ranging from Nigeria to Syria and Yemen do not have viable universal health care.