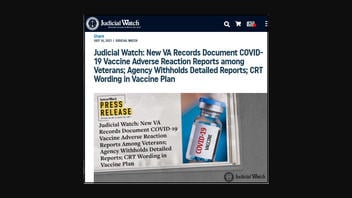 Do these numbers from the Vaccine Adverse Event Reporting System (VAERS) document 895 deaths or serious injuries of military veterans from COVID-19 vaccines? No, that's not true: Anyone with internet access can add a report to the VAERS list; the public access link to it expressly warns against unwarranted conclusions based on VAERS material. The list only provides a tally of unverified notes about any health event people experience after they are vaccinated.
As the VAERS website repeatedly warns users, the list itself cannot be used to prove or quantify, since all it shows is a chronological correlation, not the causal link that would be more difficult to establish. It's the equivalent of a police precinct's running "blotter" of reports that may serve as a starting point for police work, not an end point.
The claim was made in an article (archived here) published July 14, 2021, on the Judicial Watch website under the headline "Judicial Watch: New VA Records Document COVID-19 Vaccine Adverse Reaction Reports among Veterans." It opens:
Judicial Watch announced today that it received 75 pages of records from the Department of Veterans Affairs detailing the adverse reactions veterans had to the COVID-19 vaccines. As of April 2021, Veteran's Health Services reported 895 serious reactions which included: 20 cardiac arrests, 36 strokes, 15 cases of deep vein thrombosis, 10 heart attacks, and 19 pulmonary embolisms. They also reported over 26,000 less serious reactions. The agency withheld individual report details, citing alleged privacy and related issues.
This is what the post looked like on Facebook at the time of writing: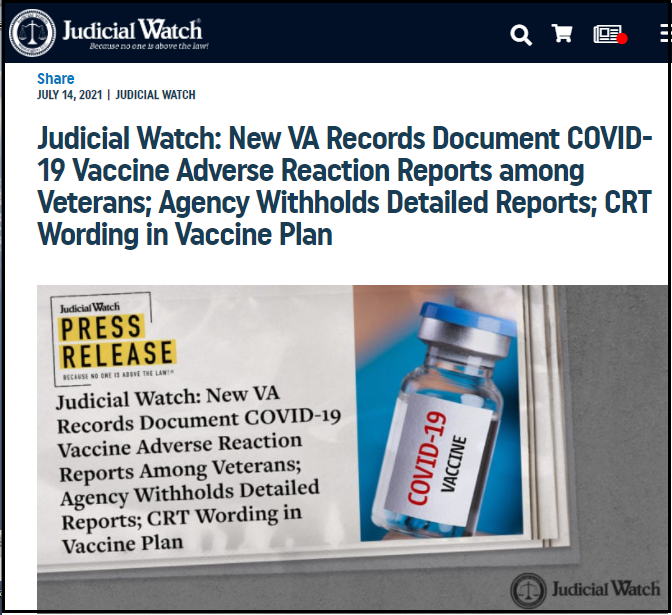 (Source: Facebook screenshot taken on Thu Jul 15 18:39:31 2021 UTC)
Judicial Watch extracted the VAERS numbers from a slide deck the Veterans Administration (VA) sent in response to a request for information about COVID vaccines. VAERS information is available to the public at https://vaers.hhs.gov/data.html.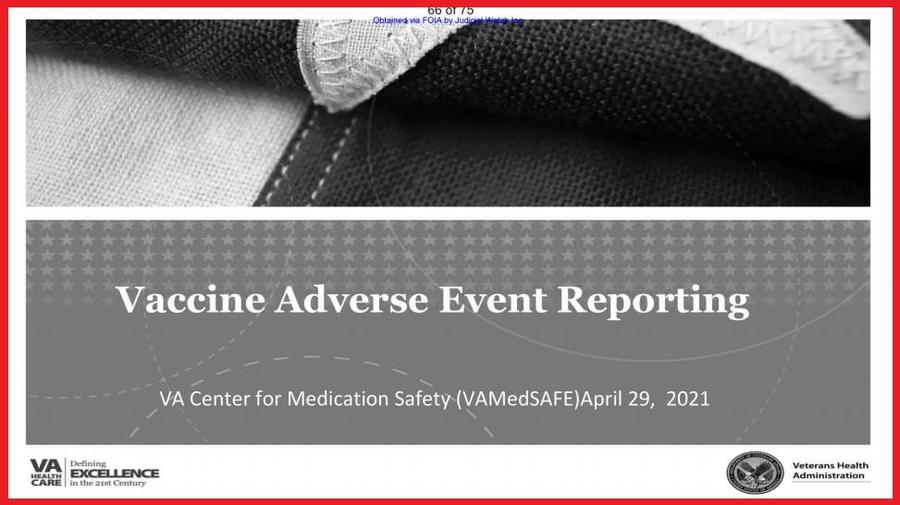 (Source: Facebook screenshot taken on Thu Jul 15 18:39:31 2021 UTC)
What Judicial Watch did not include in its report is the purpose and nature of VAERS. Public health officials comb the likely repetitive, messy and incomplete list, searching for patterns. If a pattern arises, experts then extract the information from each report to check its authenticity. If it's real, they request medical records, talk to patients and medical providers and begin the process of trying to identify if the events occur at a greater rate than would be typical and, if so, if an unexpected side effect has been discovered. VAERS is the tripwire for that investigation, not proof.
The website for VAERS spells it out:
When evaluating data from VAERS, it is important to note that for any reported event, no cause-and-effect relationship has been established. Reports of all possible associations between vaccines and adverse events (possible side effects) are filed in VAERS. Therefore, VAERS collects data on any adverse event following vaccination, be it coincidental or truly caused by a vaccine. The report of an adverse event to VAERS is not documentation that a vaccine caused the event ... VAERS reports can be submitted voluntarily by anyone, including healthcare providers, patients, or family members. Reports vary in quality and completeness. They often lack details and sometimes can have information that contains errors.
And, also:
No proof that the event was caused by the vaccine is required in order for VAERS to accept the report. VAERS accepts all reports without judging whether the event was caused by the vaccine.
To gain access to the VAERS data, you have to affirm that you have read the VAERS website's warning about what VAERS is and is not.
Lead Stories on June 14, 2021, published "CDC's VAERS 'Reports' Are NOT Solid Proof of Vaccine Injuries Or Deaths -- Just Starting Point for CDC, FDA Investigators" showing how memes, articles and Facebook posts misuse VAERS data.