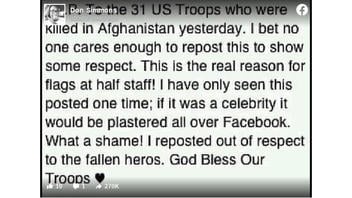 Were 31 U.S. servicemen killed in Afghanistan "yesterday"? No, that's not true: Versions of a post that has circulated since at least 2015 use details of a 2011 attack in which 30 U.S. servicemen and eight Afghans were killed when a U.S. military helicopter was shot down.
The post reappeared in August 2021 as U.S. troops left Afghanistan. The original post (archived here), asked users to share it to show respect. It was published on August 10, 2015. It read:
R.I.P To the 31 US Troops who were killed in Afghanistan yesterday. I bet no one cares enough to repost this to show some respect. This is the real reason for flags at half staff! I have only seen this posted one time; if it was a celebrity it would be plastered all over Facebook. What a shame! I reposted out of respect to the fallen heros. God Bless Our Troops ♥
This is what the post looked like on Facebook at the time of writing:
(Source: Facebook screenshot taken on Tue Aug 24 14:24:39 2021 UTC)
Even when the post appeared in 2015, it was inaccurate as it referred to an event four years earlier.
The Washington Post reported on August 6, 2011, that:
U.S. forces in Afghanistan suffered the deadliest day of the decade-long war Saturday when insurgents shot down an American helicopter, killing 30 U.S. servicemen and eight Afghans in the latest of a series of setbacks for coalition forces whose numbers are set to decline over the coming months.
Then-President Barack Obama expressed his condolences in a statement reported by CBS News on August 6, 2011:
"Their deaths are a reminder of the extraordinary sacrifices made by the men and women of our military and their families, including all who have served in Afghanistan," adding that his thoughts and prayers go out to the families of those who perished.
Lead Stories debunked a similar recyled "yesterday" claim about the 2011 crash in 2020. PolitiFact debunked the claim in 2015.