STORY UPDATED: check for updates below.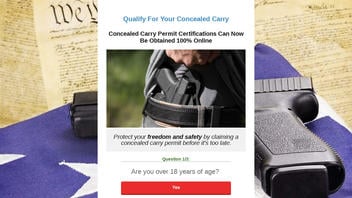 Does an online course completion certificate qualify a person to obtain a concealed carry permit in a specific state mentioned in a targeted ad campaign? That's frequently not true: Individual state laws on carrying concealed weapons vary greatly. Some states do not require a permit to carry a concealed firearm, some states issue a permit but do not have a course requirement, and other states require a certain number of hours of in-person training by a certified instructor.
Buying a certificate to show you have completed an online safety course may not help someone get a concealed carry permit in their state, but in other states it may suffice. In states where concealed carry permits are required, there can be a fee for the permit, fingerprinting, photos, a background check and there may be a requirement for the person to have demonstrated competence with a handgun from an in-person safety course.
Various promotions for this online course to qualify for a concealed carry permit have been circulated since at least 2018. The URL appearing in the ad may redirect to another website. The landing page freedomadvocacygroup.com/carry-2/ (archived here) will redirect to usconcealedonline.com when the user answers some questions and clicks "claim my certificate."
An ad campaign was launched on Facebook on July 19, 2021. Each ad was targeted to a specific state. Many include a photo of the state's governor signing legislation, a red pushpin in the map of the state or a card represented as a concealed carry permit for that specific state. The text of the ads say:
[state name], Big Win For Gun Rights! Residents can now qualify for their concealed carry permit 100% online. It's simple to claim it, here's how. ⬇️
Freedomadvocacygroup.com
[state name] Gun Owner? Qualify For Concealed Carry Permit!
Qualify For Your Concealed Carry Permit
Certifications Can Now Be Obtained 100% Online Protect yo...

Another version of the ad copy reads:
[state name] expands gun rights: Residents are now able to qualify for a concealed carry permit 100% online! In minutes your certification will be OFFICIAL/valid. Start here
[state name] Residents, Get Qualified Online (Do This Before The Loophole Closes)
Qualify For Your Concealed Carry Permit
Certifications Can Now Be Obtained 100% Online Protect yo...
This is how two of the ads from American Mindset, one for Alaska and one for Kentucky and linking to freedomadvocacygroup.com, appeared in Facebook's Ad Library on August 25, 2021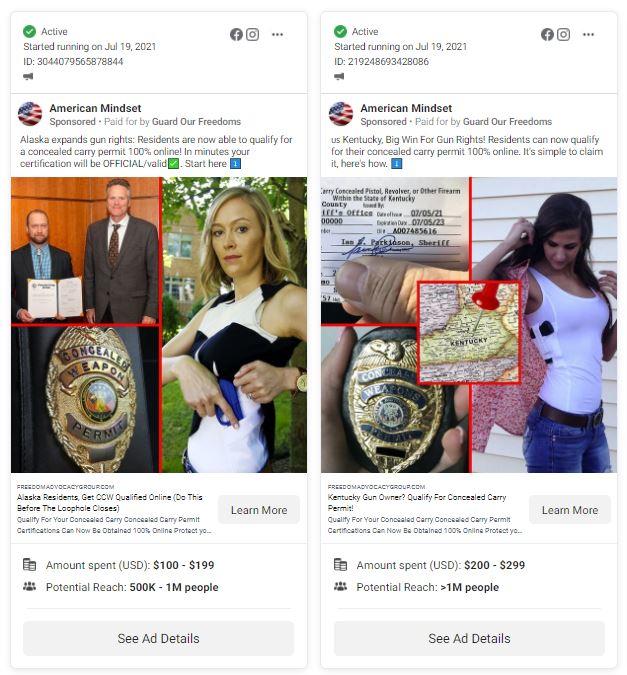 (Source: Screenshot from FB ad library taken on Wed Aug 25 15:20:23 2021 UTC)
Another campaign was launched in April 2021 through a page called Woman's Health. The majority of the ads of this campaign show a notice that they were taken down because they went against Facebook Advertising Policies. These remaining ads from Washington, Montana and Wyoming have a different landing page -- guardourfreedoms.com/carry/, which then redirects to the same usconcealedonline.com online course.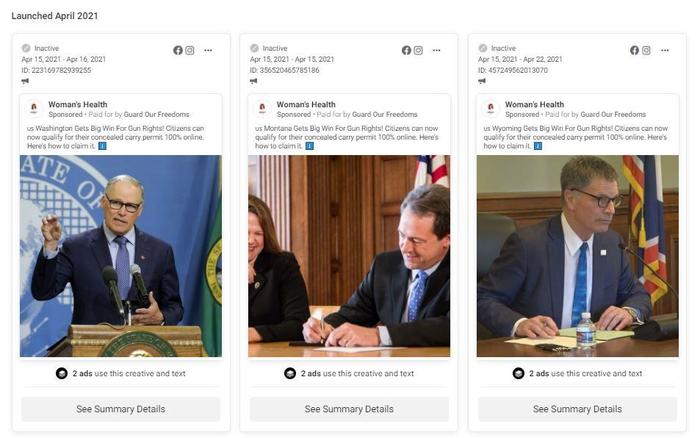 (Source: Screenshot from FB ad library taken on Wed Aug 25 15:25:12 2021 UTC)
These campaigns use urgent language to encourage people to act quickly. If they research the requirements for a concealed carry permit in their state, they may discover that the certificate from the online course does not help toward getting a concealed carry permit. The meaning behind the words "qualify," "certificate" and "permit" can potentially mislead a person unfamiliar with the terminology to assume that the purchase of this certificate is all that is required to get a concealed carry permit, or that if they purchase a certificate that they are guaranteed to be qualified.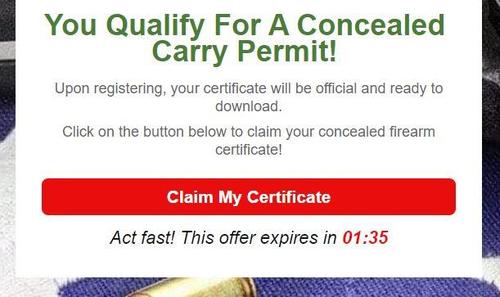 (Source: Screenshot of freedomadvocacygroup.com countdown clock taken on Wed Aug 25 18:37:36 2021 UTC)
Lead Stories reached out by telephone to the Alaska Department of Public Safety on August 23, 2021, to inquire about the requirements for a concealed carry permit in Alaska. We were directed to the page of their website dedicated to concealed handguns. Alaska is one of many states that does not require a resident to have a permit to carry a handgun concealed or open. Alaska does issue concealed carry permits to residents who wish to have one.
Two of the main reasons why a resident would opt to get a permit would be for reciprocity in other states and because their permit could double as a National Instant Criminal Background Check when buying firearms. To qualify for an Alaska Concealed Carry Permit, a resident must complete a 12-hour in-person training course. This online training course isn't enough to qualify an Alaska resident for a permit. On the permits page of the DPS website it even says, "Don't waste your time and money" on an online course.
Successfully complete a handgun competency course

that is approved by the department

within the 12 months prior to the application. (a list of approved courses is available from the Permits and Licensing Unit upon request) Don't waste your time and money -

there are no online or correspondence courses or programs outside of Alaska that are approved.
Below is an example of the confusing pitch from the usconcealedonline.com website from the redirecting ad of freedomadvocacygroup.com. Although the website is designed with language and graphics for each individual state, the specific concealed carry permit requirements of the state are not made expressly clear.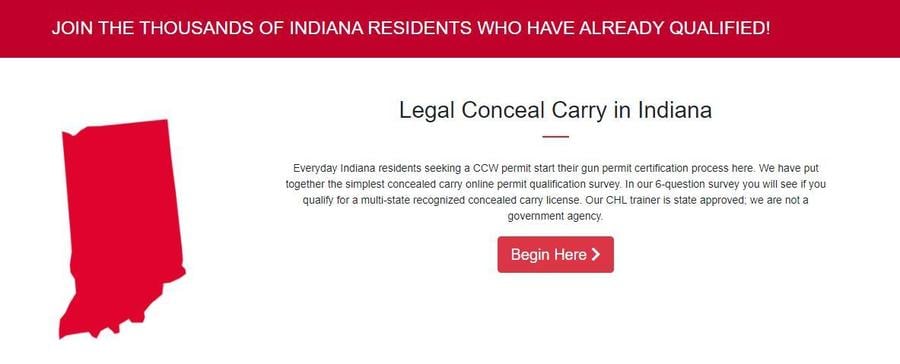 (Source: Screenshot detail of usconcealedonline.com website taken on Tue Aug 24 18:53:16 2021 UTC)
After answering a series of six yes or no questions, the next screen says, "Congratulations! You qualify for a Indiana Concealed Carry Permit Certification!" In the small print the person is asked to acknowledge that they understand that there are more steps and additional documents needed to apply for the concealed carry permit at their local sheriff's office. It is not made clear that the certificate they are about to purchase has no value toward getting their permit in Indiana.
(Source: Screenshot detail of usconcealedonline.com website taken on Tue Aug 24 18:54:35 2021 UTC)
Lead Stories reached out by email on August 24, 2021, to Major Brian Stevenson, the rangemaster of the Boone County Indiana Sheriff's Office, to ask about the training requirements specific to the state of Indiana. He explained:
In the state of Indiana, below is the process for obtaining a carry permit:

1. Complete application for Permit to Carry online at IN.GOV.

2. Make an appointment for fingerprinting and have prints completed.

3. Go to your local law enforcement office to complete a background check and have your application sent to the state for approval.

4. The state will mail their permit. Applicants cannot carry until they receive the permit.

You will not find anywhere in the above steps where an online course is required, or even offered. Organizations (or fake organizations) that attempt to sell the online course are scamming good citizens that are not aware of the requirements.
These ads imply there is a new or expanded opportunity that might be lost if not acted upon. Lead Stories saw no evidence of specific new legislation or a specific loophole that is about to close -- these claims appear to just be a high-pressure tactic. If there was a loophole that applied to online firearm safety courses, it would have probably been Virginia's non-resident concealed carry permits, which formerly allowed an out-of-state resident to qualify for a permit with a certificate from an online course. That is no longer the case. The Virginia State Police website has a bold yellow banner across the top of the page that says:
EFFECTIVE JANUARY 1, 2021, the Virginia State Police will no longer accept online course certificates showing proof of competency for the purposes of obtaining a Virginia Nonresident Concealed Handgun Permit. Any application containing an online certificate, that is not postmarked prior to January 1, 2021, will be returned to sender unprocessed.

Arizona officials responded to Lead Stories' inquiry to say online-only certification isn't an option. In a September 14, 2021 email, the Concealed Weapons Permit Unit of the Arizona Department of Public Safety(DPS) wrote: "AZ DPS CCW unit does not accept online courses of any kind for firearms training or certification and there is not a loop hole or exception to this rule. All certification courses must be completed in person with an NRA certified instructor."
The scope of this fact check does not extend to listing all the state laws and requirements to qualify for a concealed carry permit if such a permit is even required in a state. On July 1, 2021, the number of states with "Constitutional Carry" laws (no permit required for a resident to carry a concealed weapon) rose to 20, with the addition of Iowa and Tennessee.
(Editors' Note: Facebook is a client of Lead Stories, which is a third-party fact checker for the social media platform. On our About page, you will find the following information:
Since February 2019 we have been actively part of Facebook's partnership with third party fact checkers. Under the terms of this partnership we get access to listings of content that has been flagged as potentially false by Facebook's systems or its users and we can decide independently if we want to fact check it or not. In addition to this we can enter our fact checks into a tool provided by Facebook and Facebook then uses our data to help slow down the spread of false information on its platform. Facebook pays us to perform this service for them but they have no say or influence over what we fact check or what our conclusions are, nor do they want to.)
2021-09-14T17:18:08Z

2021-09-14T17:18:08Z

Updated to add Arizona's response.

2021-08-26T21:33:00Z

2021-08-26T21:33:00Z

Added explanation of Lead Stories' relationship with Facebook.