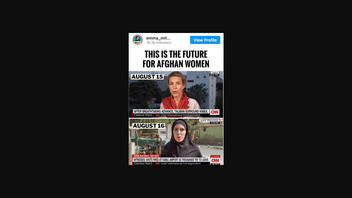 Did CNN's chief international correspondent start wearing a headscarf in Afghanistan due to Taliban control? No, that's not true: veteran war reporter Clarissa Ward clarified she has always worn a headscarf while reporting "on the street in Kabul." Ward explained her wardrobe choices in Kabul changed as the government fell to the extremist Islamic Taliban, saying there was a "difference but not quite this stark." In strict Islamist quarters, women are expected to cover their hair when in public and foreign correspondents say violating that rule could make them targets or cause male sources not to speak to them. Ward has reported from war zones in Syria, Iraq, Ukraine, Lebanon, Israel and Egypt.
The claim appeared as a post (archived here) where it was published on Instagram on August 16, 2021. It opened:
Where are my liberal feminist at?
Users on social media saw this post:
(Source: Instagram screenshot taken on Tue Aug 17 09:06:21 2021 UTC)
The meme showed two photos of Ward, the top from August 15, 2021, in which she had no covering on her head. The bottom image is a screengrab from CNN a day later, from August 16, 2021, where her hair was fully covered and she was wearing an abaya, a traditional Muslim covering. The meme warned, "THIS IS THE FUTURE FOR AFGHAN WOMEN.
Ward tweeted a response to the meme from her official account @clarissawward, about her two different outfits as the Taliban took control of Afghanistan.
This meme is inaccurate. The top photo is inside a private compound. The bottom is on the streets of Taliban held Kabul. I always wore a head scarf on the street in Kabul previously, though not w/ hair fully covered and abbaya. So there is a difference but not quite this stark. pic.twitter.com/BmIRFFSdSE

-- Clarissa Ward (@clarissaward) August 16, 2021
Here is a screen grab taken by Lead Stories from CNN on August 17, 2021, at 3:03 p.m. PT that shows Ward reporting live on television without a headscarf or abaya, presumably in a private compound again in Kabul, Afghanistan.