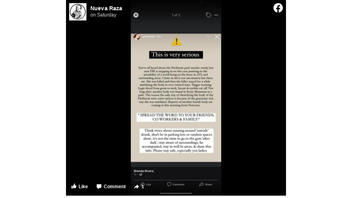 Is there a serial killer investigation in the Atlanta area, as a post implies? No, that's not true: The Atlanta-area murders of two women, who were killed in different ways and in separate attacks miles apart, are not connected, according to Atlanta-area police agencies.
The claim appeared in a Facebook post (archived here) on July 31, 2021. The text opens:
This is very serious

You've all heard about the Piedmont park murder surely, but now the FBI is stepping in on this case, pointing to the possibility of a serial being on the loose in ATL and surrounding areas.
This is how the post appeared on August 3, 2021: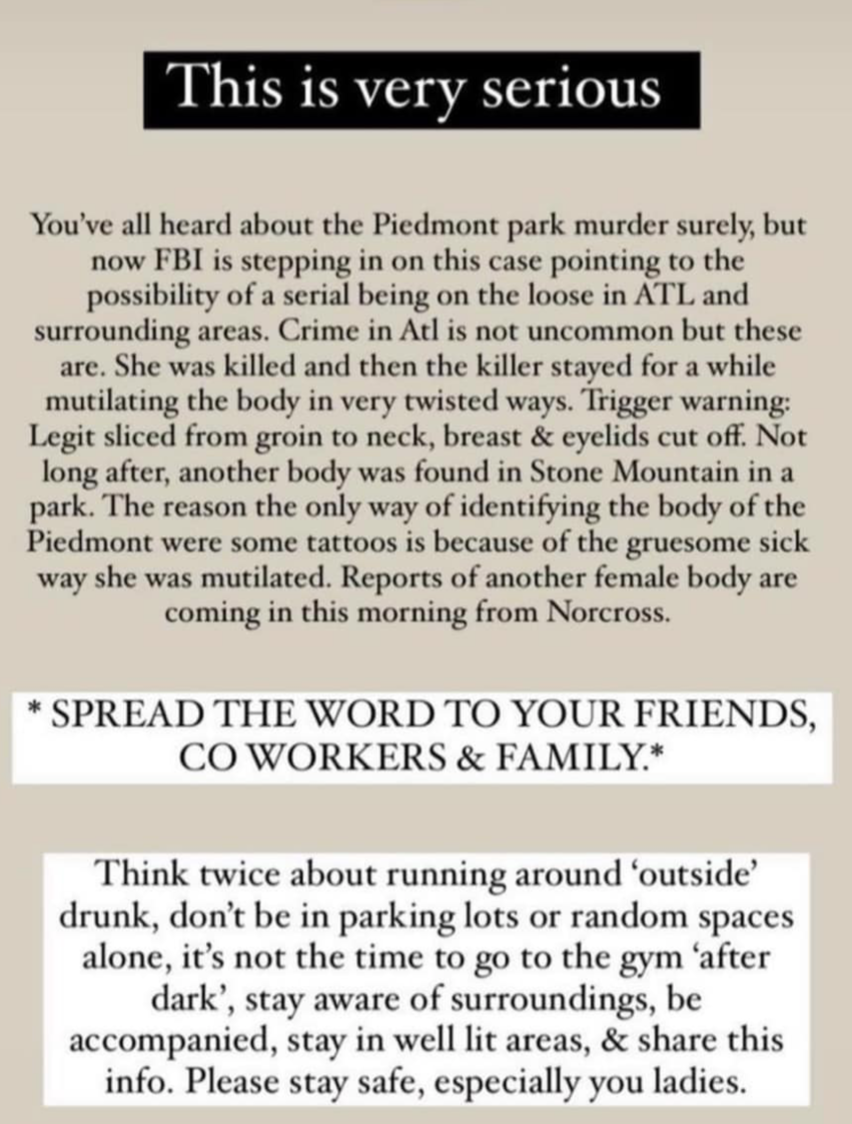 (Source: Facebook screenshot taken on Tue Aug 3 21:42:57 2021 UTC)
The text adds:
Reports of another female body are coming in this morning from Norcross.
Two days after that was posted, on August 2, 2021, Norcross Police Chief Bill Grogan was quoted by The Washington Post as saying there was "nothing factual about the posts we've seen" about reports of a body in the Atlanta suburb of Norcross.
In Atlanta, the body of Katherine Janness was discovered on July 28 in the city's Piedmont Park. She was attacked while on a walk with her dog, authorities said, and both Janness and the dog were stabbed to death. Atlanta Mayor Keisha Lance Bottoms said at a news conference on August 3, 2021, that there was no evidence a serial killer was responsible for Janness' death.
The body of Tori Lang was found in Yellow River Park in suburban Gwinnett County on July 27, 2021, authorities said. She was shot to death.
This fact check does not address the purported details of the two deaths found in the post, only the implication a serial killer is responsible.
In an August 2, 2021, email to Lead Stories, Cpl. Ryan Winderweedle with the Gwinnett Police Department public information office said:
Detectives have found no connection between the Piedmont Park case and the Yellow River Park case.
A similar response came via email from Sgt. John Chafee with the Atlanta Police Department's public affairs office:
At this time, we are not aware of any connections between our case and any other. The latest information we have for release is posted on our website. We urge everyone to avoid spreading rumors and or unconfirmed information on this open and active investigation. We continue working to identify anyone involved in this murder.
Lead Stories reached out to Kevin Rowson, a public affairs specialist in the FBI's Atlanta field office ,via email, who confirmed that the agency was working with the APD and "any questions about any of the cases mentioned should be directed to the investigating agency."