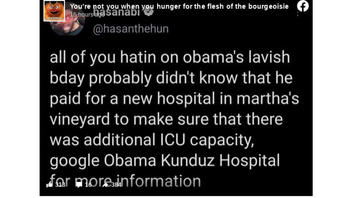 Did Barack Obama pay for a new hospital in Martha's Vineyard named Kunduz following his lavish birthday party? No, that's not true: the post is a satirical dig at the former president, who threw an elaborate 60th birthday party for himself at his Massachusetts compound. "Kunduz hospital" refers to a 2015 U.S. airstrike in Afghanistan while he was commander in chief that destroyed a hospital.
The claim appeared as a post (archived here) where it was published on Facebook on August 8, 2021. It opened:
all of you hatin on obama's lavish bday probably don't know that he paid for a new hospital in martha's vineyard to make sure that there was an additional ICU capacity, Google Obama Kunduz hospital for more information
This is what the post looked like on Facebook at the time of writing:
(Source: Facebook screenshot taken on Mon Aug 9 19:25:32 2021 UTC)
Obama, the 44th president of the United States, hosted a star-studded birthday party at his $11.75 million Martha's Vineyard compound on August 7, 2021. The event was criticized for taking place amid the COVID-19 outbreak as the Delta variant spread through the nation.
However, Obama did not "make sure there was additional ICU capacity" as the post said. The Kunduz hospital, which was a Doctors without Borders medical facility, was hit by a U.S. airstrike on October 3, 2015, in Afghanistan, as the New York Times previously reported. Forty-two people were killed in the airstrike.
The post is a satirical dig at Obama amid the disapproval being reported about the timing and size of the birthday party as the COVID-19 outbreak continues.