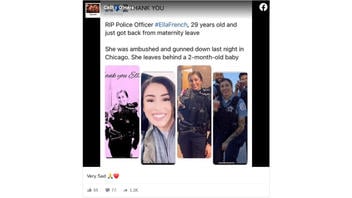 When Chicago police officer Ella French was killed in the line of duty, had she recently returned to work after maternity leave and did she leave an infant? No, the superintendent of Chicago police said in a news conference that those personal details are "not accurate." French, who was with the Chicago Police Department for three and a half years, was killed by gunfire during a traffic stop on the evening of August 7, 2021. Rumors with incorrect personal details began circulating on websites and in social media posts. Officer French had not just returned from maternity leave and she did not have a newborn daughter.
The incorrect personal details began circulating on August 8, 2021. One example is a post which was published on Facebook on August 8, 2021, with the caption, "Very Sad" The text in the post reads:
THANK YOU
RIP Police Officer #EllaFrench, 29 years old and
just got back from maternity leave

She was ambushed and gunned down last night in
Chicago. She leaves behind a 2-month-old baby
This is what the post looked like on Facebook at the time of writing:
(Source: Facebook screenshot taken on Mon Aug 9 19:38:32 2021 UTC)
An August 8, 2021, article on chicagotribune.com titled, "'God took the wrong kid.' Brother of slain officer Ella French speaks about younger sister; second cop fighting for his life" said that Chicago Police Superintendent David Brown provided limited information about French but officials acknowledged she was survived by a mother, brother and other family members. There was no mention of a child.
Lead Stories reached out by email to the Chicago Police Department Office of Communications for clarification. Officer Alexis Interrante replied on August 9, 2021, with a link to the Facebook live video of the Chicago Police Department press conference. This was broadcast live on August 8, 2021, on both Facebook and on Twitter (embedded below). At about 16 minutes into the video, a reporter asks:
Can you give any more details on the female officer-- we had heard that she possibly just returned from maternity leave and has an infant child, I don't know if that's accurate? Is there anything else more you can tell us?
To this Police Superintendent Brown replies:
That's not accurate. I would just encourage you not to follow Twitter news.
The mom requests that we withhold more information about her daughter until she is ready to hear you all (the press) report it.
So we are going to honor her requests and are going to ask that you do the same.
Mayor Lightfoot joins CPD Superintendent Brown for a media availability regarding last night's tragic events.
https://t.co/79Kq5uqO0a

-- Chicago Police (@Chicago_Police) August 8, 2021