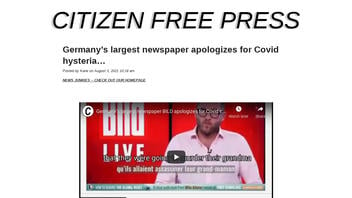 Did Germany's biggest tabloid newspaper, Bild, issue an apology for "Covid hysteria" or "Covid deception" during the coronavirus pandemic? No, that's not true: In a video published in May 2021, Bild's editor in chief Julian Reichelt asked the nation's children for forgiveness, but he did not apologize for his paper's reporting on the pandemic. Reichelt tapped into a public debate on whether the response to the pandemic had neglected children's well-being for too long and apologized on behalf of the government -- a rhetorical maneuver aimed at criticizing Chancellor Angela Merkel's policies.
The video was originally uploaded to Bild's YouTube channel on May 28, 2021. Several months later, it reappeared with English and French subtitles in a blog post (archived here) by Citizen Free Press on August 3, 2021, under the headline "Germany's largest newspaper apologizes for Covid hysteria..." The video appeared to be captured from another post on the platform Brighteon and contained an additional headline that was more direct about the allegation of dishonest reporting: "Popular German Newspaper Issues Apology on Covid Deception."
The blog post took Reichelt's thinly-veiled criticism of Merkel's policies out of context and interpreted it as an apology for creating "Covid hysteria" through overblown media reports purportedly with little scientific evidence to back them up. This is, however, not what Reichelt was talking about in the video.
The English translation of the subtitled video was largely correct and read as follows:
To the millions of children in this country for whom our society is responsible, I want to express here what neither our government nor our Chancellor dares to tell you. We ask you to forgive us. Forgive us for this policy which, for a year and a half, has made you victims of violence, neglect, isolation and loneliness. Sorry for this policy and media coverage which, like poison, made you feel like you were a mortal danger to society. You are not a danger to society, don't believe this lie. It's up to us to protect you.
While Reichelt did mention media coverage that could have instilled feelings of fear and guilt in children, he did not apply this criticism to his own newspaper. On the contrary, he claimed that Bild had always been critical of the official COVID response.
What happened to our children, many people, and Bild denounced it. Nothing happened. Merkel organized a summit for children? No! Instead, we persuaded our children that they were going to murder their grandma, if they dared to be what they are, children. Or if they met their friends.
In his direct address of children and parents, Reichelt does not speak as an editor in chief but picks up on a hotly debated issue in German society: whether the government's pandemic response unduly burdens children who are not in danger of becoming seriously ill from the virus. News outlets in Germany began focusing on the toll lockdowns and school closures had taken on children especially during the second and third wave of the pandemic (here, here, here and here). A study published in January 2021, showing that children can transmit the virus to others but rarely have symptoms themselves, sparked a debate on whether it was fair to expect the young to put their lives on hold to protect more vulnerable members of society earlier in 2021. This is what Reichelt picked up on in the last part of the video:
None of this has been scientifically proven. It was easy to force that on the children, they can't defend themselves and they don't vote. When a state steals the rights of a child, it must prove that by doing so, it protects him against concrete and imminent danger. This proof has never been provided. It has been replaced by propaganda presenting the child as a vector of the pandemic. Those who wanted to contradict this propaganda were never invited to the expert table. Our policies would do better to open schools and sports halls rather than polling stations (mistranslated, campaign booths). Otherwise they will have on their conscience and will leave in the history books a multitude of innocent souls.
In this context, scientific proof did not refer to scientific proof that the SARS-CoV-2 virus exists or poses a significant threat, but whether children themselves were affected to a degree that justified the restrictions the pandemic response had placed on them.
Since vaccines against COVID-19 have become widely available in Germany, the focus has shifted from curbing lockdowns and widespread testing towards vaccinations to protect those at risk for severe illness. The vaccine is available for children over the age of 12, but Germany's Standing Committee on Vaccination (STIKO) has not issued a blanket recommendation for teenagers yet.
With 1.37 million copies sold each day, Bild is the newspaper with the highest circulation in Germany. Julian Reichelt took over as editor in chief in 2018 and sees his publication as "the voice of ordinary people," as he told the Guardian in 2020. Lead Stories has reached out to Bild's publisher Axel Springer SE for comment and will update this article accordingly when they respond.