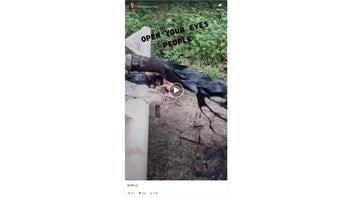 Is there a mandatory oil dump order in place per the "Department of Hydrocarbons"? No, that's not true: neither a mandatory oil dumping order nor the "Department of Hydrocarbons" exist, and the creator of the video admitted it was a joke.
The claim, which originated as a video on TikTok, appeared in a repost (archived here) on Facebook published on July 30, 2021. The text in the TikTok read "OPEN YOUR EYES PEOPLE" and started with a truck dumping a black substance in a field. Then the speaker in the TikTok appeared and started the narrative at the 0:04-mark:
Well, what you saw right there oughta concern you. I was doing exactly what I was told via a letter I got last night in the mail from the Department of Hydrocarbons. They said in order to stabilize oil prices they need a bunch of oil just dumped. And not dumped on the market -- just dumped on lease roads and field roads and things like that.
Footage of an oil tank and a hose connected to a truck was shown as this narrator's voice said:
So I'm hooked up to that oil tank going straight into my truck to get rid of it.
This is what the post looked like on Facebook on August 24, 2021:
(Source: Facebook screenshot taken on Tue Aug 24 18:08:48 2021 UTC)
According to a "branches of government" list on the official U.S. government website, there is no executive branch agency, commission or committee named the "Department of Hydrocarbons." At the time of writing, the U.S. Environmental Protection Agency has not published any hazardous waste regulations regarding dumping unrefined oil from tanks; just regulations for managing used oil.
At the 0:30-mark, the speaker in the TikTok continued:
Well, I'm gonna get fined if I don't get rid of it, they said. So that prompted me to call district selectman Tony Deloge and ask him about this letter and he said he didn't know much about it but he would suggest that I follow whatever it says so here we go.
There is no real "district selectman" named Anthony (or Tony) Deloge. However, there is a fictional character named Tony Deloge in the Comedy Central puppet show "Crank Yankers", whose occupation is "district selectman."
Although the TikTok used in the Facebook post was reposted from TikTok user @trucking_n_style, the TikTok user who originally posted the video is @bushelsandbarrels, whose name is Ryan Peter. A screenshot of his bio, where he described the page as "Entertainment only," is included below:

(Source: TikTok screenshot taken on Tue Aug 24 17:46:08 2021 UTC)
The video was no longer on Peter's page at the time of writing, but he did post a clarification video on July 26, 2021, saying that the information in the oil dumping video was not real. In the clarification video, he confirmed the facts presented in this fact check:
I'm the guy who made the dumping oil thing. Number one, I said it was from the Department of Hydrocarbons: there's no such department. Number two, I called Tony Deloge as my district selectman. That's a character off 'Crank Yankers' from back in the day.
Peter also said that the substances that were dumped on the ground in the joke video were "tank bottoms," substances that are found settled at the bottom of an oil tank.
The clarification video can be found here (archived here) and is embedded below:
(Source: TikTok screenshot taken on Tue Aug 24 18:15:01 2021 UTC)
Lead Stories has previously debunked TikToks that have been taken out of context. Examples of such fact checks are found here and here.