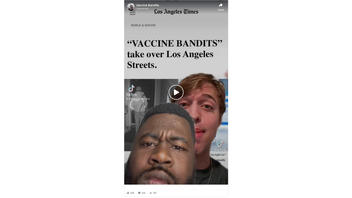 Are "vaccine bandits" abruptly giving unsuspecting pedestrians COVID-19 vaccines and taking over Los Angeles' streets? No, that's not true: The idea was a joke started by a known satirical account on TikTok. The creator of the original video says in a follow-up that he didn't think people would believe his "over-the-top" story about a "fake group."
But, based on responses to the original video, some people did believe the story.
The claim started out as a satire video by TikTok user @graysworld, whose bio as of August 12, 2021 explicitly states "welcome to ~scripted~ chaos." TikTok user @thejonathanmoss posted a response video.
Then Jonathan Moss also posted the response video (archived here) to his official Facebook page on August 11, 2021. That video, titled "Vaccine Bandits," begins with the start of the @graysworld's video, pointing to a headline purportedly from the Los Angeles Times and introducing the claim:
L.A. is under attack from what is called the 'vaccine bandits.'
@thejonathanmoss responds:
'Vaccine Bandits' take over the streets of L.A. Since when?!
This is what the post looked like on Facebook on August 12, 2021:
(Source: Facebook screenshot taken on Thu Aug 12 16:08:08 2021 UTC)
The @grayworld's video goes on with a made-up scenario: how a "vaccine bandit" approaches a person on the street, asks them if they are vaccinated and if the person hesitates at all the "bandit" injects them with a dose of one of the COVID-19 vaccines. The @thejonathanmoss video responds to various points in @grayworld's original video, including that the "vaccine bandits" throw incomplete vaccination cards for people to fill out and somehow leave notes at their homes saying "See you in 2 weeks" indicating that they would return to complete the vaccine's second dose.
The Los Angeles Times never published an article discussing the appearance of so-called "vaccine bandits." Internet users can easily manipulate images and webpages to create fake attributions for false content, as explained in this Lead Stories fact-check.
@thejonathanmoss concluded the video by displaying a Google search of the "vaccine bandits" claim and revealed that it was fake.
However, some users in the Facebook comments still reacted to the claim as if it were real. One user said:
I will not support that kind of vaccination style like what if the needle has been used in a different way.
Another user said:
That's assault and murder in my opinion
Due to the number of people who mistook the original video by @graysworld as truth, it was taken down by TikTok. In response, the creator put out another TikTok (archived here) explaining that he thought it was clear that the "vaccine bandits" claim was not real. In this follow-up TikTok, he said:
Now, my videos are always ridiculous in nature, but there's always a small percentage of people that do believe that they're real. But this particular video I was like 'There's no way people will buy this' because it was so over the top.
He even included screenshots of articles and fact-checks debunking the claim and went on to say:
... despite all the clues I left, despite all the news outlets pointing out the ridiculous nature of the video, it still got taken down. After like seven million views! And the thing is, a lot of people were enjoying the video, like, there was a lot of people who really thought it was funny. And the minority of people that didn't think it was funny are the reason it got taken down. And now none of us get to enjoy it!
The follow-up TikTok is embedded below:
(Source: TikTok screenshot taken on Thu Aug 12 16:12:16 2021 UTC)
Lead Stories previously debunked a satirical video from @graysworld claiming that a "Karen" was regularly stealing mail from the TikTok's narrator.