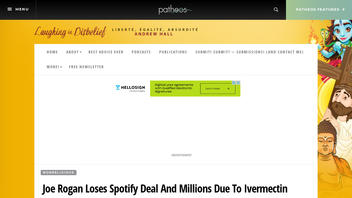 Did Joe Rogan lose his Spotify deal and millions of dollars after he promoted the horse dewormer, ivermectin, as the cure for COVID-19? No, that's not true: The blog that wrote the claim, Laughing in Disbelief, is a satirical blog with a disclaimer on its content. Rogan is still making content for his podcast, "The Joe Rogan Experience," and Spotify was still hosting it on spotify.com as of this writing.
The claim originated as an article published by the blog, Laughing in Disbelief, on September 3, 2021 titled, "Joe Rogan Loses Spotify Deal And Millions Due To Ivermectin" (archived here) which opened:
Comedian and podcaster Joe Rogan lost his $100 million dollar Spotify deal due to the star's admitting that he took the animal dewormer drug ivermectin.
Users on social media only saw this title, description and thumbnail: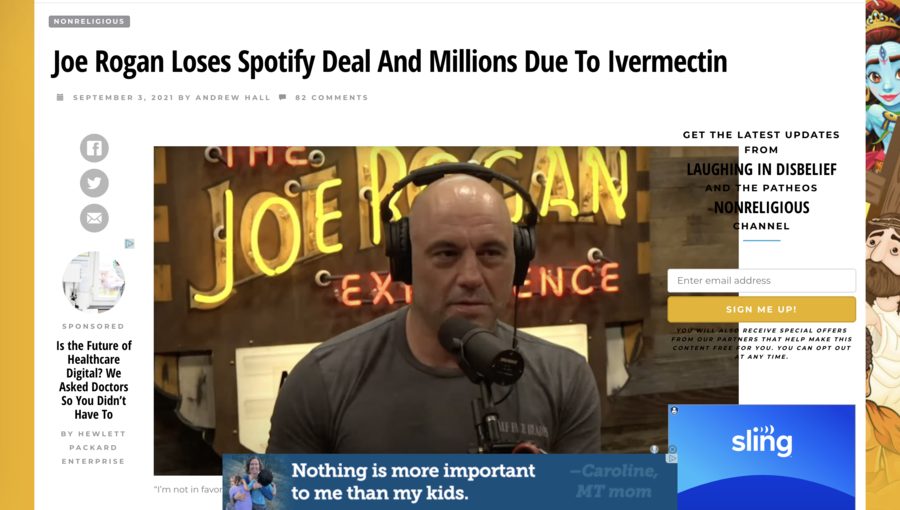 (Source: Patheos.com screenshot taken on Wed Sep 29 2:24:49 2021 UTC)
The author of the Laughing in Disbelief blog, Andrew Hall, has a "Is This Satire?" tab readers can click on to find out if the site is satirical or not.
In the "Is This Satire?" section, Hall writes this about how he would describe his blog articles:
Under normal circumstances, my humble blog is similar to The Onion. As many of you know, The Onion publishes satirical stories poking fun at everyday problems everyday people face as well as pointing out the hypocrisy of the rich and powerful.
A screenshot of "The Joe Rogan Experience" on Spotify on September 29, 2021, showed that Rogan had not severed ties with the music streaming service.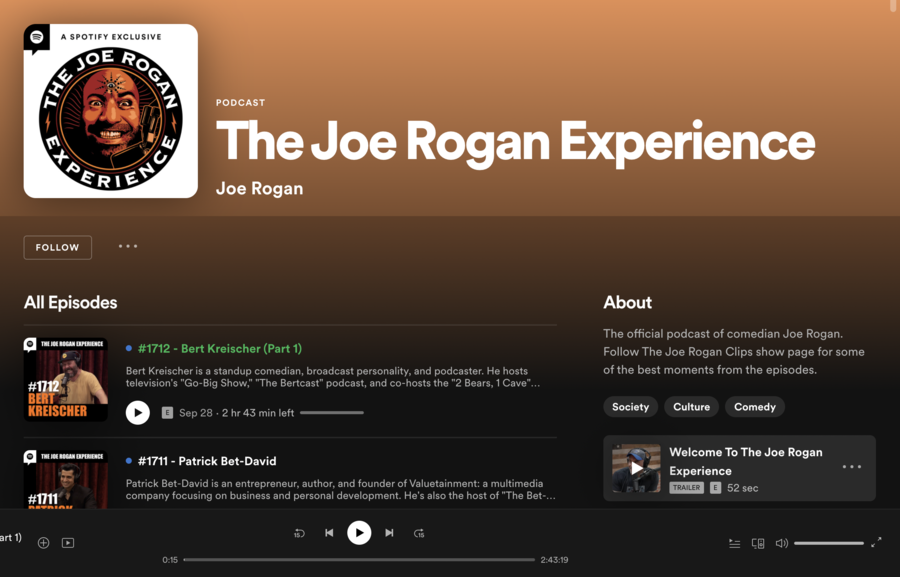 (Source: Spotify.com screenshot taken on Wed Sep 29 2:52:19 2021 UTC)