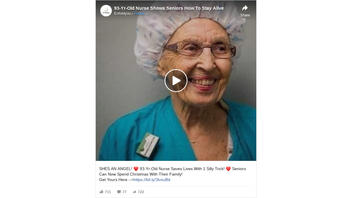 Did the oldest working nurse in the U.S. recommend that seniors use a specific brand of humidifiers to ward off COVID-19 during the winter? No, that's not true: The video that made the claim used fictional quotes and unrelated footage of surgical nurse Florence "SeeSee" Rigney to advertise humidifiers.
The claim appeared in a video posted (archived here) on Facebook on September 10, 2021. It was titled:
93-Yr-Old Nurse Shows Seniors How To Stay Alive
The caption of the post reads:
SHES AN ANGEL! ❤ 93-Yr-Old Nurse Saves Lives With 1 Silly Trick! ❤ Seniors Can Now Spend Christmas With Their Family!
Get Yours Here -->https://bit.ly/3lvouBd
This is what the post looked like on Facebook on September 17, 2021:
(Source: Facebook screenshot taken on Fri Sep 17 17:52:48 2021 UTC)
The video's main claim is that Rigney -- who the video incorrectly refers to as "Janis" -- endorsed the humidifiers as a measure seniors can take to protect themselves against COVID during colder months. However, Rigney has never publicly endorsed the use of humidifiers as a preventative method against COVID. The quotes that the video uses appear to be fabricated (fruitless Google searches of some of the quotes from the video are included here, here and here), with the video claiming that "Janis" made these statements during an emergency television interview, which Lead Stories could not find.
The footage of Rigney working in the hospital was taken from various news reports about her status as the country's oldest working nurse, including a recording of her colleagues celebrating her 90th birthday in 2015, her 2015 appearance on the Dr. Oz Show and an NBC Nightly News report from 2017.
Lead Stories also conducted Google searches of "florence rigney humidifier," "nurse janis humidifier" and "janis humidifier covid-19" and did not discover any relevant results.
Beginning at the 1:29 mark, the video on Facebook also said that Rigney turned to humidifiers as a possible COVID-19 prevention method after losing her husband to COVID-19 in the same hospital where she worked. But according to the NBC Nightly News report from 2017, two of Rigney's husbands died of cancer.
The title of the video is inaccurate as well. By the time the video was published on September 10, 2021, Rigney, whose birthday is in May, was 96 years old, not 93. As for her connection to COVID, Rigney, who worked part time, was barred by her hospital in 2020 from working during the COVID pandemic. This makes the video on Facebook's claim at the 1:12 mark that she "stopped the outbreak" and saved 500 lives at her hospital, unlikely. Rigney officially retired from her position in July 2021 due to COVID concerns.