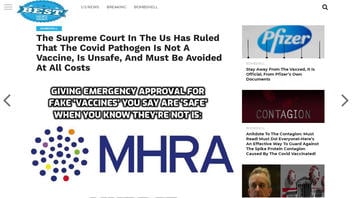 Did the U.S. Supreme Court rule that the COVID-19 vaccine is unsafe? Did Dr. Anthony Fauci and "Big Pharma" lose a lawsuit to Robert F. Kennedy Jr. and others over the safety of COVID vaccine? No, neither of those are true: There has been no recent court proceeding, or ruling, from the Supreme Court stating that COVID vaccine is unsafe. There is also no evidence that Robert F. Kennedy, Jr. and Dr. Anthony Fauci were in court over the issue.
The story appeared as an article (archived here) published by bestnewshere.com on August 28, 2021 titled "The Supreme Court In The Us Has Ruled That The Covid Pathogen Is Not A Vaccine, Is Unsafe, And Must Be Avoided At All Costs." The Best News Here article carried this line, in boldface:
BIG PHARMA AND ANTHONY FAUCI HAVE LOST A LAWSUIT FILED BY ROBERT F KENNEDY JR AND A GROUP OF SCIENTISTS!
Users on social media only saw this title, description and thumbnail:
(Source: bestnewshere screenshot taken on Tues Aug 31 15:49:13 2021 UTC)
The Best News Here article claims that the U.S. Supreme Court has canceled universal vaccination in the United States, and the pharmaceutical industry, Bill Gates and Anthony Fauci have lost a case mandating the coronavirus vaccine, coronavirus testing, and masks used to protect people from getting the coronavirus. According to the article, the pharmaceutical industry, Gates, and Fauci all failed to prove that their vaccines from the past 32 years have been safe for the public. The result of this purported court case was, according to the article: "Federal Law Now Prohibits Mandates of Emergency Use COVID Vaccines, Tests, Masks ."
Authorization for medical products for use in emergencies, or United States Code, 21 U.S.C. 360bbb-3, is a law that allows the secretary of Health and Human Services to use a "drug, device, or biological product" for use in an emergency. This law has been in effect since January 3, 2012. HHS has allowed the coronavirus vaccines to be used during this pandemic.
The Supreme Court does not have any cases on file with the name Fauci or Kennedy relating to the COVID vaccine. Here is a screenshot of no results when searching "Robert F. Kennedy Jr v. Anthony Fauci" in the Docket Search on supremecourt.gov.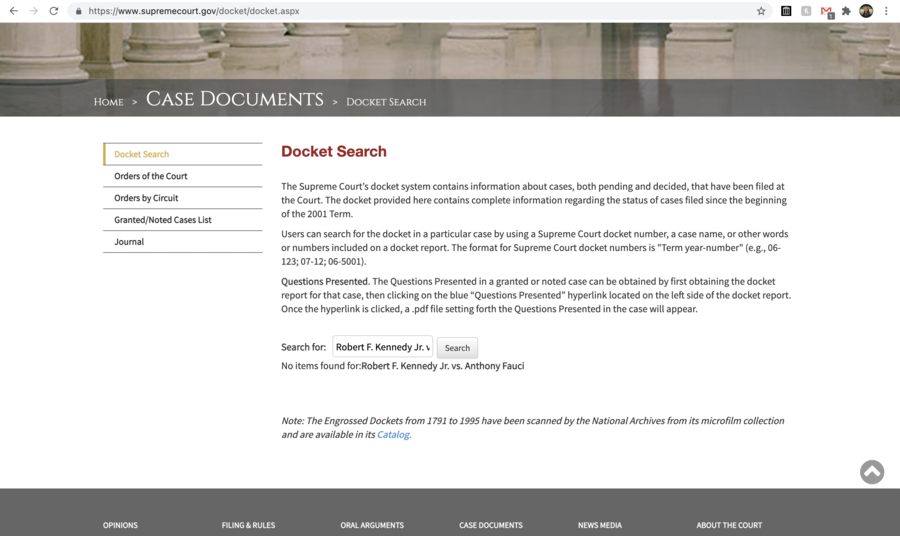 (Source: supremecourt.gov screenshot taken on Tues Aug 27 18:36:55 2021 UTC)
The following screenshots below show no results for the searches, "Robert F. Kennedy Jr. vs. National Institute for Allergy and Infectious Diseases", "Children's Health Defense vs. Anthony Fauci" and "Children's Health Defense vs. National Institute for Allergy and Infectious Diseases".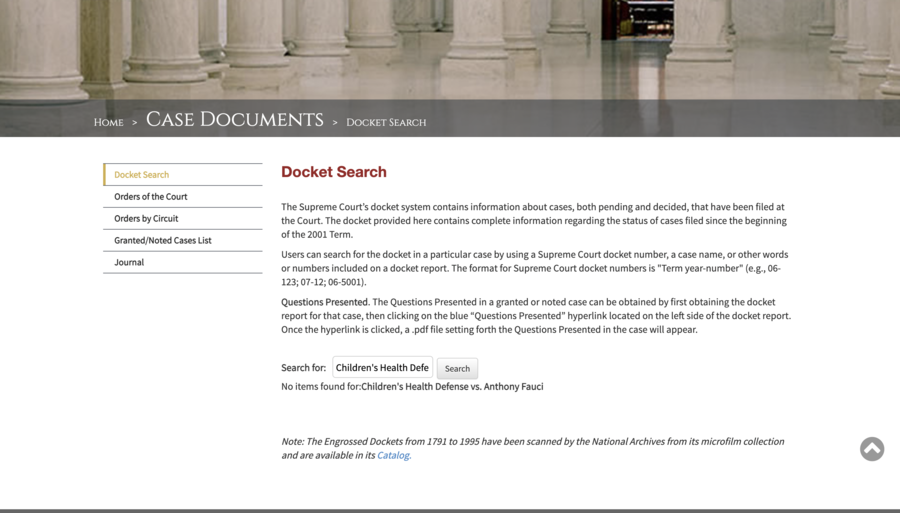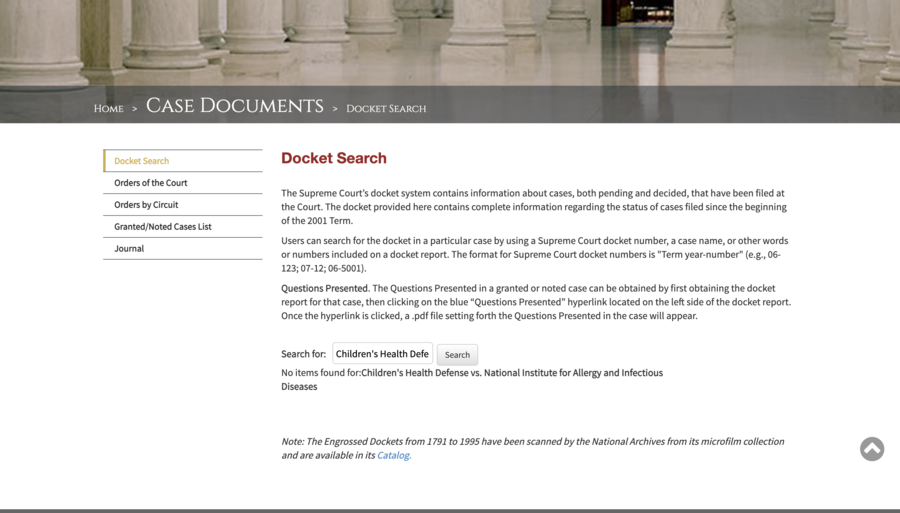 Other false claims in the article include:
Messenger RNA vaccines are gene therapy
The article raises another debunked claim: "For the first time in the history of vaccination, the so-called mRNA vaccines of the latest generation directly interfere with the patient's genetic material and therefore alter the individual genetic material... Vaccinated people will have to come to terms with the consequences, because they can no longer be cured by simply removing toxins from the human body, as in a person with a genetic defect such as Down syndrome, Klinefelter syndrome, Turner syndrome, genetic heart failure, hemophilia, cystic fibrosis, Rett syndrome, etc. ), because the genetic defect is forever!"
The Centers for Disease Control and Prevention (CDC) have debunked the vaccine-altering-DNA' claim:
COVID-19 vaccines do not change or interact with your DNA in any way. Both mRNA and viral vector COVID-19 vaccines deliver instructions (genetic material) to our cells to start building protection against the virus that causes COVID-19. However, the material never enters the nucleus of the cell, which is where our DNA is kept.
The epidemic was planned by powerful forces seeking world dominion and/or profit
At the bottom of the article, bestnewshere provides a link to a Zoom meeting video of virologist Judy Mikovits, Ph.D.; exercise physiologist David Martin, and Robert F. Kennedy Jr. speaking about the subjects that we have debunked in this fact check.
Mikovits, Martin and Kennedy are anti-vaccine conspiracy theorists who are among the leading spreaders of false claims about the COVID-19 vaccines, among those claims: that Dr. Anthony Fauci, Director of the National Institute for Allergy and Infectious Disease, profits from patents that control virus DNA and testing; that the U.S. funded so-called "gain of function" studies that amped up viral infectiousness in order to trigger a pandemic outbreak and that vaccines are far more dangerous than the government says and cause autism and other disorders.
Lead Stories debunked Mikovits' conspiracy theories here. Collected for readers here are Lead Stories fact checks of various virology claims by the self-help entrepreneur David Martin, an exercise physiology Ph.D. who also operates a hedge fund and declares he is an expert in patent fraud. Collected here are the Lead Stories debunks of false claims made by Kennedy's anti-vaccine organization: Children's Health Defense.
We have reached out to the Supreme Court for an answer about the Anthony Fauci and Robert F. Kennedy Jr. court case claim, but they have yet to respond to our email. We will update this story if we receive a response.