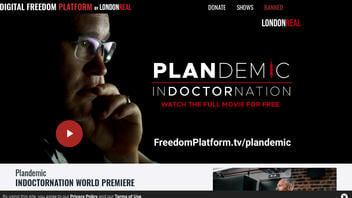 Does the video "Plandemic - Indoctornation" by Mikki Willis released in August 2020 reveal new facts about the COVID-19 epidemic? No, that's not true: the video repeats the unsubstantiated claim this virus is man-made, edits together unrelated documents, and rehashes previously debunked false and misleading claims made by various anti-vaccination activists, questionable doctors and scientists and their lawyers.
The video premiered on August 15, 2020, under the title "Plandemic: Indoctornation" on a website named freedomplatform.tv (archived here). It opened:
INDOCTORNATION: WORLD PREMIERE
Users on social media only saw this title, description and thumbnail:
INDOCTORNATION: WORLD PREMIERE
The video was promoted by the film-makers as:
Guided by the meticulous work of Dr. David E. Martin, Plandemic II: Indoctornation, tracks a three decade-long money trail that leads directly to the key players behind the COVID 19 pandemic. Plandemic II connects the dots between all forms of media, the medical industry, politics and the financial industry to unmask the major conflicts of interests with the decision makers that are currently managing this crisis.
But several of these "dots" are elements of conspiracy theories discredited by lab scientists and clinical epidemiologists at the heart of the global battle against the pandemic.
Central to this film and its prequel (Plandemic) is the claim that COVID-19 was created in a lab by nefarious conspirators seeking either great wealth or world domination. As the Center for Infectious Disease Research and Policy at the University of Minnesota put it: "There is exactly zero evidence for the claim COVID-19 is man-made."
Similarly, a group of 27 public health scientists from nine countries wrote in an open letter for the March, 2020 edition of The Lancet, one of the oldest and best known English language medical journals, that claims like those made in this film are hindering the battle to contain the COVID-19 pandemic:
"The rapid, open, and transparent sharing of data on this outbreak is now being threatened by rumours and misinformation around its origins,"
David E. Martin starts off the video with a contradiction: he claims his company created a technology that found one third of all U.S. patents were "functional forgeries" that declare ownership of discoveries already patented by using different words. If true, this would mean those patents are invalid.
But then the video shifts focus to patents related to coronavirus, some of which are owned by the U.S. Centers for Disease Control and Prevention and Dr. Anthony Fauci, Director of the National Institute of Allergy and Infectious Diseases, and declares all of these patents are related to a nefarious "hub", "empire" or "industrial complex" around coronavirus.
Well, are these patents invalid "forgeries" or are they part of some giant and well-executed scheme?
The film maker ignores or is unaware of the difference between the COVID-19 pandemic strain (which is known as SARS-CoV-2) and the six other strains of coronavirus that can infect humans, not to mention strains that infect bats, birds and other non-human species.
And the film-makers ignore the long history of scientists and public bodies patenting virus discoveries in order to protect free sharing among scientists instead of commercial controls that could restrict research and experimentation. (see Fact Check: Patents Do NOT Mean Deadly Diseases And Viruses Were Created Or Invented In A Lab.
Only One Of The Coronaviruses Causes COVID-19:
SARS-CoV-2
One of the patents the film-makers claim as proof of profiteering is US776521B1, titled "Coronavirus isolated from humans."
Three flaws with this claim:
The patent relates to the wrong strain of coronavirus;
The film-makers manipulate images to manipulate the timing;
The motives of the patent-holders are mis-stated.
1. Wrong Coronavirus: That patent is for one of the other coronavirus strains, not related to the COVID-19 pandemic. SARS (Severe Acute Respiratory Syndrome) was a disease identified in 2003 as being caused by the SARS-CoV virus and this patent is about that discovery and ways to identify SARS infection. :
Disclosed herein is a newly isolated human coronavirus (SARS-CoV), the causative agent of severe acute respiratory syndrome (SARS). Also provided are the nucleic acid sequence of the SARS-CoV genome and the amino acid sequences of the SARS-CoV open reading frames, as well as methods of using these molecules to detect a SARS-CoV and detect infections therewith. Immune stimulatory compositions are also provided, along with methods of their use... Also provided are methods and compositions useful in detecting the presence of a SARS-CoV antigen or antibody in a sample and/or diagnosing a SARS-CoV infection in a subject.
Note the difference between SARS-CoV and the COVID-19 virus: SARS-CoV-2, a crucial distinction the film-makers do not point out.
2. Image Manipulation: The film-makers edited images to hide a long gap between the filing of the SARS detection and treatment patent and a later U.S. Supreme Court decision that restricts the patenting of DNA and natural processes.
The film-makers claim, as proof, U.S. patent law, 35 U.S.C. §101, which the film-makers say forbids the patenting of nature.
But the law doesn't say that. In framing patent protection, the law said:
Whoever invents or discovers any new and useful process, machine, manufacture, or composition of matter, or any new and useful improvement thereof, may obtain a patent therefor, subject to the conditions and requirements of this title.
It doesn't explicitly mention nature or that you can't patent naturally occurring things, like DNA. That interpretation came from the 2012 U.S. Supreme Court decision in Association for Molecular Pathology v. Myriad Genetics, Inc.
The film-makers don't point out the Supreme Court's ruling was announced nine years after the SARS patent was granted. Violating a central tenet of journalistic ethics, the film-makers show a screenshot of 35 U.S.C. §101 directly followed by a screenshot of some phrases from the 2012 Supreme Court case, making it seem like they were part of the same legal document. Here's what the Society of Professional Journalists code of ethics says about editing that removes vital context:
Oversimplification that removes integral facts, or is in the service of manipulation is a violation of some of the Society's basic principles.
Mistaken Motive: Patents like this perform the exact opposite function: they block commercial monopolization of facts about viruses. Martin claims the U.S. Centers for Disease Control and Prevention's filing of patents that disclose viral makeup, testing and treatment gives the agency power to control who could do research into the virus and/or develop tests for it, in order to profit.
In a 2014 interview with NewsMax , David Sanders, professor of biological sciences at Purdue University and Ebola researcher explained:
The CDC does hold some patents on life forms, but it generally does this for the common good, so a commercial company can't come along and patent it. The CDC lets researchers work with the strain without fees.
Among other false claims in "Indoctornation:"
At 5:20 on the timecode, the film makes a false claim about the outcomes of a government pandemic modeling exercise in October of 2019. Lead Stories debunked that in: 'High-Level Exercise' Conducted 3 Months Ago Did NOT Show That A Coronavirus Pandemic Could Kill 65 Million People .
At 34:28 the film revives a previously debunked video that uses a clip of House Speaker Nancy Pelosi out of context, claiming that she was describing a Democratic tactic, when she was actually criticizing Republican actions. Lead Stories debunked that in: Pelosi Did NOT Describe Democrat Wrap Up Smear Tactic In Video
NewsGuard, a company that uses trained journalists to rank the reliability of websites, describes freedomplatform.tv as:
A two-site network based in the UK that has produced videos and interviews promoting false claims about the COVID-19 pandemic and the September 11, 2001, terrorist attacks.
According to NewsGuard the site does not maintain basic standards of accuracy and accountability. Read their full assessment here.