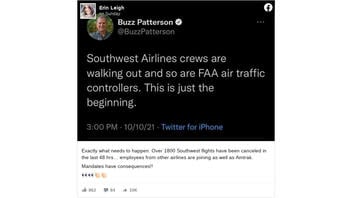 Are Amtrak employees walking off the job because of the COVID-19 vaccine mandate? No, that's not true. The cancellation of two trains on a route in the Northeast on October 10, 2021, were not due to the COVID-19 vaccine mandate, Amtrak told Lead Stories. A trainworker union officer confirmed that, saying no members of Transport Workers Union of America had walked out over vaccination rules.
The claim appeared as a post (archived here) where it was published on Facebook on October 10, 2021. It opened:
Exactly what needs to happen. Over 1800 Southwest flights have been canceled in the last 48 hrs... employees from other airlines are joining as well as Amtrak.
Mandates have consequences!!
This is what the post looked like on Facebook at the time of writing:
(Source: Facebook screenshot taken on Tue Oct 12 17:51:47 2021 UTC)
This fact check focuses on the claim's reference to Amtrak.
Amtrak posted a tweet on October 10, 2021, that stated two trains were canceled "due to unforeseen crew issues."
Trains 465 and 416 departing on 10/10 are canceled due to unforeseen crew issues. Alternate transportation will be provided.

-- Amtrak Northeast (@AmtrakNECAlerts) October 10, 2021
The company told Lead Stories via email on October 12, 2021, that the cancellations were not due to employees who refused to take a COVID-19 vaccine and had purportedly walked off the job. Jason Abrams, Amtrak public relations manager wrote:


Two staff members were not able to work on this particular route due to availability. We did make some adjustments to our schedule, but did operate 12 of 14 trains on this route on Sunday.
Amtrak made the announcement that it would require all employees to take a COVID-19 vaccine and that is listed on its website:
Vaccine requirement: Since we believe the vaccine offers the best way to keep our employees and customers safe, Amtrak is requiring that all employees get vaccinated.

Trains Magazine reported the details of the mandate:
WASHINGTON -- Aligning its health policies with newly established federal mandates, Amtrak is eliminating the ability for employees to opt for weekly COVID-19 testing in lieu of vaccinations, effective Nov. 22.

In an Employee Advisory issued this week, Amtrak CEO Bill Flynn outlined how the company will help facilitate its vaccination requirements and ways in which employees are able to submit proof that they have received the shots.

It establishes cutoff dates between Oct. 11 and Nov. 8 for meeting the Nov. 22 deadline, based on the varying times the vaccines require for patients to become fully protected.
The SMART Union -- Sheet Metal Air Rail Transportation -- shared a letter with Lead Stories that Jeremy R. Ferguson, president - Transportation Division for the union, shared with employees on October 12, 2021. SMART represents "thousands" of on-board employees including conductors and assistant conductors, according to the union. It detailed the union's position on COVID-19 vaccines:
In view of these and other pertinent, undeniable facts, the leadership of SMART
Transportation Division is strongly encouraging our members and their loved ones to get
vaccinated, if they have not done so already.

With that being said, we also recognize that there are certain circumstances where individuals may have religious objections and/or medical conditions preventing them from being vaccinated. We are also aware that some employers' policies are unreasonable and/or unclear when it comes to certain issues, including deadlines, the specific consequences for refusing or failing to comply, allowing sufficient time off to get vaccinated (including potential recovery time), compensation for time off to get vaccinated or quarantine after exposure, and periodic testing guidelines (if applicable).
Lead Stories reached out to the Amtrak Service Workers Council, which "consists of three unions that represent Amtrak service workers: The Transport Workers Union of America, UNITE-HERE and TCU-IAM," for comment and will update the story when a response is received.
John Feltz, Transport Workers Union of America International vice president, railroad division director told Lead Stories via telephone on October 12, 2021 that the more than 1,000 members who include car mechanics and coach cleaners have not walked off the job because of the COVID-19 vaccine mandate:
That would be equal to a national wildcat strike against the Railway Labor Act. We would order them to go back to work. If the members did this the union would possibly be subject to fines and Amtrak could discipline them for abandonment of the jobs.

Our opinion on the mandate is that we tried to convince Amtrak to remain with the original policy of subjecting members to testing if they were not vaccinated but they seem to believe as government contractors they will follow President Biden's vaccine order."