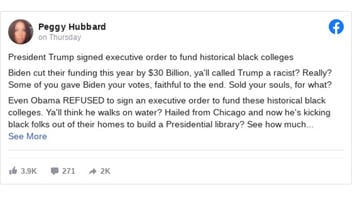 Did President Joe Biden cut funding for historically Black colleges and universities (HBCUs) by $30 billion? No, that's not true: The Biden administration originally proposed more than $90 billion in funding for HBCUs, tribal colleges and universities (TCUs) and minority-serving institutions (MSIs). That proposed funding was significantly cut by Congress, not the Biden administration.
The claim appeared in a Facebook post (archived here) published on October 8, 2021. The post began:
President Trump signed executive order to fund historical black colleges

Biden cut their funding this year by $30 Billion, ya'll called Trump a racist? Really? Some of you gave Biden your votes, faithful to the end. Sold your souls, for what?
Although the post made several other claims about HBCU funding and the Democratic Party's relationship with Black Americans, this fact check will only explore the information related to the Biden HBCU cut claim.
This is what the post looked like on Facebook on October 12, 2021:
(Source: Facebook screenshot taken on Tue Oct 12 19:48:18 2021 UTC)
HBCUs are notoriously underfunded; therefore, the institutions advocated heavily for the Fostering Undergraduate Talent by Unlocking Resources for Education (FUTURE) Act. Former President Donald Trump signed the FUTURE Act in 2019, which established mandatory funding toward HBCUs, TCUs and other MSIs. The act guaranteed a combined $255 million in funding for HBCUs, TCUs and MSIs. However, despite his suggestions otherwise, it appeared that Trump wasn't universally credited for creating the Act, outside of signing it into law.
The Biden administration's American Jobs Plan, announced in March 2021, originally aimed for HBCUs and other MSIs to receive $45 billion in support, and the administration's American Families Plan, announced in April 2021, outlined $46 billion that would go toward funding initiatives at HBCUs, TCUs and other MSIs. However, the plans, especially the former, have been reworked through bipartisan negotiation. Funding proposed by the Biden administration for HBCUs and other MSIs decreased significantly during Congressional action. The cuts to proposed HBCU funding were not made by Biden, but by members of Congress. The reconciliation bill pending at the time of this writing will determine the fate of the HBCU funding proposed by the Biden administration. The U.S. Department of Education's fiscal year 2022 budget, which proposed a significant increase to HBCU-specific Higher Education Act Title III funds, has not yet been acted upon by Congress.
In a video call with Lead Stories on October 12, 2021, Lodriguez Murray, vice president of public policy and government affairs for the United Negro College Fund, said. "The president is not the government." He added:
Is it technically ... generally true that the stuff was cut? Yes, but it's disingenuous to say that Biden did the cutting, because he did the proposing. Congress did the cutting.
Murray explained that advocacy on behalf of HBCUs such as UNCF's letter-writing campaigns is aimed at Congress because the legislative body holds the bulk of the power in determining what becomes law.
According to a fact sheet released on October 9, 2021, by the Biden administration, HBCUs received COVID-19 response assistance via the American Rescue Plan and also received grant funding during fiscal year 2021 from the Department of Education.