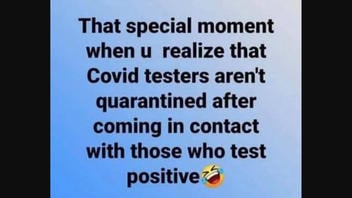 Do health care workers giving COVID-19 tests need to quarantine after coming into contact with those who test positive? No, that's not true: Those workers are wearing personal protective equipment and are only in close contact for the seconds it takes to administer a nasal swab, according to the Centers for Disease Control and Prevention (CDC).
The claim appeared in a Facebook post on November 9, 2020, with the caption "Hmmm." The text says:
That special moment when u realize that Covid testers aren't quarantined after coming into contact with those who test positive
This is what the post looked like on Facebook at the time of writing:
Source: Facebook screenshot taken on Thu Nov 18 19:25:48 2021 UTC)
A CDC spokesperson said in a November 17, 2021, email to Lead Stories that its "current recommendations state that HCP [health care personnel] adhering to these recommendations or who are fully vaccinated do not need to quarantine after caring for infected patients. Detailed guidance on what constitutes exposure in a healthcare setting and what actions should be implemented IS available here."
The two states with the highest death rates from COVID per 100,000 as of November 18, 2021 -- Mississippi and Alabama -- both adhere to CDC guidelines for their health care workers who give COVID tests and care for patients.
An official with the Mississippi State Department of Health sent a link to its website that links to the CDC guidance in a November 17, 2021, email.
The Alabama Department of Health also linked to CDC guidance in its email of November 17, 2021: "The Alabama Department of Public Health (ADPH) follows the guidance of CDC regarding specimen collection and handling for COVID-19, including proper donning and doffing of PPE and maintaining infection control practices. Persons collecting specimens for COVID-19 who are properly attired in PPE, following infection control procedures, do not need to quarantine after collection of specimens that subsequently result positive."
As for people who are not health care professionals, the CDC spokesperson wrote that: "Quarantine if you have been in close contact (within 6 feet of someone for a cumulative total of 15 minutes or more over a 24-hour period) with someone who has COVID-19, unless you have been fully vaccinated. People who are fully vaccinated do NOT need to quarantine after contact with someone who had COVID-19 unless they have symptoms."