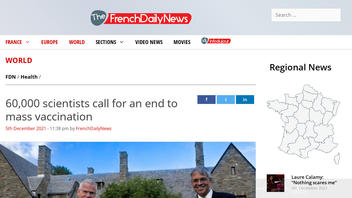 Did 60,000 scientists call for an end to mass vaccination? No, that's not true: In an October 2020 document called "The Great Barrington Declaration," three health experts from Harvard, Stanford and Oxford described their plan as "Focused Protection." It urged "those who are at minimal risk of death to live their lives normally to build up immunity to the virus through natural infection, while better protecting those who are at highest risk." The plan was offered before any COVID-19 vaccines had received emergency use authorization (EUA) or been approved. It is named for the town of Great Barrington, Massachusetts.
The claim appeared in an article (archived here) published by The French News Daily website on December 5, 2021, titled "60,000 scientists call for an end to mass vaccination." It opens:
The scientific community speaks out against the health policy of the authorities: the declaration of Great Barrington (USA) against massive injections of mRNA has collected 870.000 signatures.
This is what the post looked like on The French News Daily on December 10, 2021: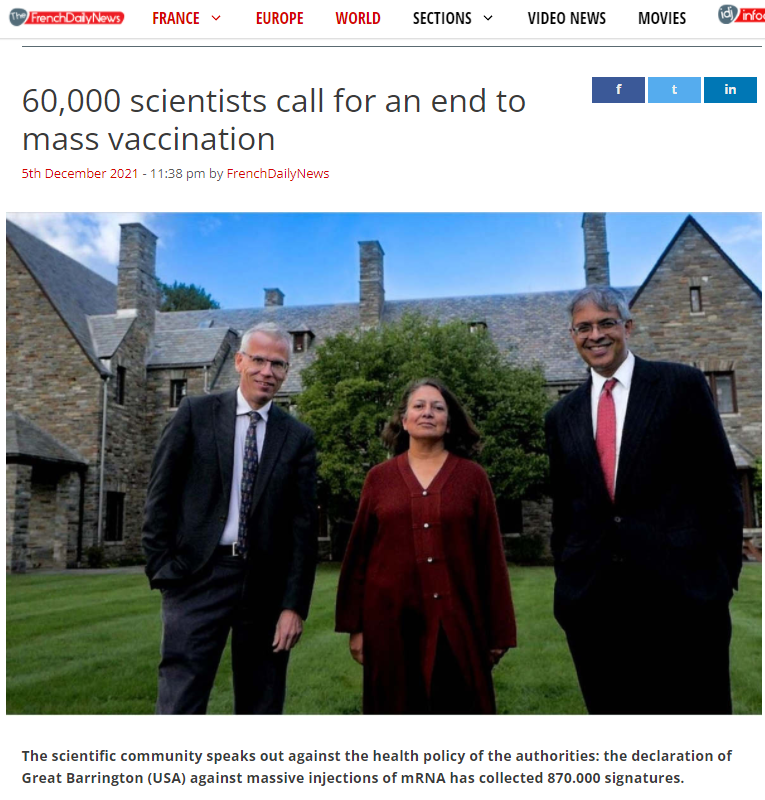 (Source: The French News Daily screenshot taken on Fri Dec 10 16:35:17 2021 UTC)
"The Great Barrington Declaration," issued on October 4, 2020, is an anti-lockdown document and makes no call to end mass vaccinations. When it was written, billions of people around the world were under or had been under lockdowns and no COVID vaccine had yet received EUA. On the Declaration's "About" page, it says this:
Why was the Declaration written?

The Declaration was written from a global public health and humanitarian perspective, with special concerns about how the current COVID-19 strategies are forcing our children, the working class and the poor to carry the heaviest burden. The response to the pandemic in many countries around the world, focused on lockdowns, contact tracing and isolation, imposes enormous unnecessary health costs on people. In the long run, it will lead to higher COVID and non-COVID mortality than the focused protection plan we call for in the Declaration.
The Declaration refers to the COVID vaccine twice but does not call for a ban or an end to vaccinations. The authors do make their case for an end to "current lockdown policies":
Keeping these measures in place until a vaccine is available will cause irreparable damage, with the underprivileged disproportionately harmed. ...

As immunity builds in the population, the risk of infection to all - including the vulnerable - falls. We know that all populations will eventually reach herd immunity - i.e. the point at which the rate of new infections is stable - and that this can be assisted by (but is not dependent upon) a vaccine. Our goal should therefore be to minimize mortality and social harm until we reach herd immunity.

The most compassionate approach that balances the risks and benefits of reaching herd immunity, is to allow those who are at minimal risk of death to live their lives normally to build up immunity to the virus through natural infection, while better protecting those who are at highest risk. We call this Focused Protection.
Reliance on non-vaccine herd immunity in the middle of a pandemic is controversial. At an October 12, 2020, news conference, World Health Organization Director-General Tedros Adhanom Ghebreyesus, said this about the concept endorsed in the Declaration:
Herd immunity is a concept used for vaccination, in which a population can be protected from a certain virus if a threshold of vaccination is reached. ... Herd immunity is achieved by protecting people from a virus, not by exposing them to it. Never in the history of public health has herd immunity been used as a strategy for responding to an outbreak, let alone a pandemic. It is scientifically and ethically problematic.
In an October 15, 2020, interview with ABC News about the Declaration, Dr. Anthony Fauci, director of the National Institute of Allergy and Infectious Diseases, called the idea of letting the virus spread unchecked "ridiculous":
If you talk to anybody who has any experience in epidemiology and infectious diseases, they will tell you that that is risky and you'll wind up with many more infections of vulnerable people, which will lead to hospitalizations and deaths. So I think that we just got to look that square in the eye and say it's nonsense.
Declaration by group of scientists calling for approach that relies on "herd immunity" to defeat the coronavirus pandemic, which has been embraced by the White House, is "ridiculous" and "total nonsense," Dr. Anthony Fauci tells @GStephanopoulos. https://t.co/uqLkPK3a8V pic.twitter.com/GBkOGW7uP6

-- ABC News (@ABC) October 15, 2020
The Declaration was written by three scientists -- Dr. Martin Kulldorff, professor of medicine at Harvard University, a biostatistician, and epidemiologist; Dr. Sunetra Gupta, professor at Oxford University, an epidemiologist; and Dr. Jay Bhattacharya, professor at Stanford University Medical School, a physician, epidemiologist, health economist and public health policy expert.
More than 40 other "Medical and Public Health Scientists and Medical Practitioners" are listed as co-signers.
In addition, anyone who supports the Declaration is allowed to sign it online. Signers must identify themselves in one of three categories: concerned citizen, medical and public health scientists or medical practitioner. It's unclear if or how their identities are verified. As of December 10, 2021, the website had collected 871,093 total signatures. Here's the breakdown:
Concerned citizens -- 811,461
Medical practitioners -- 44,541
Medical & public health scientists -- 15,091
By combining medical practitioners with medical and health scientists, the total is 59,632. That's likely where the article in The French Daily News came up with its figure of 60,000 scientists after it rounded up.
Similar information was also reported on December 4, 2021, in an article (archived here) on the Daily Telegraph New Zealand website titled "60,000 SCIENTISTS AND DOCTORS SIGN GREAT BARRINGTON DECLARATION CALLING FOR 'FOCUSSED PROTECTION' IN DEALING WITH COVID."