STORY UPDATED: check for updates below.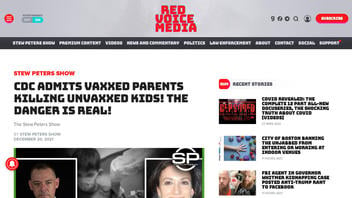 Did the Centers for Disease Control and Prevention admit that parents vaccinated for COVID-19 are killing their unvaccinated children? No, that's not true: The claim is made by a non-scientist citing a paper that mixes vaccination information from Europe and Israel with CDC material from a database of vaccinated patients' unverified adverse events reports. The CDC has explicitly warned against using the database to draw conclusions or make numeric comparisons.
The claim appeared in a video and short article (archived here) published on the Red Voice Media website on December 20, 2021, titled "CDC Admits Vaxxed Parents Killing Unvaxxed Kids! The Danger is Real!" It opens:
Karen Kingston is here with us again. She says there is new evidence that vaccinated parents are increasing the mortality risk for their unvaccinated children. There's also evidence, she says, of an absurdly high false-positive rate for COVID on the PCR tests that virtually everyone is using to check for COVID-19.
This is what the article looked like on Red Voice Media on December 21, 2021: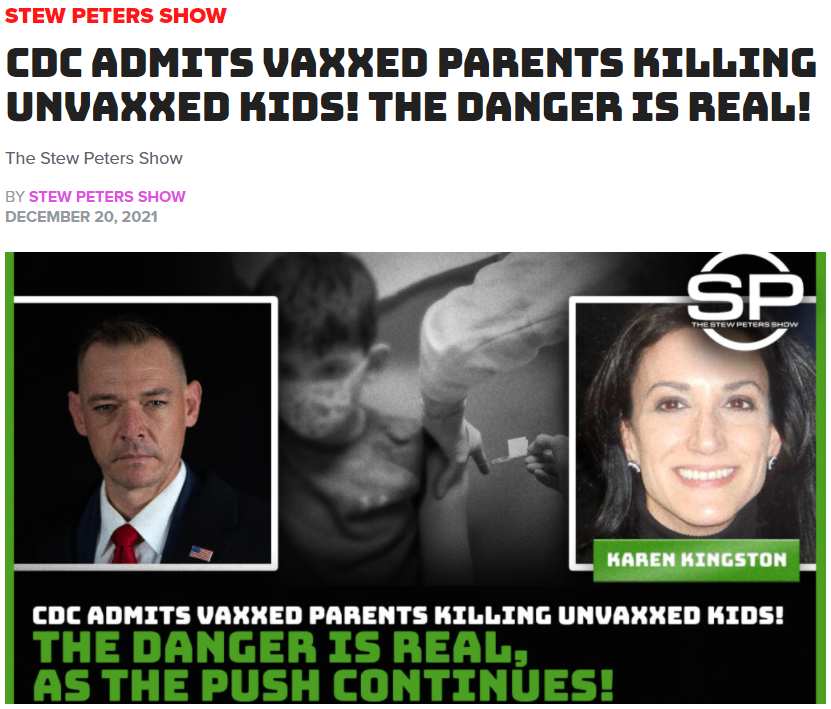 (Source: Red Voice Media screenshot taken on Tue Dec 21 15:43:13 2021 UTC)
The video in the article features an interview with Karen Kingston on "The Stew Peters Show." Her LinkedIn profile describes her as a "pharmaceutical and medical device business analyst." It also says she was involved in sales or marketing for several pharmaceutical companies, including Pfizer, from 1996 to 2017. There's no indication she has any scientific training. In August, 2021, Kingston's bio said she was a Viagra salesperson:
She began her career as a top performing Pfizer sales representative in NYC and was quickly recruited to the marketing side of the business. She played an integral role in the re-launch of VIAGRA shifting the focus to younger men and empowering patients to speak to their doctors about Viagra. She has led sales training, marketing and communication workshops and has appeared on FOX, MSNBC, and CBS as the spokeswoman and Director of US Marketing for InnoVision Labs.
At that time, Lead Stories reached out by email to Pfizer to ask about Kingston's employment there. A media relations officer wrote back in an August 4, 2021, email:
... it's a lengthy process to verify former employees but I can confirm that she was not involved in the research, development or manufacturing of the Pfizer-BioNTech COVID-19 vaccine.
The report she cites, COVID vaccination and age-stratified all-cause mortality risk, is from ResearchGate, a server where draft papers in pdf form are posted without traditional science journal editing. The authors of the report are a neuroscience researcher and a co-author who lists no current affiliation with a university or institution of science and does not detail educational credentials. Their paper depends on information reported to wide-open adverse reporting systems in the United States, Europe and Israel that were not designed to quantify vaccine adverse events, but only to capture early signals if unexpected dangerous vaccine side effects arise.
In the United States, it is known as the Vaccine Adverse Events Reporting System (VAERS). Anyone with internet access can add a report to the VAERS list of reports. The public access link to it expressly warns against unwarranted conclusions based on VAERS material because the list only provides a tally of unverified notes about any health event people experience after they are vaccinated and multiple people can file reports on the same event.
At 1:20 into the video, Kingston shows a chart she put together based on calculations made by the authors of the study who relied on the unverified data. This is what it shows: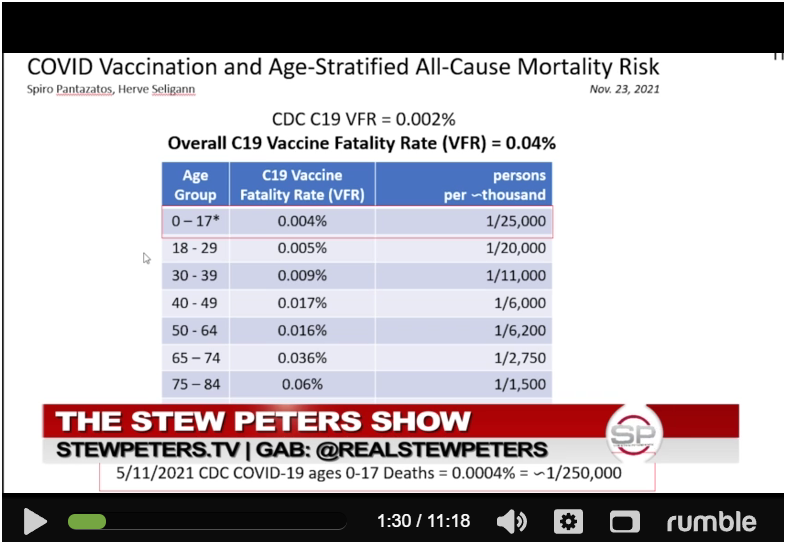 (Source: Red Voice Media screenshot taken from embedded video on Wed Dec 22 03:33:41 2021 UTC)
Based on those numbers, including what she said were the CDC reported COVID deaths of 282 children through May 11, 2021, a violation of the agreement VAERS asks data users to check off, saying they understand information in VAERS is not proof of vaccine causation of medical adverse reactions Kingston asks this question at the 3:55 mark, "So why are we vaccinating children?" when the risk of death from COVID for them is one in 250,000 or ten times less than what the unverified numbers say is their risk of dying from the vaccine. She quotes a section from Page 5 in the study, which appears in a slide:

(Source: Red Voice Media screenshot taken from embedded video on Wed Dec 22 03:37:14 2021 UTC)
At 4:25 in the video, Kingston further explains the study's findings:
So, what it's saying is that when an adult is vaccinated up to that 18 weeks afterwards, there's an increased risk of death for their children between ages of zero to 14.
But that conclusion doesn't come from CDC data, it's based on information from Europe and Israel. It comes from a section called "Associations between weekly vaccination and mortality data from Europe and Israel."
COVID vaccine doesn't give unvaccinated the virus
At 5:30 in the video, Kingston tells Peters that vaccinated parents are a threat to their unvaccinated children because of the shedding of the spike proteins from COVID vaccines. She said:
If they're under the age of 14 and their parents are vaccinated, they're more likely to end up in the hospital. ... As more and more Americans get vaccinated -- adults and children -- the hospitalizations for children go up.
Lead Stories previously debunked claims of COVID vaccines threatening unvaccinated people through shedding of vaccine components by someone who's already received one.
According to the Centers for Disease Control and Prevention (CDC), people who get a COVID shot cannot shed or release vaccine components. This is what the CDC website says:
MYTH: COVID-19 vaccines authorized for use in the United States shed or release their components.

FACT: Vaccine shedding is the release or discharge of any of the vaccine components in or outside of the body and can only occur when a vaccine contains a live weakened version of the virus.

None of the vaccines authorized for use in the U.S. contain a live virus. mRNA and viral vector vaccines are the two types of currently authorized COVID-19 vaccines available.
That point was echoed in a statement, emailed to Lead Stories on November 9, 2021, by a Pfizer spokesperson. It read:
The Pfizer-BioNTech COVID-19 vaccine is a synthetic mRNA vaccine and does not contain any virus particles. Because there is no virus produced in the body, no shedding occurs.
In a May 2021 email to Lead Stories, Pfizer's spokesperson wrote that the vaccine cannot be inhaled and can only enter the human body through an administered dose.
97% isn't good, but there's more
At 7:35 in the video, Kingston talks about another study that says a CDC COVID PCR test has an extremely high false-positive rate:
On December 15, the CDC released a peer-reviewed publication ... and they said 97% of the tests are false positives.
The claim is true but lacks important context. The study published December 15, 2021, is very specific. It's not about all PCR testing, just the initial lot of the CDC 2019-Novel Coronavirus (2019-nCoV) Real-Time RT-PCR Diagnostic Panel for SARS-CoV-2 (COVID-19) detection during the early days of the pandemic in February 2020. The PCR test is considered the "gold standard" for diagnosing COVID-19, according to the Cleveland Clinic, but the first run of the test had its share of quality control issues. The study concludes:
We discuss these findings in the context of improvements to quality control, quality assurance, and assay validation practices that have since been improved at the CDC.
2021-12-22T04:42:17Z

2021-12-22T04:42:17Z

Updated Dec. 21 to add the affiliations of two authors of the cited paper and to point out misuse of VAERS data.