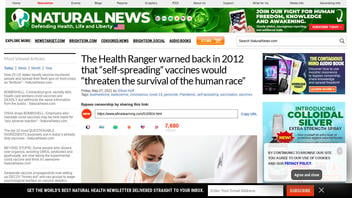 Are COVID-19 vaccines self-spreading vaccines? No, that's not true: The shots are not infectious. The COVID-19 vaccines can only enter the body through an administered dose; they can't be passed between people.
An example of the claim appeared in an article (archived here) published by Natural News on May 7, 2021. Titled "The Health Ranger warned back in 2012 that 'self-spreading' vaccines would 'threaten the survival of the human race,'" the story read:
Self-spreading vaccines, in case you are unfamiliar with them, spread without even having to be injected. The vaccinated simply 'shed' them onto others through close contact, infecting the unvaccinated with chemical particulates that could sterilize or kill them.

We are already seeing this happen with Chinese Virus injections, which are causing women to have irregular periods and men erectile dysfunction. In short, Wuhan Flu shots are a death sentence for those who take them, and possibly even those who do not.
Users on social media saw this title, description and thumbnail:
Nearly a decade prior to the release of Wuhan coronavirus (Covid-19) "vaccines," the Health Ranger was warning us all about future "self-spreading" injections that threatened to annihilate humanity from the face of the earth. Self-spreading vaccines, in case you are unfamiliar
As a source, the article cites a story published by the Bulletin website and magazine in September 2020. That story, which discusses the potential benefits and risks associated with self-spreading vaccines, can be read here. The article says nothing about COVID-19 vaccines being self-spreading vaccines. In fact, at the time of publication, there was no COVID-19 vaccine available in the United States. The first emergency use authorization for a COVID-19 vaccine was granted in December 2020.
In the wake of the Natural News article, and others like it that claim COVID-19 vaccines are self-spreading vaccines, the Bulletin published a response, lamenting how its story was being used, or rather "misused, without our knowledge, to further an utterly false conspiracy theory about highly effective and safe COVID-19 vaccines." The May 2021 response read, in part:
[Filippa] Lentzos and [Guy] Reeves wrote a compelling piece on a topic worthy of public debate. Thousands of people read it when the Bulletin published it last fall. But a few weeks ago, people started reading it again. This time, however, they were clicking through from websites trafficking in anti-vaccine conspiracy theories. The pair's article was being used as a datapoint in grossly misleading screeds about the COVID-19 vaccines. In fact, what many readers of Natural News, one of the sites linking to the Bulletin article, saw was not an exploration of self-spreading vaccines, but the Bulletin name and Lentzos and Reeves' headline tucked into a flagrant lie about COVID-19 vaccines that use messenger RNA to induce immunity.
According to the U.S. Centers for Disease Control and Prevention, people who get a COVID-19 shot cannot shed or release vaccine components. None of the vaccines currently authorized in the United States have a live virus, making shedding impossible.
That point was echoed in a statement, emailed to Lead Stories on May 19, 2021, by a Pfizer spokesperson. It read (emphasis ours):
The Pfizer-BioNTech COVID-19 vaccine is a synthetic mRNA vaccine and does not contain any virus particles. Because there is no virus produced in the body, no shedding occurs within the human body. The vaccine cannot be inhaled via shedding and can only enter the human body through an administered dose.
A claim similar to the one published by Natural News was by published by InfoWars, a site run by well-known conspiracy theorist Alex Jones. See that story here. The article stops short of saying that the COVID-19 vaccines are self-spreading vaccines, but it asks the question and, in its answer, implies that it's a distinct possibility.
The InfoWars article cites a 2018 report from the Center for Health Security at the Johns Hopkins Bloomberg School of Public Health. The report, which can be read in full here, considers self-spreading vaccines; the relevant part starts on page 45.
It describes the technology, how it might be used in both animal and human populations and notes the challenges involved, including the question of informed consent. Obviously, the report says nothing about COVID-19 vaccines being self-spreading vaccines, as COVID-19 wasn't a known disease at the time of publication.
The report details how the technology has been aimed primarily at animal populations and explains how controlling disease in animals would lower the risk to humans because most infectious diseases are zoonotic, meaning they pass between species, from animals to humans and vice versa. The report states:
Self-spreading vaccines have already been used to protect wild rabbits from myxomatosis and to control Sin Nombre virus in rodent populations. Additional work is targeting Ebola virus in apes and bats, Lassa virus in rats, and bovine tuberculosis in badgers.
Lead Stories asked Dr. Amesh Adalja, senior scholar at the Center for Health Security, about the claim that COVID-19 vaccines are self-spreading vaccines. He categorically said they are not and added that the technology isn't there yet to develop a self-spreading COVID-19 vaccine.
In a phone conversation on May 19, 2021, Adalja also strongly disagreed with the advice in the Natural News article, which recommended that unvaccinated people avoid those who have been vaccinated. He said the exact opposite is true:
If you're an unvaccinated person, the safest place for you to be is around vaccinated people.