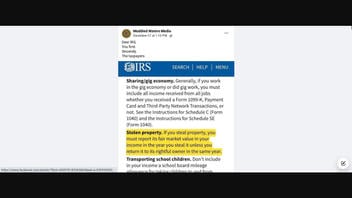 Has the Internal Revenue Service (IRS) published material explaining that people who steal property must report that stolen property in their taxes? Yes, it has: The summary, located in Publication 17, an informational guide for federal income taxpayers, is the result of the tax laws -- or the lack thereof -- that determine what income is or is not tax-exempt.
The claim appeared in a Facebook post (archived here) on December 27, 2021. The post has a screenshot attributed to an IRS web page with text that reads in part:
Stolen property. If you steal property, you must report its fair market value in your income in the year you steal it unless you return it to its rightful owner in the same year.
This is what the post looked like on Facebook on December 29, 2021:
(Source: Facebook screenshot taken on Wed Dec 29 17:18 2021 UTC)
That stolen property summary is real and is located in Publication 17. The IRS describes the content of this publication as follows:
The explanations and examples in this publication reflect the interpretation by the Internal Revenue Service (IRS) of:

Tax laws enacted by Congress,
Treasury regulations, and
Court decisions.
The stolen property summary is found under part two, chapter eight of the publication, under the section "Other Income." A screenshot of the guidance is below: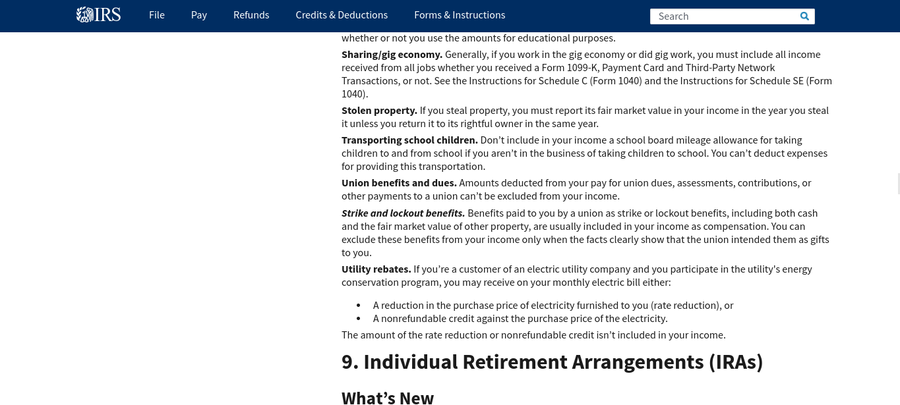 (Source: IRS screenshot taken on Wed Dec 29 15:02:37 2021 UTC)
In a phone call with Lead Stories on December 29, 2021, an IRS spokesperson told us the stolen property summary exists because there has not been a tax law passed by Congress to make such income tax-exempt. Therefore, stolen property is considered taxable income.
Other illegal income that is not tax-exempt includes bribes and the more general category "Illegal Activities." Explanations for these categories are also found in Publication 17.
More fact checks related to the IRS can be found here.