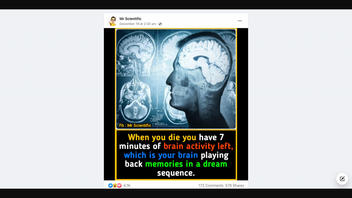 Does the brain have seven minutes of activity after the body dies, replaying memories in a dream sequence? No, there is no evidence to substantiate that claim: When the heart stops, the brain stops, according to a WebMD article titled, "Does Your Brain Know When You're Dead?" According to a neuroscience expert, it is "very very unlikely" that the brain will have coordinated thought or consciousness after brain death.
The claim appeared in a Facebook post (archived here) by Mr Scientific on December 19, 2021. The post reads:
When you die you have 7 minutes of brain activity left, which is your brain playing back memories in a dream sequence.
This is what the post looked like on Facebook at the time of writing: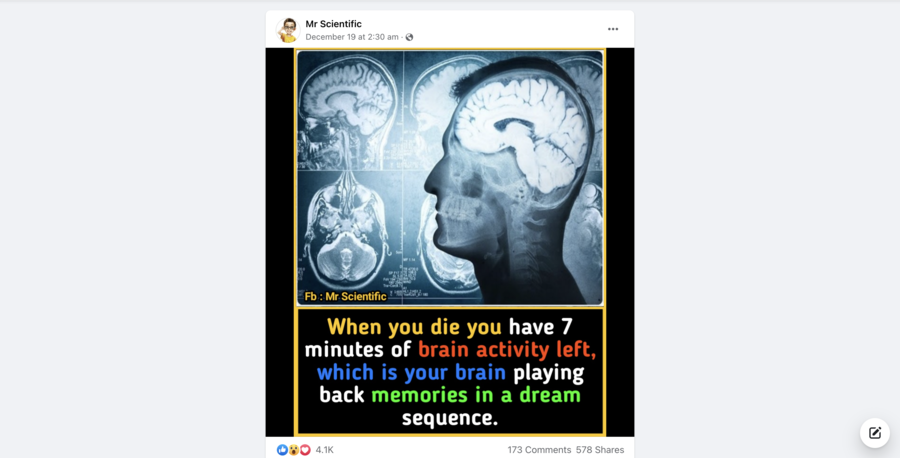 (Source: Facebook screenshot taken on Mon Dec 27 15:20:04 2021 UTC)
The post cites no source or evidence to substantiate its claim, nor does it account for cases in which the brain is severely damaged or destroyed physically, as in an accident.
According to a WebMD article titled, "Does Your Brain Know When You're Dead?" written by Matt McMillen and medically reviewed by Dr. Hansa D. Bhargava, researchers say when the heart stops, the brain stops.
Dr. Sam Parnia, a director of critical care and resuscitation researcher at New York University Langone in New York City, told WebMD that in the context of cardiac arrest, there is no blood going to the brain and it shuts down immediately. The brain cannot register activity without blood flow.
Lead Stories reached out to experts for opinions on the claim. Dr. Darren Gitelman, a neuroscience medical research director from Advocate Lutheran General Hospital in Park Ridge, Illinois, responded by email on December 28, 2021, saying:
In the case of brain death ... the issue is not that all cells of the brain have died but rather it is a statement that there is very very unlikely to be any coordinated brain activity allowing thought/consciousness and that recovery from this state is very very unlikely.
Mr Scientific, the creator of the Facebook post, does a lot of posts that look like this one. Each post has multicolored words and a picture that relates to the subject matter.
A Google search of "Mr Scientific" shows that he's most known for a YouTube channel with the same name with 1.06 million subscribers. He posts videos that have to do with space, technology and scientific figures consisting of text, ambient music and stock photos. The viewer never sees or hears from Mr Scientific. There are no sources for the claims in his YouTube videos or Facebook posts.