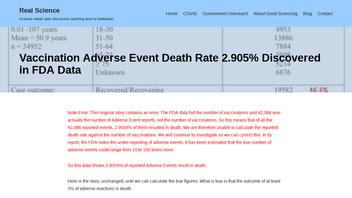 Is the COVID-19 "vaccination death rate" discovered in FDA data 2.905%? No, that's not true: The numbers used are not from the Food and Drug Administration, they're from an analysis of adverse event reports prepared by Pfizer for the FDA that were made public as part of a lawsuit. The claim misrepresents numbers published in the report to erroneously come up with a percentage of people who have died from the vaccine. There were not 42,086 participants in a vaccine trial and there is no proof that the 1,223 deaths were a direct result of the COVID-19 vaccine, therefore there is no 2.905% vaccination death rate.
The claim appeared in an article published by Good Sciencing on December 17, 2021, titled "Vaccination Death Rate 2.905% Discovered in FDA Data - Real Science" (archived here). It opened:
The US FDA's own data shows the vaccination death rate from the COVID vaccines is 14.5 times worse than the effects of the disease they are supposed to lessen the severity of.
Users on social media only saw this title, description and thumbnail:
FDA data shows vaccination death rate from COVID vaccines is 14.5 times worse than the disease they are supposed to lessen the severity of.
Good Sciencing originally wrote that 42,086 people were participants in a vaccine trial. When published on December 17, 2021, the article read:
42,086 participants in the vaccine trials suffered at least 1223 deaths. That fatality rate is 2.9059%.

The Infection Fatality Rate (IFR) for Covid - even based on the highly exaggerated "Covid 19 deaths" stats - is 0.20%.
They posted an update on December 20, 2021, acknowledging that the 42,086 number is actually the number of adverse events reported, not participants in a vaccine trial. However, they are still falsely claiming that of the 42,086 adverse events, 2.905% resulted in death. Here is their update:
Note Error: This original story contains an error. The FDA data hid the number of vaccinations and 42,086 was actually the number of Adverse Event reports, not the number of vaccinations. So this means that of all the 42,086 reported events, 2.9059% of them resulted in death. We are therefore unable to calculate the reported death rate against the number of vaccinations. We will continue to investigate so we can correct this. In its report, the FDA notes the under-reporting of adverse events. It has been estimated that the true number of adverse events could range from 10 to 100 times more.

So this data shows 2.9059% of reported Adverse Events result in death.
The article appears to be quoting from the Pfizer documents released as part of a lawsuit filed September 16, 2021, where the plaintiffs asked the FDA to share the data it relied upon in licensing Pfizer's COVID vaccine.
As Lead Stories previously reported, the 42,086 case reports include more than one event. An example would be if the COVID vaccine injection needle hurt a person's arm and there was slight swelling at the injection site, it itched and the person coughed. That would be four "events," not just one.
And as Lead Stories previously reported here, the 1,223 number has not been proven to accurately represent the number of people who have died as a direct result of an adverse effect from a COVID vaccine. The analysis of adverse event (AE) reports prepared by Pfizer doesn't determine cause and effect, only that more than 1,000 vaccinated people died in the first three months after the vaccine's emergency use authorization from the FDA on December 11, 2020.
In a December 3, 2021, email to Lead Stories, Keanna Ghazvini with Pfizer global media relations provided this statement from the company:
We take adverse events that are potentially associated with our COVID-19 vaccine very seriously. We closely monitor all such events and collect relevant information to share with global regulatory authorities. Based on ongoing safety reviews performed by Pfizer, BioNTech and health authorities, our vaccine retains a positive benefit-risk profile for the prevention of COVID-19 infections. To date, millions of people have been vaccinated with our vaccine. It is important to note that serious adverse events, including deaths that are unrelated to the vaccine, are unfortunately likely to occur at a similar rate as they would in the general population.
Most of the numbers reported in the Pfizer document come from expert groups and regulatory authorities, including European health organizations and the Vaccine Adverse Event Reporting System (VAERS) in the United States, which is run by the Centers for Disease Control and Prevention and the FDA.
Lead Stories has debunked several claims about vaccine deaths that misuse VAERS.
The Pfizer document says its limitations also include:
An accumulation of adverse event reports (AERs) does not necessarily indicate that a particular AE was caused by the drug; rather, the event may be due to an underlying disease or some other factor(s) such as past medical history or concomitant medication.