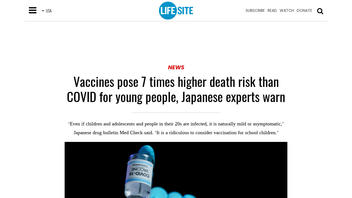 Do vaccines pose a seven times higher risk of death than COVID for people in their 20s? No, that's not true: The authors of a Japanese medical bulletin provide no clear evidence of deaths due to the vaccine to establish a ratio with deaths because of the virus. A Centers for Disease Control and Prevention (CDC) study also says "vaccinated persons tend to be healthier than unvaccinated persons."
The claim appeared in an article (archived here) published on the LifeSiteNews website on December 11, 2021, titled "Vaccines pose 7 times higher death risk than COVID for young people, Japanese experts warn - LifeSite." It opened:
COVID vaccines may pose at least a seven times higher risk of death than the virus itself for people in their 20s, a Japanese medical bulletin warns.

A review in the most recent issue of Med Check, a bimonthly bulletin published by the Japan Institute of Pharmacovigilance (NOPJIP) as a member of the International Society of Drug Bulletins (ISDB), found that the death risk of the jabs may even be as high as 40 times greater for young people.
This is what the post looked like on Facebook on December 15, 2021: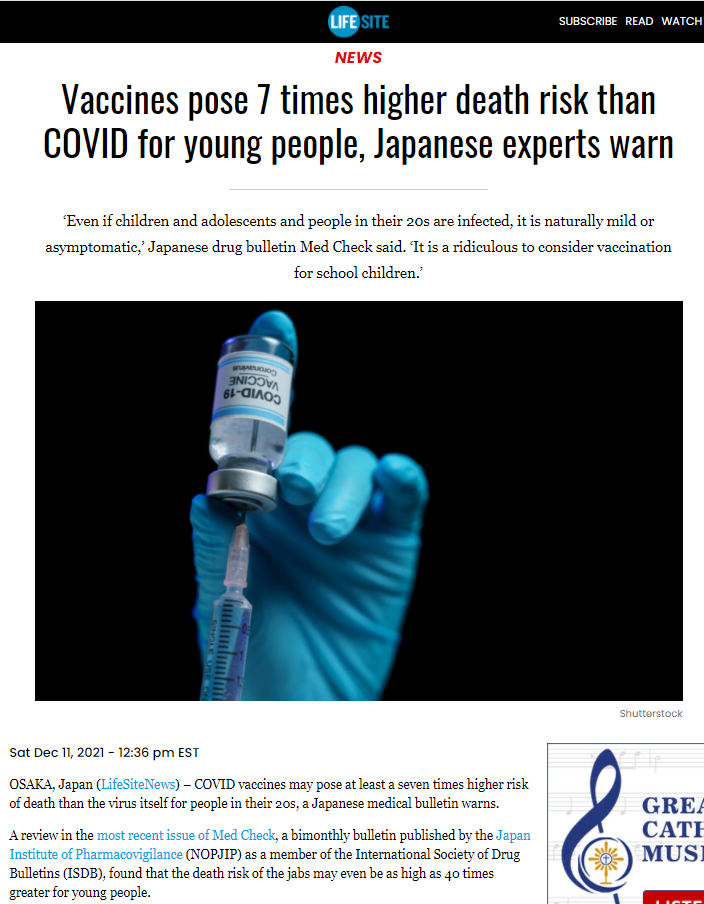 (Source: Facebook screenshot taken on Wed Dec 15 23:14:42 2021 UTC)
The LifeSiteNews article cites the English-language edition of Med Check (August - December 2021), a publication of the nonprofit Japan Institute of Pharmacovigilance (NOPJIP), which on page 17 claims: "Mortality risk of vaccination is 7 times higher than that of COVID-19 in 20s." But the Med Check editorial team goes further in its assertion, arguing the risk may be much greater, up to 52 times higher:
By using person-year methods, mortality risk from vaccination in 20s is about 40 times higher than COVID-19 mortality risk (sex adjusted RR is 52.3).

However, the mortality rate beyond 28 days should be lower than that within 28 days, so the mortality risk ratio after vaccination in 20s may be between 5 to 40 times higher compared with death from COVID-19 (sex adjusted risk ratio may be between 7 and 52).
Their case is based on the assumption that three people in their 20s, who died in the days after they received a COVID vaccine, died from the shot:
Reported death cases with people in their 20s

A 25-year-old man: It was reported that he completed suicide due to psychosis. However, actually he accidentally died following abnormal behavior due to febrile delirium after vaccination.

A 26-year-old woman: She was found dead at home 4 days after vaccination. Postmortem CT scan revealed subarachnoid hemorrhage and cerebellar hemorrhage.

A 26-year-old man: He was found dead 5 days after vaccination by his family. Postmortem CT scan showed no lesions and he was diagnosed with cardiopulmonary arrest.
The Med Check editorial team said it included these three people for the following reasons:
Disproportionate increase of death from cardiovascular diseases was observed both among medical workers and elderly people who received COVID-19 vaccine compared with general population. Distribution of the number of days to death from inoculation of COVID-19 vaccine is similar to that of incubation period of COVID-19. Based on such evidence and biological plausibility, causality between death from cardiovascular diseases and COVID-19 is substantially supported.
But the authors of the Japanese publication are making assumptions that health officials aren't. No causal link has been established between the reported deaths of the people in their 20s and the COVID vaccine.
Like many nations, Japan operates a wide-open adverse event reporting system to capture early signals if unexpected dangerous side effects arise. In the United States, it is known as the Vaccine Adverse Events Reporting System (VAERS). Anyone with internet access can add a report to the VAERS list of reports. The public access link to it expressly warns against unwarranted conclusions based on VAERS material because the list only provides a tally of unverified notes about any health event people experience after they are vaccinated and multiple people can file reports on the same event.
Study: COVID-19 vaccines safe
A study published in the CDC's Morbidity and Mortality Weekly Report (MMWR) for October 29, 2021, found COVID vaccines are safe: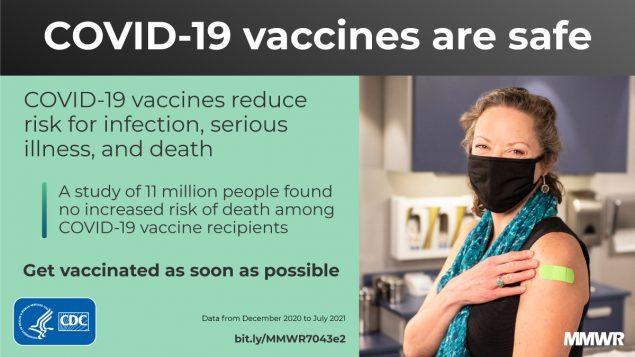 (Source: CDC)
The study of 11 million people between December 2020 and July 2021 compared unvaccinated persons with those who received the Pfizer, Moderna and Johnson & Johnson vaccines. This is what it found:
There is no increased risk for mortality among COVID-19 vaccine recipients. This finding reinforces the safety profile of currently approved COVID-19 vaccines in the United States. The lower mortality risk after COVID-19 vaccination suggests substantial healthy vaccinee effects (i.e., vaccinated persons tend to be healthier than unvaccinated persons) ...

Among persons aged 12-17 years, mortality risk did not differ between Pfizer-BioNTech vaccinees and unvaccinated persons; only 12 deaths occurred in this age group during the study period. ...

This cohort study found lower rates of non-COVID-19 mortality among vaccinated persons compared with unvaccinated persons in a large, sociodemographically diverse population during December 2020-July 2021.
Both the CDC and World Health Organization say the risks of not getting a COVID vaccine outweigh the risks of getting it. In the United States, everyone ages 5 and older can get vaccinated against COVID-19:

(Source: CDC website screenshot taken on Thu Dec 16 17:25:56 2021 UTC)
LifeSiteNews banned from social media
In February 2021, YouTube banned LifeSiteNews and removed its videos after it repeatedly violated the platform's medical misinformation policy. On May 4, 2021, Facebook permanently banned LifeSiteNews for violating the platform's COVID-19 and vaccine policies.