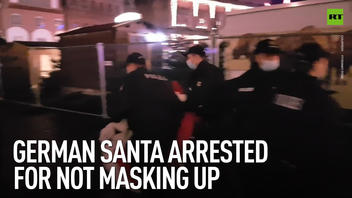 Did German police arrest a man in a Santa Claus costume at a Christmas market in the city of Stralsund because he was not wearing a mask? No, that's not true: Local police told Lead Stories the man was not hired to appear as Santa Claus at the official Christmas market, but took part in an unregistered protest against COVID restrictions outside the entrance to the market. When police arrived at the scene, he refused to show his ID and was taken to a patrol car. After his identity had been verified by officers, he was let go, all of which is standard police practice in Germany.
The claim appeared in a YouTube video (archived here) where it was published by RT on December 14,2021 under the title "German Santa arrested for not masking up". The caption of the short video read:
A Father Christmas impersonator's maskless appearance at a Christmas market in the state of Mecklenburg-Western Pomerania ended up getting him Saint Nicked by local authorities for flouting strict German guidelines. While this particular Santa might be on the officers' COVID red list, the real big man may have just got a few more names to add to his naughty one, too!
Click below to watch the video on YouTube:
Lead Stories reached out to local police in the city of Stralsund to verify whether the man dressed as Santa Claus had been arrested for not wearing a mask. In an email from December 14, 2021, a spokesperson explained that the man was part of a group that had gathered on the evening of December 13 outside of the Christmas market to protest against current COVID restrictions in Germany, like mandatory vaccine passports to enter most non-essential businesses and public events.
Holding a public event like a protest without registering it with local authorities is a criminal offense for the organizers, which is why police were called to the scene and tried to verify the identity of the participants. German nationals are required to have a photo ID and show it to authorities upon request. Not doing so can be classified as a misdemeanor.
The man in the Santa Claus costume refused to present a photo ID or tell police his name, which is why he was taken to a patrol car, where his identity could be verified and he was let go. Police told Lead Stories that even they were "surprised that Santa Claus did not comply to laws and regulations, and, what's more, declared his opinions on a poster. The man was apparently a participant in the protest. He was not hired to appear as Santa Claus at the Christmas market." They also explicitly confirmed that the police measure was not taken because the man had not worn a mask.
Lead Stories checked a similar claim about alleged police overreach in Germany due to COVID restrictions on December 10, 2021.