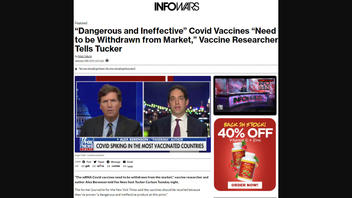 Are COVID-19 vaccines "dangerous and ineffective" and do they "need to be withdrawn from the market"? No, that's not true: The Centers for Disease Control and Prevention says the vaccines are "safe and effective." More than 535 million doses of COVID vaccines have been administered in the United States since December 2020. Serious adverse events are rare, and reports of death are a fraction of a percent.
The claim appeared in a video and article (archived here) published by InfoWars on January 26, 2022, under the title "'Dangerous and Ineffective' Covid Vaccines 'Need to be Withdrawn from Market,' Vaccine Researcher Tells Tucker." It opened:
'The mRNA Covid vaccines need to be withdrawn from the market,' vaccine researcher and author Alex Berenson told Fox News host Tucker Carlson Tuesday night.

The former journalist for the New York Times said the vaccines should be recalled because they've proven 'a dangerous and ineffective product at this point.'

'We're at a very dangerous moment, Tucker, and I'm not exaggerating. I think this is probably the most important appearance I've had with you in the last two years,' the 'Pandemia' author began.
This is what the post looked like on InfoWars on January 27, 2022: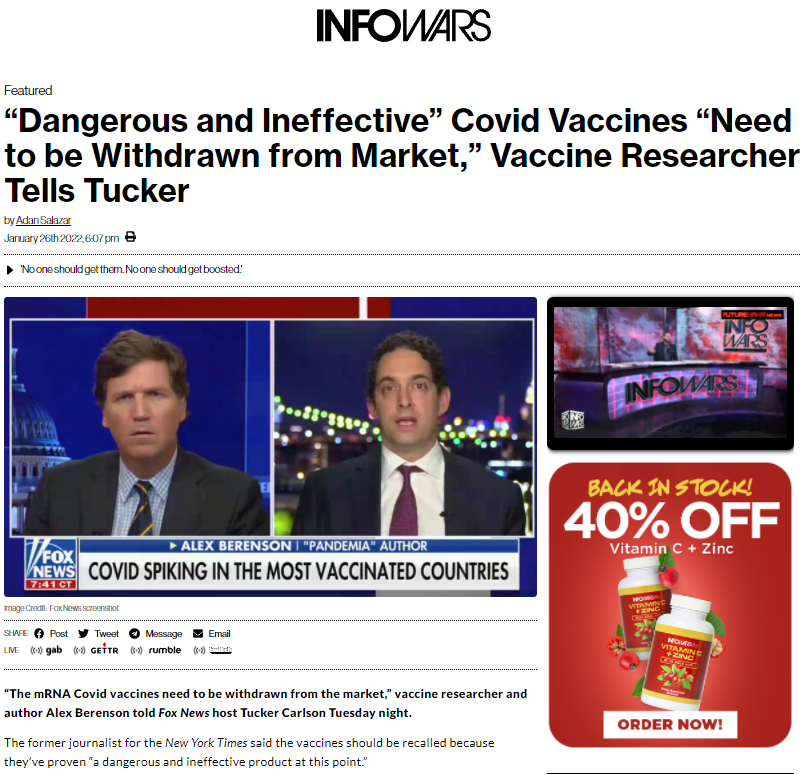 (Source: Instagram screenshot taken on Tue Jan 25 18:32:54 2022 UTC)
Spy novelist and author Alex Berenson, who was also a reporter for The New York Times, made his claims about COVID vaccines during a January 25, 2022, interview with Fox News host Tucker Carson. In August 2021, Twitter banned him for violations of its COVID misinformation rules. Lead Stories has previously debunked three false vaccine claims made by Berenson.
About 20 seconds into the interview, Berenson says data he's seen suggest the vaccines are driving COVID infection rates:
It is completely clear now that the vaccines don't really work at all against omicron. In these highly vaccinated and highly boosted countries, rates of infection are incredibly high and rates of serious disease and death are also rising. ... I have not said this to you before because I'm pretty careful and I'm pretty careful with the data, but these vaccines, these mRNA vaccines, the mRNA COVID vaccines need to be withdrawn from the market now. No one should get them. No one should get boosted. No one should get double boosted. They are a dangerous and ineffective product at this point against omicron.
The omicron variant was first reported in South Africa on November 24, 2021.
Australia is one of the most highly vaccinated countries in the world, where some 93% of people aged 16 and over were fully vaccinated as of January 27, 2022. In the country's most populous state, New South Wales, the COVID-19 WEEKLY SURVEILLANCE report for the week ending January 8, 2022, shows a high level of protection against the virus even as Australians fight the omicron wave. A breakdown of total COVID cases since November 26, 2021, shows fully vaccinated people have much greater protection against the virus than the unvaccinated (Page 7):
Among cases aged 12 years and over with no effective dose [unvaccinated], 8.9% of cases were hospitalised, 1.5% of cases were admitted to ICU, and 0.6% of cases died. In comparison, among cases who had received two effective doses [fully vaccinated], 1.0% of cases were hospitalised, 0.1% were admitted to ICU, and less than 0.1% died.
Despite Berenson's claim that the vaccines are "dangerous and ineffective," that hasn't proven to be the case. Both Moderna and Pfizer have published results showing their vaccines neutralize the omicron variant after three doses. The CDC agrees that COVID shots remain safe and effective. Adverse events associated with the vaccines are reported to the Vaccine Adverse Event Reporting System (VAERS):
Reports of death after COVID-19 vaccination are rare. FDA [Food and Drug Administration] requires healthcare providers to report any death after COVID-19 vaccination to VAERS, even if it's unclear whether the vaccine was the cause. Reports of adverse events to VAERS following vaccination, including deaths, do not necessarily mean that a vaccine caused a health problem. More than 535 million doses of COVID-19 vaccines were administered in the United States from December 14, 2020, through January 24, 2022. During this time, VAERS received 11,657 reports of death (0.0022%) among people who received a COVID-19 vaccine. CDC and FDA clinicians review reports of death to VAERS including death certificates, autopsy, and medical records.
At 1:50 in the interview, Berenson specifically mentions myocarditis rates as a reason the COVID vaccine is dangerous. The CDC says myocarditis and pericarditis are rare after COVID-19 vaccination:
Myocarditis is inflammation of the heart muscle, and pericarditis is inflammation of the outer lining of the heart. Most patients with myocarditis or pericarditis after COVID-19 vaccination responded well to medicine and rest and felt better quickly. As of January 20, 2022, VAERS has received 2,132 preliminary reports of myocarditis or pericarditis among people ages 30 years and younger who received COVID-19 vaccines.