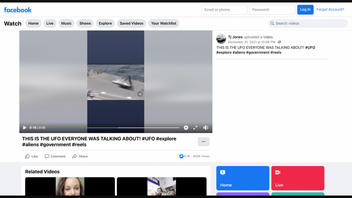 Did someone record the finding of a triangular-shaped UFO aboard a U.S. Navy ship, the USS Gerald Ford? No, that's not true: A spokesperson from the U.S. Navy told Lead Stories that this claim is false, and sent us the original footage with no UFO on board. The supposed UFO seen on the USS Gerald Ford was photoshopped into the original video.
The claim appeared in a Facebook post as a video (archived here) on December 31, 2021, with the caption "THIS IS THE UFO EVERYONE WAS TALKING ABOUT! #UFO #explore #aliens #government #reels." The video opened:
An F-18 is approaching the deck of the carrier U.S.S. Ford. It looks like a pinpoint, precise landing, but then ...
This is what the post looked like on Facebook at the time of writing: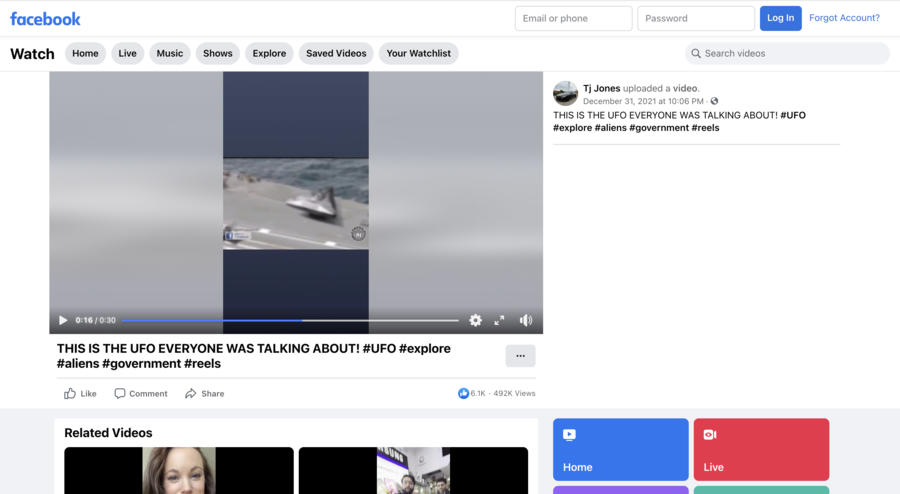 (Source: Facebook screenshot taken on Mon Jan 17 19:22:43 2022 UTC)
Lead Stories contacted the U.S. Navy for a comment on this claim. A spokesperson emailed us on January 17, 2022:
Thank you for your query ... the video is fake. Below is a link to footage of the original, unaltered video released in 2017.
Here is the video that was attached to the email. It dates to July 28, 2017. Aside from the claim having the wrong date for the footage, the "original, unaltered video" from the Navy shows vacant space on the carrier deck where the UFO was purported to be in the claim footage.