STORY UPDATED: check for updates below.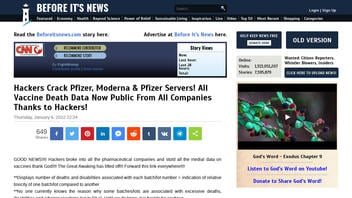 Did hackers "crack" the servers of COVID-19 vaccine makers Pfizer and Moderna and reveal vaccine death data from those companies? No, that's not true: The data used to make that claim is from the Vaccine Adverse Event Reporting System (VAERS), a database that keeps a record of reported but often unconfirmed adverse effects. VAERS data does not prove a correlation between those reported events and vaccines.
The claim originated in an article (archived here) published by Before It's News on January 6, 2022, that was titled "Hackers Crack Pfizer, Moderna & Pfizer Servers! All Vaccine Death Data Now Public From All Companies Thanks to Hackers!" The article opened:
GOOD NEWS!!!! Hackers broke into all the pharmaceutical companies and stold all the medial data on vaccines thank God!!!! The Great Awaking has lifted off!!! Forward this link everywhere!!!!
Users on social media saw this title, description and thumbnail:
Hackers crack Pfizer, Moderna & Pfizer servers!!!! All vaccine death data now public from all companies thanks to hackers!!!
The article provided a link to data from the website How Bad is My Batch that it claims is related to COVID vaccine deaths. However, the end of the article reveals that the data source is VAERS, not hackers:
Data Source
• All data is sourced from VAERS, a public database of over 700,000 adverse reaction reports for Moderna, Pfizer and Janssen Covid 19 vaccines in the USA. 
Our intention is to present the VAERS data in an accessible and unadulterated form, that can be easily verified using the links below
A similar statement on How Bad is My Batch also states that the data came from VAERS, as shown in the screenshot below:
(Source: How Bad is My Batch screenshot taken on Tue Jan 18 15:28:35 2022 UTC)
VAERS is managed by both the Food and Drug Administration and the Centers for Disease Control and Prevention. It allows anyone from health care professionals to patients to report adverse effects following vaccination. Therefore, the data found in VAERS do not automatically prove a causal relationship between vaccines and the reported adverse effects. The "About VAERS" page on the VAERS website reads:
VAERS is a passive reporting system, meaning it relies on individuals to send in reports of their experiences to CDC and FDA. VAERS is not designed to determine if a vaccine caused a health problem, but is especially useful for detecting unusual or unexpected patterns of adverse event reporting that might indicate a possible safety problem with a vaccine. This way, VAERS can provide CDC and FDA with valuable information that additional work and evaluation is necessary to further assess a possible safety concern.
In an email sent to Lead Stories on January 18, 2022, about the claim, the Pfizer media relations team confirmed that "no instances of this nature" took place. We also reached out to Moderna about the claim and will update this story with any relevant response.
Lead Stories has previously debunked numerous claims related to VAERS, and those fact checks can be found here.
2022-01-18T20:32:28Z

2022-01-18T20:32:28Z

Adds Pfizer quote.