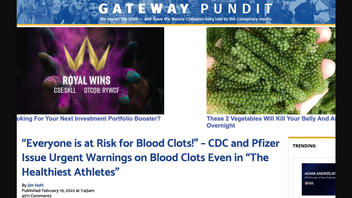 Are COVID-19 vaccines to blame for "urgent warnings" about blood clots from Pfizer and the Centers for Disease Control and Prevention (CDC)? No, that's not true: Both the CDC and Pfizer have promoted such campaigns since 2015.
Blood clots are not uncommon, even for the healthiest athletes. The CDC says "approximately 5% to 8% of the U.S. population has one of several genetic risk factors" for them.
The claim appeared in an article (archived here) published by The Gateway Pundit on February 19, 2022, titled "'Everyone is at Risk for Blood Clots!' - CDC and Pfizer Issue Urgent Warnings on Blood Clots Even in 'The Healthiest Athletes'" It opened:
Both CDC and Pfizer have recently issued a public warning about 'blood clots.'

Last February 10, the CDC issued a warning normalizing the idea that young adults and healthy athletes develop blood clots.

Of course, no one has ever heard of this frequent phenomenon before the COVID vaccines.
This is what the post looked like on The Gateway Pundit on February 21, 2022: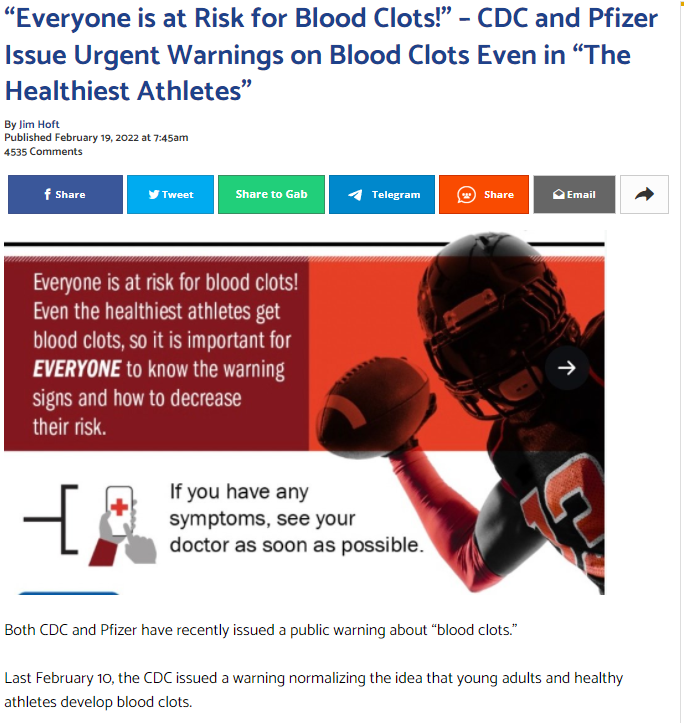 (Source: The Gateway Pundit screenshot taken on Mon Feb 21 15:57:58 2022 UTC)
The Gateway Pundit article and headline have elements of truth in them, but lack context. They also add urgency that the social media posts by the CDC and Pfizer didn't include. The story mixes the messages from the government agency and the drug manufacturer as if they were coordinated. There's no evidence of that. Neither were issued as "public warnings" as the article says.
The tweet by the CDC appeared on February 10, 2022, three days ahead of Super Bowl LVI. This is how the post looked on February 21, 2022: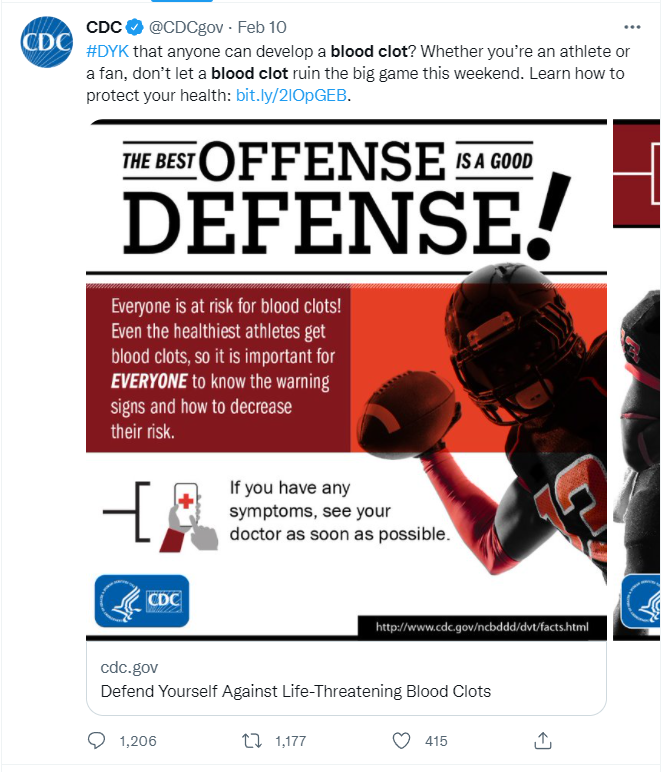 (Source: Twitter screenshot taken on Mon Feb 21 18:47:57 2022 UTC)
We debunked an earlier such story: Fact Check: 2022 Was NOT The First Time CDC Talked About Blood Clots Ahead Of Super Bowl.
The tweet from Pfizer appeared four days later on February 14, 2022. This is how the post looked on February 21, 2022: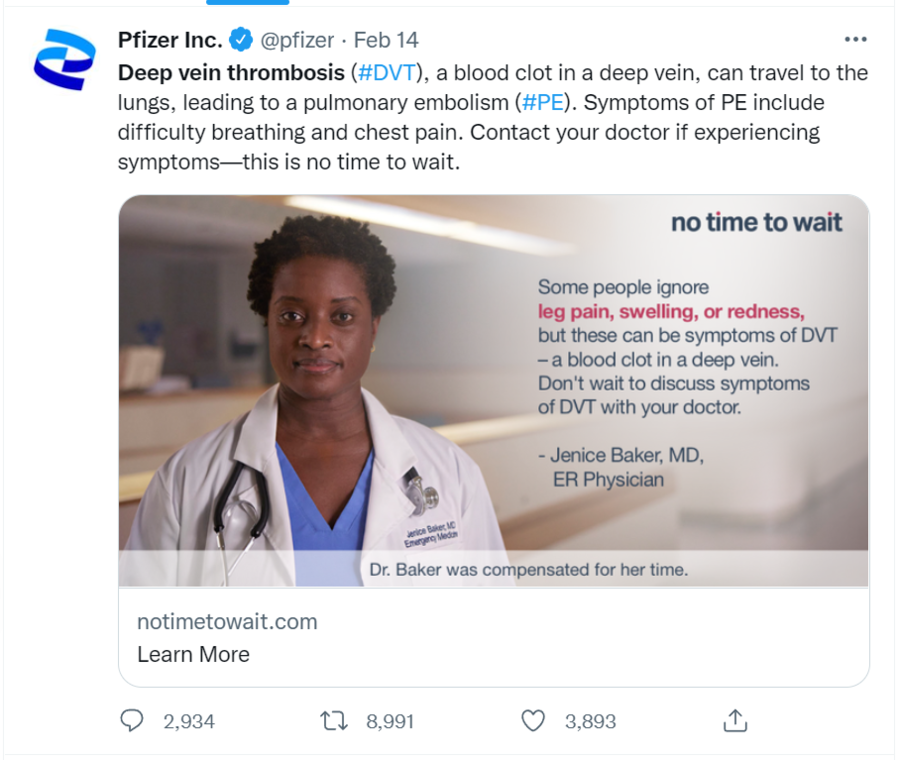 (Source: Twitter screenshot taken on Mon Feb 21 18:51:46 2022 UTC)
Alerting the public to the dangers of blood clots is nothing new for the CDC, which was founded in 1946. In a Twitter search, Lead Stories found nearly two dozen examples of the CDC warning about the risks associated with blood clots, dating back to September 2011. Also, in 2015, the CDC and the National Blood Clot Alliance (NBCA) began promoting the Stop the Clot, Spread the Word digital campaign to build public health awareness about venous thromboembolism (VTE) to prevent and reduce the occurrence of life-threatening blood clots. From the campaign's website:
Blood clots do not discriminate by age, gender, ethnicity or race. Blood clots affect everyone. Up to 900,000 people are affected by blood clots every year.
About 100,000 people die every year due to blood clots
On average, 1 person dies every 6 minutes due to a blood clot. Don't let that person be you or someone you know.
The Pfizer tweet warns about a particular type of blood clot called deep vein thrombosis (DVT), which occurs in a deep vein and can travel to the lungs. That can result in a pulmonary embolism, where one or more arteries in the lungs become blocked by a blood clot. Like the CDC, it wasn't just recently that Pfizer started posting about blood clots and DVT. Lead Stories found tweets dating back to 2015.
The CDC tracks the safety of COVID-19 vaccines online. Details are updated regularly on the agency's Selected Adverse Events Reported after COVID-19 Vaccination page. Blood clots caused by COVID vaccines are extremely rare:
Thrombosis with thrombocytopenia syndrome (TTS) after Johnson & Johnson's Janssen (J&J/Janssen) COVID-19 vaccination is rare. TTS is a rare but serious adverse event that causes blood clots in large blood vessels and low platelets (blood cells that help form clots). As of February 10, 2022, more than 18.2 million doses of the J&J/Janssen COVID-19 vaccine have been given in the United States. CDC and FDA identified 57 confirmed reports of people who got the J&J/Janssen COVID-19 vaccine and later developed TTS.

CDC has also identified nine deaths that have been caused by or were directly attributed to TTS following J&J/Janssen COVID-19 vaccination. Women ages 30-49 years, especially, should be aware of the increased risk of this rare adverse event. There are other COVID-19 vaccine options available for which this risk has not been seen.

- To date, three confirmed cases of TTS following mRNA COVID-19 vaccination (Moderna) have been reported to VAERS after more than 526 million doses of mRNA COVID-19 vaccines administered in the United States. Based on available data, there is not an increased risk for TTS after mRNA COVID-19 vaccination.