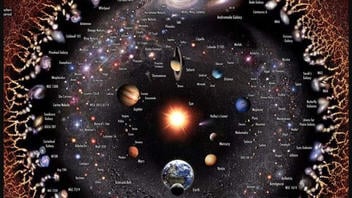 Did NASA produce this image of "the entire observable universe"? No, that's not true: This image, titled "The Celestial Zoo" was made by artist Pablo Carlos Budassi. While the logarithmic illustration is composed of many individual images that originated from the National Aeronautics and Space Administration, the design of this high-resolution infographic poster -- a tour of 210 places in the universe -- was conceived and executed by an individual.
The image file rendered specially for Wikipedia.org by Pablo Carlos Budassi, appearing on Wikimedia Commons named "Extended universe logarithmic illustration (English annotated).png," is dated August 9, 2019. On March 16, 2022, the image, credited to Budassi, was shared by NASA on apod.nasa.gov and on Twitter as the "Astronomy Picture of the Day." That same day the image was reposted on Twitter by @Mooreskywatcher but credit was given to NASA. On March 29, 2022, the image was posted to a Facebook group called "Physics and Astronomy" with the same caption, giving credit to NASA rather than Budassi:
NASA has outdone themselves, this is an image of the entire observable Universe. This is incredible. 😮
This is how the post appeared at the time of writing, shared 31 thousand times: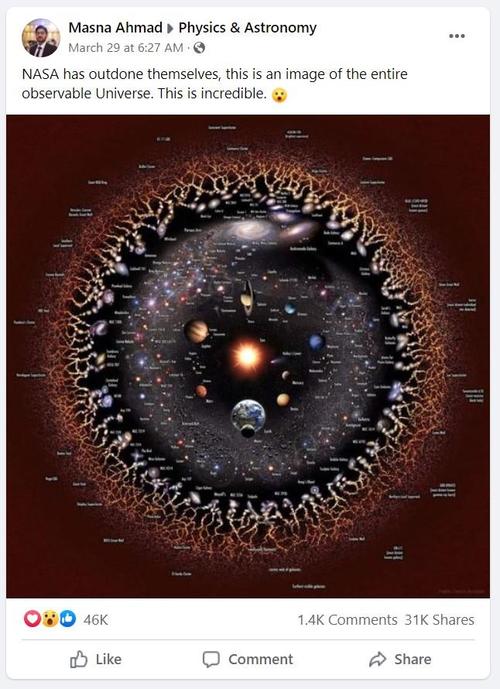 (Image source: Facebook screenshot taken on Thu Mar 31 14:45:55 2022 UTC)
At the time of writing, NASA's "Astronomy Picture of the Day" tweet has been retweeted 128 times, while @Mooreskywatcher's tweet with the misattributed image was retweeted 7,053 times. On March 20, 2022, the image investigation twitter account @Hoaxeye published a retweet including the hashtag #RespectArtists and crediting Budassi. @Mooreskywatcher posted an update later that day which has been retweeted once:
Credit for this incredible image goes to @budassiuniverse 👏 Thank you
Budassi has a website for sales, as well as social media pages. This August 16, 2020, Facebook post about the annotated poster of "The Celestial Zoo" describes it this way:
THE CELESTIAL ZOO is a tour of 210 places of interest in our Universe, describing each landscape with curious facts that are a must-know when planning our trips through the Cosmos. Featuring the most bizarre galaxies, stars, planets, and other weirdos of all colors and shapes. The information contained is updated as of August 2020.
NASA has a large image library and guidelines for the use of their images for both private and commercial use.
The file created by Budassi for Wikipedia.org is available for free download in several sizes. The largest is 2400 x 2400 pixels, allowing all of the labels and individual celestial features to be examined. The Wikimedia file is embedded with hyperlinked annotations and each will open a Wikipedia article about that specific feature. The image below shows the Wikimedia Commons preview with the mouseover links in the 600 x 600-pixel image highlighted (left) and the level of detail present in the highest resolution file (right).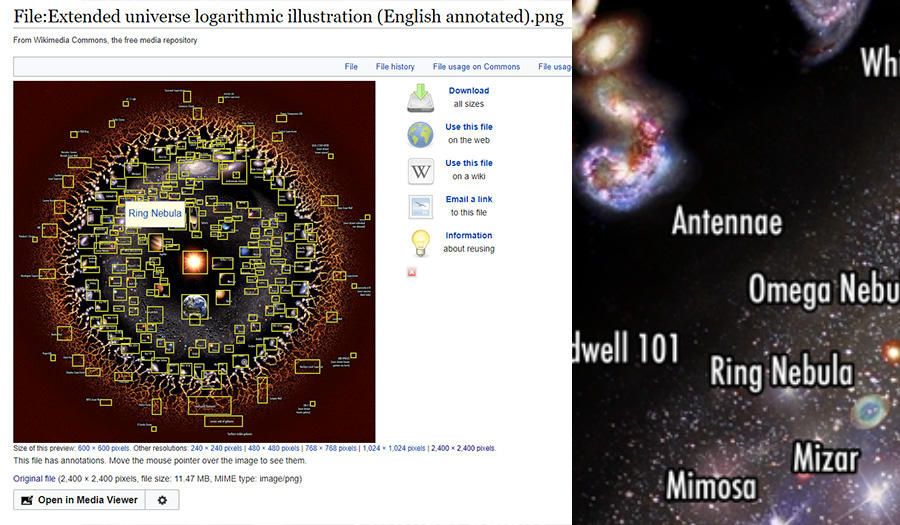 (Image source: Lead Stories composite image of Wikimedia Commons image preview and high resolution by Pablo Carlos Budassi taken on Thu Mar 31 16:41:50 2022 UTC)