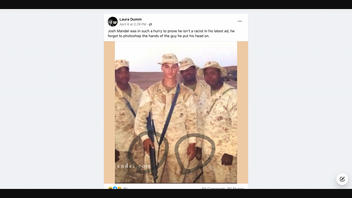 Did Republican U.S. Senate candidate Josh Mandel photoshop his face onto the body of a Black soldier? No, that's not true: A Mandel spokesperson told Lead Stories that this claim is false. A Cincinnati.com article reported that the image is legitimate and that the photo was simply darkened "to make the text clearer" in one of Mandel's campaign ads. This image can be found on Mandel's verified Twitter account.
The claim appeared in a Facebook post (archived here) on April 6, 2022. It opens:
Josh Mandel was in such a hurry to prove he isn't a racist in his latest ad, he forgot to photoshop the hands of the guy he put his head on.
This is what the post looked like on Facebook at the time of writing: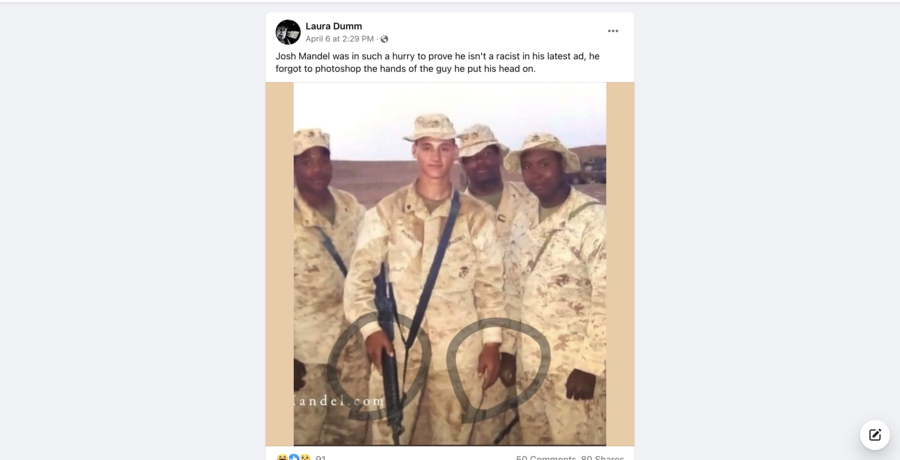 (Source: Facebook screenshot taken on Fri Apr 8 14:39:55 2022 UTC)
Scott Guthrie, Mandel's political aide, responded to our email on April 7, 2022. He wrote that the claim is "totally false" and sent links to debunks from The Washington Post and Cincinnati.com. Cincinnatti.com reported that Mandel's campaign sent the original photo as proof he wasn't added in photo editing. They said Mandel's hands appeared darker because the whole photo was darkened to make the text superimposed on the video easier to read.
This photo can be seen in a campaign video on Mandel's verified Twitter account.
Martin Luther King marched right here so skin color wouldn't matter. pic.twitter.com/kVSU4zKdM1

-- Josh Mandel (@JoshMandelOhio) April 5, 2022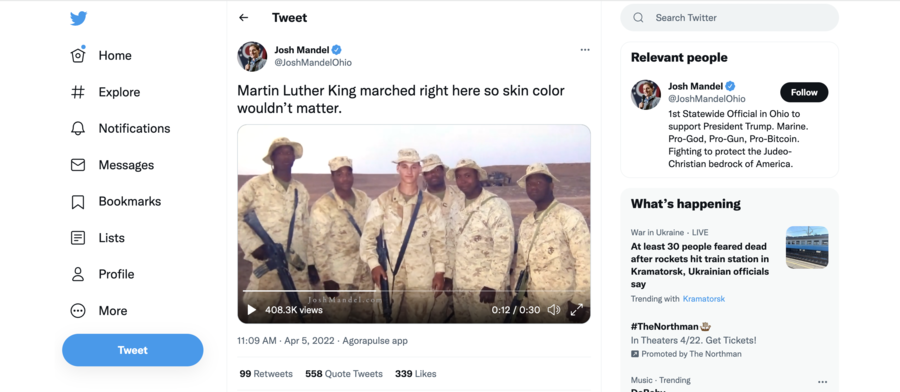 (Source: Twitter screenshot taken on Fri Apr 8 15:45:19 2022 UTC)